by Paul Howard
Editor's Preface:
Paul knew he was adopted from a young age. Passionate about genealogy, he had developed extensive family trees for his adoptive family and his wife's family. Paul's first success story, published in 2017, recounts his discovery of the identity of his birth mother. Although she declined to have any contact with Paul, knowing her identity allowed him to research his maternal roots, where JewishGen resources played an important role. To read Paul's initial success story, click here.
The following account is Part Two of Paul's search for his biological roots. Note that the family surname he used in this story has been changed to protect the privacy of those involved.
In November 2016, after many years of searching, I finally discovered the identity of my biological mother. While she didn't want to have any contact with me, I at least got a brief medical history from her brother. I kept telling myself that obtaining a medical history was the main purpose of my search (and it was), but looking back, I don't know if I was being totally honest. Not being able to speak with my birth mother was hard. More so than I was ready to admit. After all the time and effort put into tracking her down, hitting another brick wall was difficult, to say the least. But of course, there are always two sides to every story, and I didn't know what hers was. I'm sure she had her reasons for wanting to keep her distance.


Thinking of myself as being genealogically driven (as well as not wanting to give up), I delved deeper into the information I had gathered about my birth mother's family. By sheer coincidence, it turned out that her daughter, my half-sister, was Facebook friends with one of my (adopted) cousins. I reached out to that cousin and asked if she could make a connection between us on Facebook. Introducing myself, I told my half-sister that I was doing research on the family and was hoping to get some information from her mother who didn't really want to talk with me. She was surprised about her mother's reluctance but was glad to listen. After a lengthy conversation, and with genuine interest on my half-sister's part, I revealed our connection. While this shocked her at first, she seemed happy to know of my existence and we still chat from time to time on Facebook. Over time, I also reached out to other family members (from biological second and third cousins to more distant relatives) who have been quite open and forthcoming – even providing me with copies of family trees on the various branches of my biological mother's family. A number of these branches even have a considerable amount of data on JewishGen's Family Tree of the Jewish People and various cousins are active on JewishGen.


Finding all these connections, and learning about my biological mother's family background, was amazing, but the identity of my biological father still remained a mystery. As the years went on, and not knowing where else to turn to, I was beginning to think I would never track him down. I told myself that I was OK with that and had to accept the situation for what it was, but again, deep down, I knew I was only fooling myself. This meant a great deal to me and one way or another I had to push on. Seeing numerous videos posted online about positive meetings between adoptees and their biological parents didn't help matters either. Why couldn't that be my story as well?


The next year for my birthday my kids bought me an AncestryDNA test which they knew I wanted. I sent it off right away and eagerly waited for the results. However, it didn't turn up too much. I did get matches, but mostly cousins from my biological mother's side or people I didn't know how to connect with. Without any clue as to my biological father's identity it seemed nearly impossible to make a match. Seemingly another dead end.


Over the next year things died down and the search for my biological father was put on the backburner. However, family medical issues started to pick up again and getting a more complete medical history became imperative in my mind. Just to know what I was up against and if everything my kids and I were going through was genetic or not would have gone a long way to ease my mind.


For my 50th birthday, my kids bought me a 23&Me DNA test which I was hoping might yield some more positive results. Still not knowing my biological father's surname, I didn't know what to expect but I was more than willing to take the test. For some reason (I don't know why) I thought this could be the breakthrough I needed. At the very least, it couldn't hurt. Once again, I eagerly waited for the results.


I received an email a few weeks later stating that my results were ready and nervously logged onto the 23&Me website. I was shocked and dumbfounded as I looked at the first two matches — FATHER and BROTHER. Not cousin or distant relative but the family I was looking for all these years — right in front of me. I was beyond ecstatic and just started screaming. Taking a few deep breaths, I called my wife and told her the news. She couldn't believe it either. I then drafted an email to my biological father explaining who I was and hoping he would be receptive to talking. A short while later I sent a similar message to my half-brother. Later that evening I received their responses and spent the rest of the evening on the phone with both of them. I was beyond elated. Not only did I find my biological father and a new half-brother, but they were just as happy to meet me as I was to meet them.


Over the past few months, I have had numerous conversations with both of them as well as video calls (ZOOM and Facetime) introducing all our family members to each other. We all live in different cities and planned on meeting in one central location, but due to COVID-19 that has been put on hold for the time being. For now, the weekly calls continue and we all look forward to meeting in person when travelling restrictions eventually ease up. One particularly meaningful moment for me was being able to join the ZOOM simcha of my "new" nephew's Bar Mitzvah and see all the family members online.


During the course of the discussions I've had with my father and brother we realized that there are a quite a few coincidences:
One of my biological father's close friends lived on the same street I grew up on. I was seven years old when he moved away.
My brother and I went to the same Hebrew school (10 years apart) for first and second grade before switching to other schools.
My brother and I both had our Bar Mitzvahs in Israel.
My wife and my new sister-in-law are both in the same profession, have the same master's degree and even have the same Hebrew names.
A "new" first cousin and her husband are good friends with a friend of mine that I grew up with.
Right now, I use my spare time researching my newly discovered family. I count myself very fortunate that my biological father also has a presence on JewishGen and has shown me many family records listed on the JRI-Poland indexes — including my great-grandfather's birth record and one for his sister (my great-great-aunt). It's amazing what you can find when you have a surname to go on. My next task is to go through the various Romanian indices (where my father's maternal family was from) to confirm the information I was given.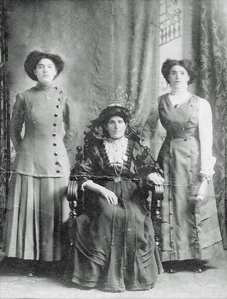 As a side note – I recently found my biological mother's maternal grandparents' marriage document (from 1905) listed on the JRC-UK Marriages index.


I have also been researching the JewishGen Online Worldwide Burial Registry to search for gravesites for members of both my biological parents' families. Many of them are buried in the same cemeteries as my adoptive family. Besides supplying exact death dates, the data on the burial registry has provided birth dates (both exact and approximate) for numerous relatives and helped me work out birth orders for many family members.


I am also going through the many family pictures my father has sent me. As with my biological mother's family, my father's family came to Canada in the early 1900s; they also lived quite close to where I grew up.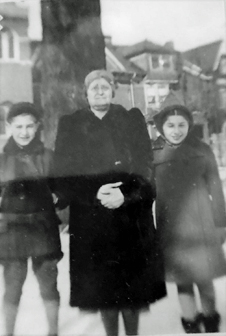 On the medical front (which was really the impetus for the whole search to begin with), I now know the source of the issues that my kids and I have encountered. That might not seem like much, but to me it's very significant. I can finally go to our numerous doctors and say this is what I or my kids are dealing with or may have to deal with in the future. It truly is a relief to have that information.


I ended my first article – after finding my biological mother – saying that: "for now, this chapter is over and I have closure. I finally know where I came from and have some knowledge of my biological family. I'm satisfied." Looking back, I don't think I really was satisfied but had to accept the situation for what it was. Now, however, I finally have the closure I have been searching for. It's quite a gift, and I plan to make the most of it.


November 2020
Hewlett, New York, USA
Research Notes and Hints
The gift of a DNA test kit from his children led Paul Howard directly to his biological father and previously unknown half-brother, both of whom were happy to connect with him.
Paul's biological father was able to point Paul to information about the family on JewishGen.org and the Jewish Records Indexing-Poland website. Searching the JewishGen Online Worldwide Burial Registry yielded results.
See also the Research Notes from Paul's initial success story regarding his biological mother.