by Jessica Feinstein
I knew very little about my great-great-grandmother, Mindel (Milly) Gross, when I began my research. She had died before my mother was born, so there were no family stories or memories to be passed down. The only photo I have of her is from 1931, when my grandparents Harry and Judith married at Cricklewood Synagogue in London.
When the 1939 Register was released in the U.K. in 2015, I was able to confirm the date of birth of Milly's daughter Raye (my great-grandmother) in 1890 in Whitechapel, and I ordered her birth certificate. This is how I first discovered that Milly's maiden name was Gross. I then found Milly's marriage record, which had taken place the year before.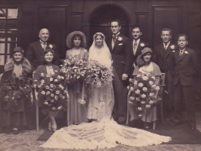 Milly had married a widower, Jacob Cohen, at the Great Synagogue in London. Their marriage certificate showed that Milly's father was called Salomon Gross, and that he had been a general dealer.
The U.K. census records in 1891, 1901, and 1911 only gave Russia or Poland as the place where Milly was born, so I had no details to help me. But back in 2012, a cousin had told me that Milly's family was from Kalisz, in Russian Poland. She had been orphaned at the age of four, and was brought to England by an uncle called Peter who settled in England after being captured when fighting against the British in the Crimean War.
This was all I could discover until I learned how to locate and work with Polish records.
I started by searching for a Salomon or Solomon Gross who died in Kalisz in about 1872 (when Milly would have been four years old).
JRI-Poland had a promising record, of a Salomon Gross who died in August 1872. His wife was Roza Bant, who died in 1871. This seemed to fit the story I had been told. They married in 1860.
Looking further, I found that Roza was Salomon's second wife. He first married Hendela Pech in 1849, and they had a daughter, Brane. Hendela died in July 1852, and Brane died just a few months later.
From a tip that I happened to see on the JewishGen Discussion Group, I found out how easy it was to order copies of filmed Polish records via the FamilySearch website, using the Family History Library Remote Access Services Request form (one can order up to ten documents a week; documents are sent within days).
Once I received the Polish records that I requested, I then used JewishGen's ViewMate to request volunteers to provide me with translations; the writing is often difficult to decipher, even using the helpful guides located at JRI-Poland's How can I Read Polish-Language Vital Records.
It has taken me a long time, but from these records and the kindness of everyone who has helped me to access and understand them, I have now learned that Salomon was born in 1824 (he was 48 when he died), and worked as a porter or luggage carrier.
I was able to go back another generation, and discovered that Salomon's parents (my 4x great-grandparents) were named Jakob Gross and Esther Brajna Grün. Jakob, a tailor in Kalisz, was born in around 1780. Jakob and Esther Brajna must have married in about 1815, judging by the birthdates of their children, but I have not found a record of the marriage.
Esther Brajna died in 1843, leaving "five sons: Mordech (Mortcho), Majer, Salomon, Ayzyk, Lewek and a daughter Mindela".
Jakob Gross died in 1857, leaving "three sons, Ajzyk, Laib, Salomon, and a granddaughter, Machle Kressel (from Markus Gross), and a house, number 259 in Kalisz".
This information from their death records helped me to work out that the oldest child, Mordech (Markus), must have died before 1857. The second child, Majer, whose death record I found, died in 1847. I am assuming that Laib and Lewek are the same person, but no further records have been found for him, or for the only daughter, Mindela, who presumably died between 1843 and 1857.
From these records I have managed to trace some other family members and hope to find some descendants one day, possibly through DNA matching or finding new records that may become available.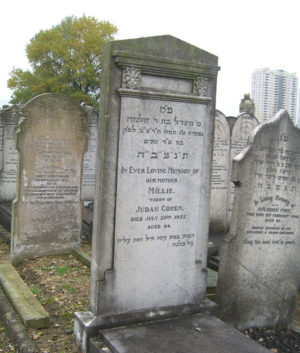 I also now realize that Milly likely named her children after these relatives: she had a daughter, Annie Rosa, who died of measles as a baby, who was probably named after Milly's mother Roza Bant. Milly had a son, Jacob (Jack), who was killed fighting in the First World War, and he was possibly named after Milly's grandfather Jakob Gross. Another son, Solomon (later Sidney), could have been named in honor of her father Salomon. And her youngest daughter, Esther (later Hettie), was probably named for Milly's grandmother Esther Brajne.
It is lovely to feel that Milly came from somewhere and had a family. Of course, we always know that this is true, but it only means something when you have some names and can put the story together. I have not yet found Milly's uncle Peter who brought her to England, but I am optimistic that one day I will !
March 2022
Abingdon, Oxfordshire, UK


Editor's Research Notes and Hints
Census records can provide useful clues in tracing family members. The United Kingdom 1939 Register provided Jessica with her great-grandmother's year of birth. Using this date, Jessica located her g-grandmother's birth certificate which contained her g-g-grandmother's maiden name.
Vital records, such as marriage records, can provide names of a bride's parents. This is how Jessica learned the name of her g-g-grandmother Milly's parents' names and occupations.
Interviewing relatives gave Jessica additional information about an ancestor such as country and town of origin.
Using the names and place of origin, Jessica searched JRI-Poland and found records of likely relatives. Translations of these records were made by volunteers who Jessica found on JewishGen Viewmate.