In searching for others who might be connected to my family, I listed Epstein from Bobroisk, Belarus, in JewishGen's Family Finder database. I also sent emails to the other people looking for Epsteins from Bobroisk, telling them my Epstein grandfather's name (Max) and the names of his siblings.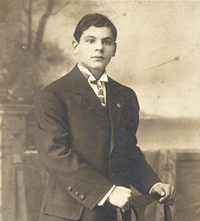 Max Epstein, Chicago, 1910


I was pleased to get a reply email from a man named Al Ruben from the Chicago area saying, "Hi cousin!" He said that his grandmother Gittel Epstein was first cousin to my grandfather Max. This was a branch of the family I'd never heard of, so I didn't know if I could believe him.
I forwarded Al's email to my uncle Sol who lived close by and to my father's first cousin Eli who lives 2,000 miles away. Both of them remembered visiting Al's grandmother Gittel when they were children, confirming the relationship with this newly found branch. We were, indeed, cousins! Through DNA testing, we have since further confirmed the family connection.
Through Al I also learned that Iris, a woman of my father's generation from Al's branch of the family, lived close to me in Los Angeles. When Eli was in town I invited him, my uncle Sol and Iris to a family party where I taped the discussion of their memories about each other's families and the times when they got together. They had some hilarious stories which gave me a better understanding of the family dynamics and personalities of my father's family.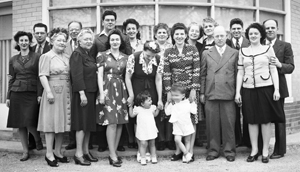 Epstein, Gecht, Weiland Extended Family Gathering; Milwaukee; 1943. Link to larger photo.


Another benefit of this connection is that Al has been able to provide me with research on my Chicago relatives, including finding my great-grandmother's grave, which led us to a better understanding of family names and relationships. I have also provided research for Al regarding his Los Angeles area relatives. Thank you to JewishGen's Family Finder for connecting the branches of our family tree!
See Al Ruben's footnote to the story by clicking this link.
August 2014
Los Angeles, California, USA