by Iain Palôt
It all goes swimmingly at first ― you fill in your family tree with parents and grandparents, aunts, uncles, cousins, some of whom you knew about, and some you didn't! It helps if you have an interesting name because when you eventually resort to records your names spring from the pages. I was fortunate that my four, slightly unusual, grandparental surnames were Palôt, Skingley, Smiles, and Sanders, from Guernsey, Essex, Scotland, and the East End of London, respectively.
In the days when one had to go to the local record office or church and actually handle the records, the first two names were fairly easier to find; Smiles continues to be a problem as Scottish records are difficult to access, but the Sanders connection has proved to be the most exciting in terms of what the research has thrown up.
Charlie Sanders, my maternal great-grandfather, married a Kitty Beatrice de Haan. She was one of six siblings, all born in England except for her seventh sibling, her eldest brother, who rejoiced in the name Philippus! He and their parents were born in the Netherlands, so I have Dutch ancestry. Not only that, I have Jewish Dutch ancestry!
The family history greybeards all told me that I was on to a "loser" trying to trace Dutch records, as all the records were destroyed during the 1940 Luftwaffe blitz on Rotterdam, so that was that.
HOWEVER…
That was not the case, as I was to discover. But I am getting ahead of myself. What I was able to find was that Philippus' father, my great-great-grandfather, Barend de Haan, had married a Rosetta Isaacs, and that they had both been members of very large families. It was also fairly easy to find the names of Barend's parents, and then I hit the proverbial brick wall. A brick wall of the proportions of the Great Wall of China. The dead-end to end all dead-ends, the locked door. I do not speak Dutch, I could not easily, at that stage, access Dutch records, I did not know what records there were, I simply did not know which way to turn or where to find help.
But if you learn nothing else whilst doing family history research you learn the need for tenacity. There had to be a way forward; I left messages on all manner of forum boards hoping for a reply. This time scale is measured in years rather than months, and I had largely given up any hope at all of progressing any further back, or indeed sideways and forwards, down other family leads.
Then out of the blue a contact informed me that a Napoleonic law of 1806 had required all families to adopt a surname, rather than continuing the common practice among the Ashkenazi community of using patronyms. Furthermore, it was suggested that I give some attention to the surname ELJON-COHEN. This, it turned out, was the patronym before the family "adopted" the De Haan surname. How the contact knew this I still do not know. Eljon-Cohen turned out to be the key to the door, the ladder to scale the wall, and what a low wall it suddenly became.
Using the excellent Akevoth website of genealogical and historical research on Dutch Jewry, as well as other Jewish records, I was able to race back through the generations, collecting masses of information about my forebears. I now knew where they lived, where they were married, where they were buried, what their occupations were, and the names of their in-laws. My family tree expanded at an amazing rate. I was spoilt for information, where before I had none. I did have to get my head around the Jewish calendar, and needed constant recourse to a Dutch dictionary; many of the words were Old Dutch and needed a second dictionary and use of the internet.
Having more or less exhausted these records, I then decided to go the other way and trace the various family lines down towards the modern day. My ambition, which over the months and years became an obsession, was to find a living Dutch cousin no matter how many times removed they might be!
My great-great-grandmother, Rosetta Isaacs, had been one of 12 siblings. I decided to start with her brothers and sisters. I do not need to explain here the emotions that I experienced as I saw families disappear, to be murdered in the camps at Auschwitz, Sobibor, and others. A visit to Krakow with students in January 2013 brought home the enormity of the crime to me with a real thud, and yet placing stones on the Dutch memorial gave me a physical feeling of relief that to this day is hard to explain.
What it did do, though, was to intensify my desire to find someone who survived or is a descendent of a survivor. I did not have death dates for all the names on my tree, so maybe some may have survived by being hidden or by escaping or, or, or. So perhaps I should look at the de Haan side of the family.
I had begun to use the websites, Community Joods Monument and Geslachtsnamen lijst mainly to cross-reference information that I already had, but also to identify addresses and occupations, and again to leave messages on the various forum boards. Whilst idly scanning through the names, I noticed a Philippus de Haan, whose dates fitted those of my great-grandmother's brother, and what was even more exciting, there was a photograph of him! My wife pointed out ― she was a lot calmer than I at this point ― that the website was only a few years old and therefore whoever had posted the photograph was most likely alive and possibly a relative.
The date was September 25th 2014 when I first emailed the contact at the bottom of that page. On October 18th, along with my sister and some of my English cousins, we met two of our living Dutch third cousins in London. We walked the streets of Jewish Whitechapel and visited the Sandy's Row Dutch synagogue, the site of the tobacco factory where so many relatives worked, and the house where my great-grandmother Rosetta Isaacs died, on Tenter Street North in 1916.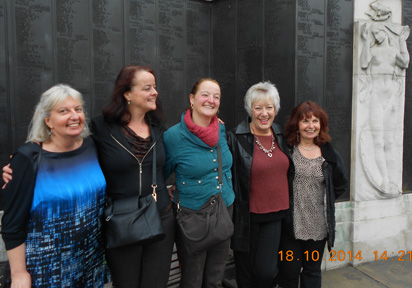 Cousins Jeanine and Caroline and the rest of my Dutch family had no idea that there was an English branch of our family, and we had no idea how they had survived. My then 90-year-old aunt had two second cousins and they corresponded almost immediately, and in March 2015 my aunt and three of us went to Eindhoven with photograph albums and a family tree to meet face-to-face our relatives for the first time. My aunt and one of her cousins have since passed on, but the rest of us continue to meet every year, alternating between the UK and the Netherlands. This year (2023) we will meet in Rotterdam to trace the remains of the Jewish section of the city, and hopefully find the streets where our ancestors lived.

So, if you are confronted with "a brickwall" don't despair, there is a way through; you might not find it today, tomorrow, or even this month, but it is there, you just need to keep looking.

Editor's Research Notes and Hints
Iain's unusual family surnames helped track down relatives.
Iain was advised that the 1940 Luftwaffe blitz on Rotterdam destroyed the records he was in search of. Such claims should be confirmed by making inquires at likely archives, by searching the internet, or by making inquiries on forum boards.
Specialized websites such as Akevoth, Community Joods Monument, and Geslachtsnamen lijst can be used to cross-check information and to identify addresses and occupations.
Simple tools, such as a bi-lingual dictionary, are useful in interpreting foreign-language records. Iain used English-Dutch dictionaries to help him interpret Dutch records.
___________________
A version of this essay first published in Shemot, the journal of the Jewish Genealogical Society of Great Britain.