Old Website Town Pages
Important Note
The information on this page has been compiled by Ukraine SIG long time ago.
As JewishGen and the Ukraine SIG evolved, the contents of the page became redundant with other areas of
JewishGen (specially the KehilaLinks) and the new SIG website.

This page will be temporarily hosted by the Ukraine SIG site until this contents is transferred to the corresponding
KehilaLink and/or indexed into the Ukraine Database. Then it will be removed.
Poltava Gubernia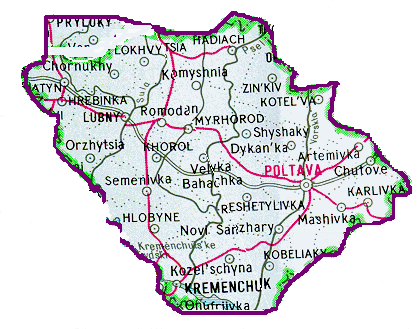 Poltava Gubernia was founded in 1802, and reorganized into oblasts in 1924.
Major Jewish Communities in Poltava Gubernia
| | | |
| --- | --- | --- |
| Priluki (now in Chernigov oblast, was a leading community of Poltava with a substantial Jewish population. | | Lubny (Lubny was the second largest community in Poltava, just behind Poltava City in importance.) |
| Kremenchug | | Romny |
| Mirgorod | | Pereyaslavl (Pereyaslav Khmelnitskiy) |
| Zolotonosha (A raion center of the Cherkassy oblast in the Ukraine) | | Gadyach |
| Khorol | | Konstaninograd (Krasnograd) |
| Piryatin | | Kovelyaki |
| Lokhvitsa | | Poltava |
| Zenkov | | |
Records available
There are some records for Poltava gub. at the Family History Library (Mormons). Details are here.
Recipes
Lena Yelkova contributed recipes of her grandparents,who lived in Poltava. They're here.
Famous people from Poltava
Isaak Dunayevsky, very popular Ukrainian composer and musician, was from Lokhvitsa, in Poltava gub. Read more about him!
Sholom Aleichem, born as Solomon Rabinovich, was from Pereyaslav, Russia near Kiev (now Pereyaslav-Khmelnitsky). Read more about him!
This is a spreadsheet listing every town in Poltava gubernia, with its current and previous names, location, and other details. It's part of the region-wide Geographical Dictionary Project, gathering this information for every city and shtetl which had a substantial Jewish population.
ShtetLinks for Poltava Gubernia
Please visit the main ShtetLinks page for many more shtetls not yet listed here.