Faces from Volhynia
Related to:
Volhynia (Province)
,
Photos
Some photos are reduced. If so, click on the images, and a larger one will open in a new window.
Emilchino
Etl URMAN and her brother Nyuma URMAN in 1934
Mikhlya SHAPIRO URMAN, Emilchino 1917. She was the wife of Ezra URMAN, "court tailor" to Count Uvarov, and mother of Etl URMAN KHAZIN
Etl URMAN KHAZIN and her husband Boris KHAZIN in 1946
Etl URMAN and her grandparents, Moshe and Khana (SHAPIRO) BARATS
(Emilchino late 1920s)

These four photos were contributed by Alex Kopelberg.

Read more of his story

here

.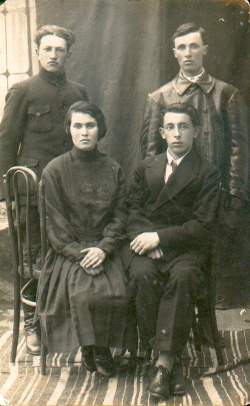 Beyla Isaakovna SHAPIRO, her husband, and brothers
This photo was taken in Emilchino in 1926. Alex Kopelberg, submitter, knows only that these are members of the Shapiro Family. The sitting woman is Beyla Isaakovna Shapiro(1908?-1982), born in Emilchino, died & buried in Simferopol. She is Alex's cousin's grandmother. The man on the left is her husband Yudko Shapiro ( 1902 ? -1945), born in Emilchino and perished in WWII. The other two men are Beyla's brothers, one named Aron.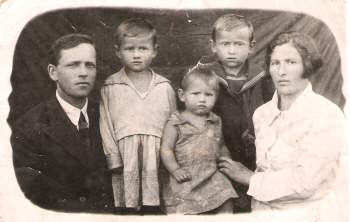 The KOPELBERG family of Stepanivka in 1938.
Picture provided by Alex Kopelberg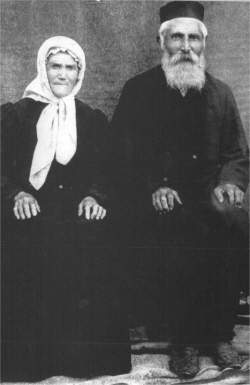 Yitzhak and Rose (PORTNOY) BARON
Mark Baron contributed the picture above. His grandfather Philip Baron (b 1877) and Philip's brother Harry, with their parents Yitzhak and Rose, immigrated from Emilchino, Ukraine.
This is a photo of his great-grandparents Yitzhak Baron and Rose (Portnoy) from their arrival in Canada in 1906." "Little is known about my great-grandparents...I don't know where they were born. They lived in a turbulent time of constant ethnic upheavals and redrawing of borders. I have no information regarding the Portnoys. ... The definitive link to Emilchino is through my grandfather's brother Harry, who named it as his place of origin. My grandfather said he was from Soroshka, which I took to be a phonetic equivalent of Zarechye. Zarechye means ' across the river', and most cities, towns, villages located on a river had a 'Zarechye'. Emilchino is on a river, or the confluence of several rivers.. In a letter from an Ethnic German geneological site I found a reference to Zarechye in approx the same location as Emilchino. ... Both my grandfather and his brother were merchants and operated small businesses in Portage la Prairie/Winnipeg areas of Manitoba. ... My great-grandparents were essentially peasants and a hard life is written on their faces. ... I contacted a few people regarding Emilchino hoping somoeno might have old photo's of the shtetl, community buildings, cemetery, etc. "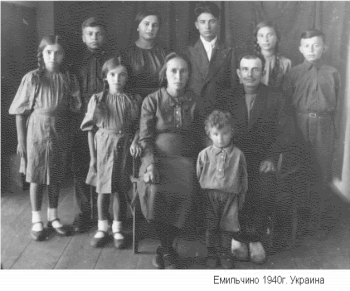 The Freylikhman Family in Emilchino in 1940
Gennady Freylikhman provided the above picture and details on many members of the FREYLIKHMAN family.
Information about this family's occupations is also part of our Occupation Survey.
Family Photos from Stepanivka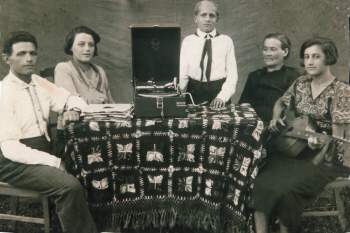 The KOPELBERG family, around 1935
"In the center - Mikhail Samuilovich KOPELBEG; to the right is his mother Ita KOPELBERG (nee RAZUMOVSKIY); the girl with guitar is his sister Raisa KOPELBERG. To the left is another sister Asya KOPELBERG and her husband, Yefim FREYLIKHMAN." Alex was told that the picture was taken in the mid-1930s in the Odessa region's Grushev district.
These individuals are also included in our Occupations Survey. Photo contributed by Alex Kopelberg.
Photos from Zhitomir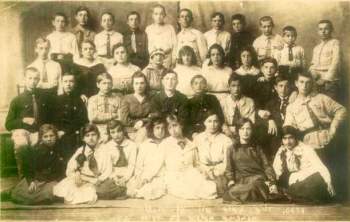 Zhitomir 1st Jewish Pioneer Group 1920.
A picture from the 1st Jewish Pioneer Group of 1920 My Grandfather was about 13-14 when the photo was taken, he arrived in the US in 1921.
Photo courtesy of M. Faber