Faces from Yekaterinoslav
Related to:
Yekaterinoslav (Province)
,
Photos
Some photos are reduced. If so, click on the images, and a larger image will open in a new window.
Ekaterinoslav City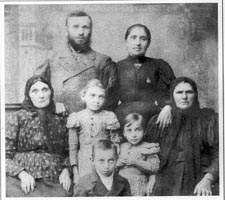 The family of Joseph Katz, cerca 1898.
In the rear are Joseph and his wife Ida (nee Pesachinsky). In the front, from the left, are his mother Esther (nee Jarmucz), daughter Sadie, son Jacob, daughter Rochel, and Ida's mother Yetta.
Photo courtesy of Hilary Henkin.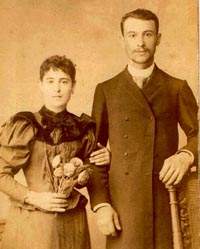 Israel and Yetta (nee Newmark ) Milewski.
It may be their wedding picture. A little kitchen table transliteration yielded, I think, "L.V MITKIN" and "EKATERINOSLAV" for the writing on the bottom (visible in enlarged view). I don't know what the crest signifies. Perhaps other Genners have ancestors who patronized Mr. Mitkin. Photo courtesy of Howard Bensen.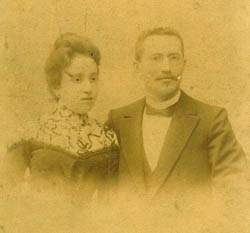 Pinya and Varvy POBERJESKY, aka Peter and Vera POBER.
Taken in 1900 Ekaterinoslav, at R. Ya Bik's studio, who was based in Yelisavetgrad. Picture and info by Ray Cannata
Lubny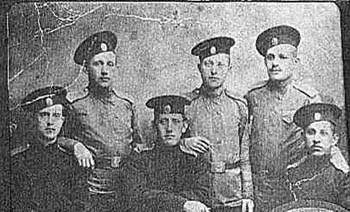 Jacob SHAPIRO of Lubny and Ekaterinoslav (in the middle)
His parents Benjamin SHAPIRO-COHEN (from Stoblsty) and Eta Rivka MOSKOVITZ (from Timikovichi) were both born in the Belarus area but lived in Ekaterinoslav and Lubny. Jacob's son is still living in Sioux City, Iowa. Photo courtesy of Gayle Schissel Riley
Lugansk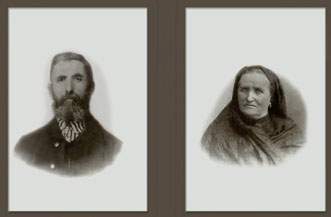 Sophia and Nuchem Perets AISIN lived in Lugansk, Ekaterinoslav Gubernia, around the years 1840 - 1900. Photo supplied by Eliana Aizim