JEWISH COMMUNITIES AND CONGREGATIONS IN SCOTLAND
There is no evidence of Jewish settlement in Scotland before the mid-17th century, when various converted Jews were to be found at Scottish Universities. The first professing Jew to settle in Scotland is believed to be a David Brown, in Edinburgh in 1691, where a small Jewish community grew up. The first synagogue and cemetery were opened in 1816. Harvey l. Kaplan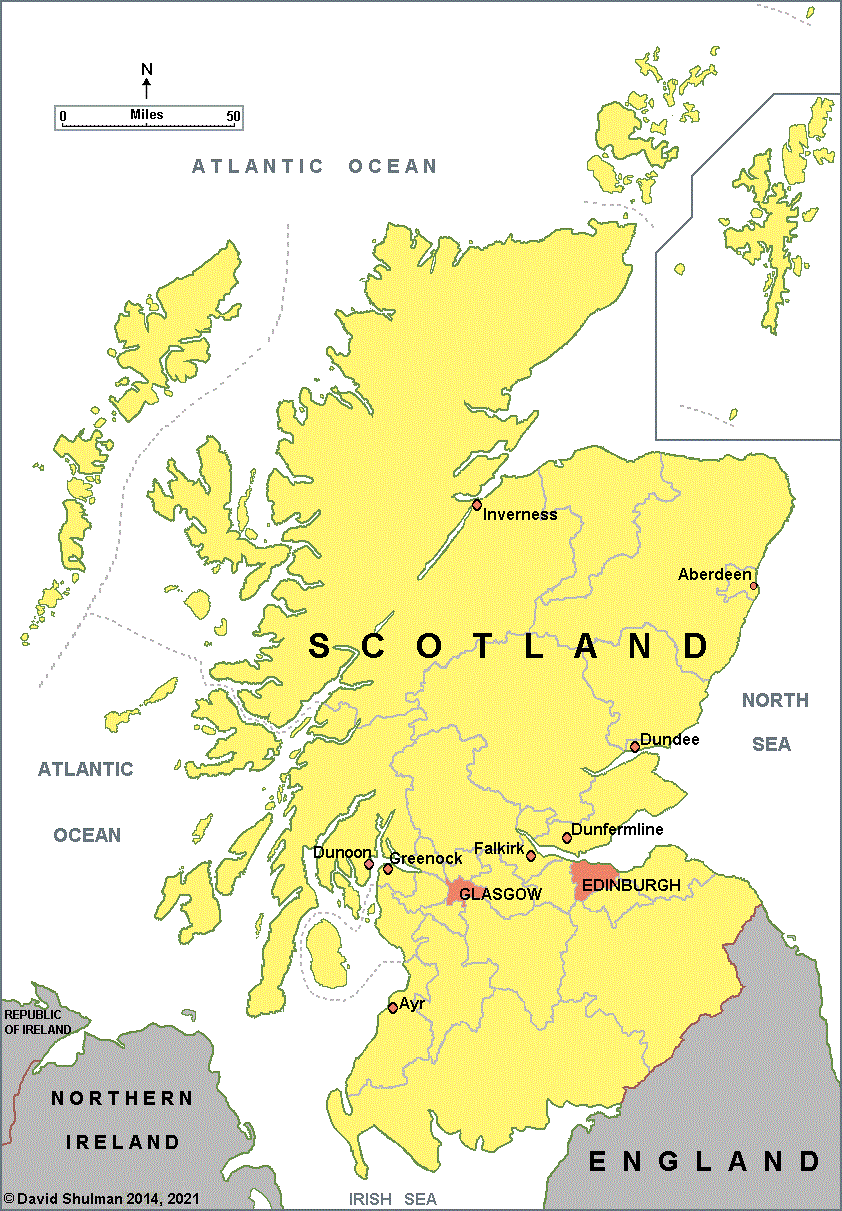 Map of Scotland showing every town that ever had a Jewish community
and congregation.

Beth Jacob Synagogue
Beth Jacob & Poalei Zedek United Synagogue
Chevra Kadisha Synagogue
Crosshill Hebrew Congregation
Garnethill Synagogue
Giffnock & Newlands Synagogue
Glasgow Hebrew Congregation (until 1879) (includes rival congregations)
Glasgow Masorti Synagogue#
Glasgow Reform Synagogue(5,7)#
Great Central Synagogue
Irn-Ju#
Langside Hebrew Congregation
Machzikei Hadas Synagogue(7)#
Netherlee, Clarkston & Queen's Park Hebrew Congregation
Newton Mearns Synagogue
New Central Synagogue
Nusach Ari Congregation
Park Place Synagogue
Poalei Zedek Synagogue
Pollokshields Chevra Kadisha Synagogue
Queens Park Synagogue
Rutherglen Loan Congregation
Shul in the Park
South Western Hebrew Congregation
United South Side Synagogue
Yeshivah Synagogue

# Congregation pages recently fully reformatted, with expanded data.

(1) Community records (as listed) in All-UK Database.

(2) Pages with their own searchable databases.

(3) Pages with press reports on the community.

(4) Pages with photographs.

(5) Pages with articles and other contributed material.

(6) Pages with browsable lists.

(7) Pages listing of Ministers and/or Officers.
Page created by John Berman: 2002
Communities researched and page reformatted by David Shulman: 20 April 2005
Redesigned by Louise Messik: November 2011
Reformatted by David Shulman: May 2014
Latest update or revision: 24 February 2022