* * * * * * *








* * * * * * *












Jewish Community of Gibraltar

The Rock of Gibraltar
Gibraltar (often referred to affectionately as the Rock or Gib) is an overseas territory of the UK, occupying a narrow peninsula protruding from Spain's southern Mediterranean coast. It was captured from Spain in 1704 and formally ceded to the Kingdom of Great Britain (later the United Kingdom), in perpetuity, under the terms of the Treaty of Utrecht in 1713.
Gibraltar became a British Crown Colony in 1830. In 1981, its status was changed to that of a "British Dependent Territory", which term was replaced by "British Overseas Territory" in 2002. Gibraltar is part of the European Union and Gibraltarians have full British citizenship.

The Gibraltar Jewish Community
It is believed that there were Jews in Gibraltar prior to its capture in 1462 by Spanish (Castilian) forces, which ended 700 years of Moorish rule. In 1474, Gibraltar was sold to a group of Jewish conversos (Spanish and Portuguese Jews who, generally under force, had converted to Catholicism). However, two years later, the conversos (estimated to number some 4,350) were expelled as part of the Spanish Inquisition.
In 1705, shortly following the capture of Gibraltar by Anglo-Dutch forces, a number of Jewish merchants (primarily from London, Lisbon, Livorno and Tetuan, Morocco) settled in the town and established a community, only to be expelled in 1717, at Spain's insistence, pursuant to the terms of the Treaty of Utrecht. Within a year or two, Jews again resettled in Gibraltar, principally from Tetuan, and by 1754, formed one third of the total population.
During the World War II, most of Gibraltar's civilian population was evacuated, initially mainly to London. In July 1944 thousands of these evacuees were moved from London to several emergency camps in Northern Ireland. One of these camps, Camp 4, at Saintfield, County Down, was known as the Jewish camp, as it included some 300 Gibraltarian Jews, who set up those institutions needed to maintain the community, including a synagogue. The camp was closed by about 1947, many of the inhabitants returning to Gibraltar.
The present Jewish population, almost exclusively Sephardi, numbering some 600 persons, maintains a vibrant community, with four active synagogues, Jewish schools and kosher restaurants.
Database currently includes:

Births: 1808 - 1894: 2,820 Records:
Marriages: 1810 - 1883: 554 Records:
Deaths: 1829 - 1931: 3,095 Records
Census: 1777 & 1791: 805 Records
It should be noted that this is ongoing and more records will be added as they are transcribed from the original registers and census documents.
PLEASE NOTE: The results of your search will produce a number of records from Births, Marriages, Deaths and Censuses. To view individual records you will need to log in to JewishGen, which is where these records are housed. Joining JewishGen is free of charge. If you do not have a JewishGen ID, then please click here and join up.
Jewish Congregations in Gibraltar
* Denotes active congregation.
(4) Pages with photographs.
Other On-line Articles and other Material
relating to the Gibraltar Jewish Community
on JCR-UK
on third parties' websites

Gibraltar Jewish Cemeteries Information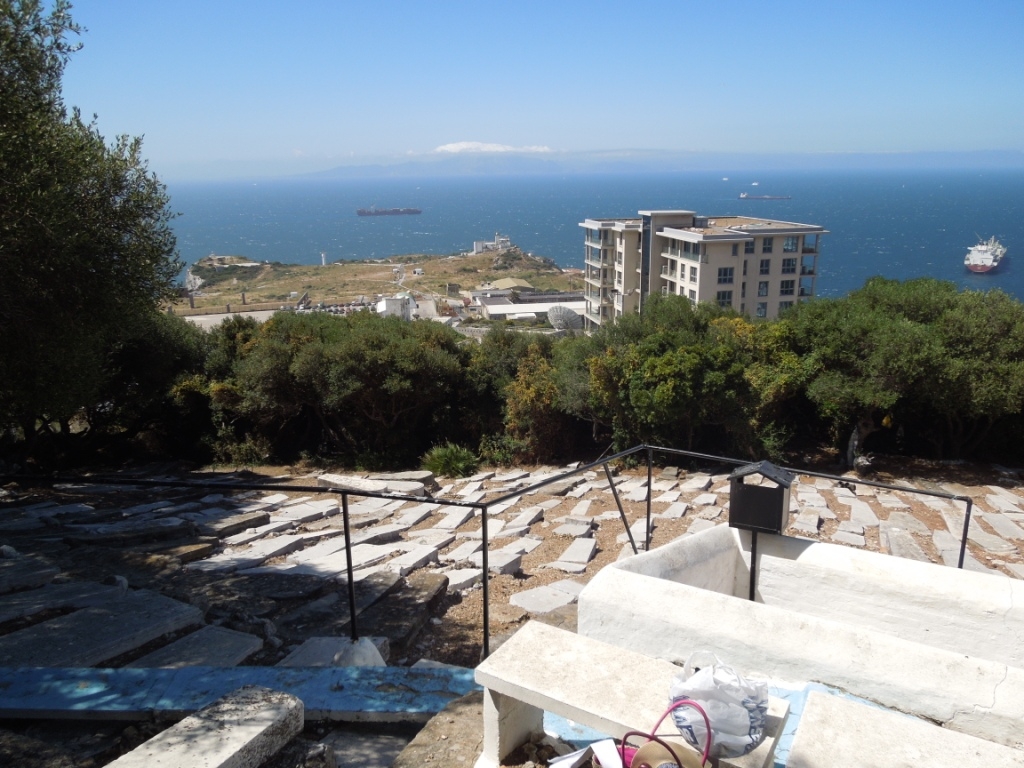 A photograph of Jews' Gate Cemetery (the "old" cemetery), Gibraltar
© Louise Messik 2012

Gibraltar has the following two Jewish cemeteries:
Jews' Gate Cemetery (the "Old Cemetery"), Windmill Hill, off Queen's Road. Open from about 1746 until 1848.

North Front Cemetery, Jewish Section (the "New Cemetery"), off Devil's Tower Road. Opened in 1848 and still in use.
Records of burials in the above cemeteries, currently from 1829 to 1931, are included in the above Database. Gina Marks and Louise Messik are undertaking photographing remaining graves in the two cemeteries.
Historian and researcher, Joshua Marrache, is providing information from various sources and translations of the graves which are in Hebrew.
On-line material on JCR-UK relating to Gibraltar's cemeteries include:
(For additional information, see also IAJGS International Jewish Cemeteries Project - Gibraltar)
Gibraltar Jewish Population Data

1725

137

10% of population (Community's website)

1754

573

33% of population (Community's website)

1777

863

25% of population (Community's website)

1881

1,800

10% of population (Community's website)

2008

600

2% of population (Community's website)
Page created by David Shulman: 7 November 2011
Page most recently amended; 13 September 2023