Old Website Town Pages
Important Note
The information on this page has been compiled by Ukraine SIG long time ago.
As JewishGen and the Ukraine SIG evolved, the contents of the page became redundant with other areas of
JewishGen (specially the KehilaLinks) and the new SIG website.

This page will be temporarily hosted by the Ukraine SIG site until this contents is transferred to the corresponding
KehilaLink and/or indexed into the Ukraine Database. Then it will be removed.
Proskurov
Podolia Gubernia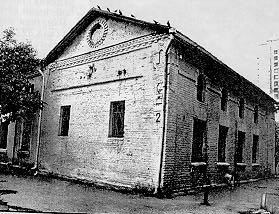 The old Proskurov Synagogue as it stood "ten years ago."
(But we don't know exactly when "ten years ago" was.)
History of Proskurov
The "Jewish Encyclopedia" (the early twentieth century English language version) has a small article on Proskurov by Herman Rosenthal:
"Proskurov: a Russian town, in the government of Podolia. The Jewish community there has one large and eight smaller synagogues, and a Talmud Torah built by the late Hayyim Masel in memory of his father, Phinehas. The expenses of the Talmud Torah are met by a grant of 3,000 rubles annually from the income of the meat-tax. There are also a Jewish school for boys and one for girls, a library, founded by the Zionists, and various other institutions. The town has a total population of 22,915, about 39 per cent being Jews (1897).
The district of Proskurov, exclusive of the city, has a population of 204,246, of which 8 per cent are Jews — a decrease from the proportion of 1866, when there were 12,616 Jews there (9 per cent) in a total population of 141,702."
Photos of Proskurov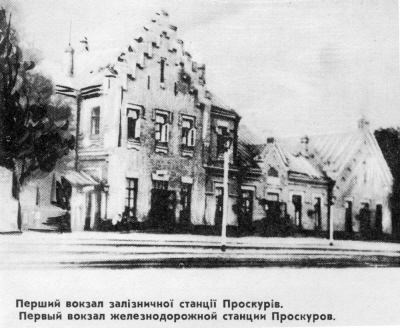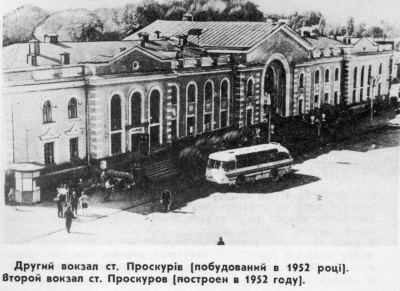 Families of Proskurov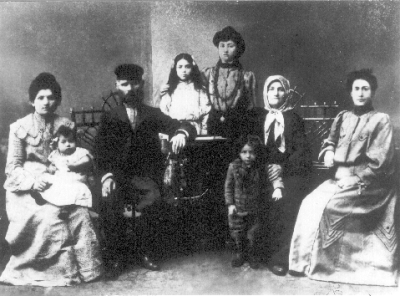 The MUDRIK family of Proskurov, contributed by Naomi Moderick.
Attached is a picture of my father and his family taken in Proskurov, Ukraine in 1906 or 1907 before my father and his mother came to the US. My grandfather Avrum MUDRIK was in the US already.
From left to right: my greataunt Freyda GRUBER with her daughter Anna (do not know her Yiddish name) GRUBER, my great-grandfather Yusel MUDRIK, my two greataunts, Perel MUDRIK and Rivka MUDRIK, my great-grandmother Esther Mudrik, the little boy in front of her is my father, Leib MUDRIK, and the woman on the right is my grandmother Chane MUDRIK. The Mudrik's became Mudrick in the US, except for my father, who became Louis MODERICK. I do not know why his name was spelled differently. Ellis Island has him listed as Leib Mudrik.