Old Website Town Pages
Important Note
The information on this page has been compiled by Ukraine SIG long time ago.
As JewishGen and the Ukraine SIG evolved, the contents of the page became redundant with other areas of
JewishGen (specially the KehilaLinks) and the new SIG website.

This page will be temporarily hosted by the Ukraine SIG site until this contents is transferred to the corresponding
KehilaLink and/or indexed into the Ukraine Database. Then it will be removed.
Uman
Kiev gubernia
Uman was a sizable city in Kiev Gubernia and it must have sent tens of thousands of its favorite sons and daughters abroad in the period of the Great Emigration 1880-1920.
Emigrants thru Ellis Island with Last Residence of Uman
Deborah Glassman pored through the Ellis Island Database, and extracted any immigrants who noted a "Last Residence" of Uman, or a town that could be Uman. You can browse the list here. (Note: There are over 1300 immigrants listed. The page may take several moments to load.)
Photos of Uman Residents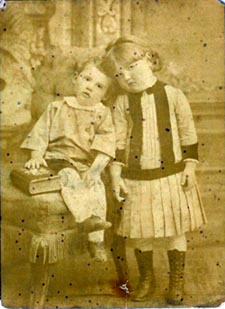 The back in inscribed (in Russian): "To our dear uncle and aunt M.U. and N.N. Sklaeveuskill (???) to remember, from Nina and Sasha". Photo courtesy of Ray Cannata, JGen researcher #63228.
Personal Stories
Bella Nussbaum
My mother, aleha hashalom, Bella Yapha Teplitzky Nussbaum, was born in Ukrainia in the early part of the last century. After living through the Russian revolution in Ukrainia, which was considered the worst thing to ever happen to the Jewish people until the Holocaust, she escaped with her parents and sisters by walking across the Dniester River on the ice.
To read the rest of the story, click here.