Old Website Town Pages
Important Note
The information on this page has been compiled by Ukraine SIG long time ago.
As JewishGen and the Ukraine SIG evolved, the contents of the page became redundant with other areas of
JewishGen (specially the KehilaLinks) and the new SIG website.

This page will be temporarily hosted by the Ukraine SIG site until this contents is transferred to the corresponding
KehilaLink and/or indexed into the Ukraine Database. Then it will be removed.
Peschanka
Podolia Province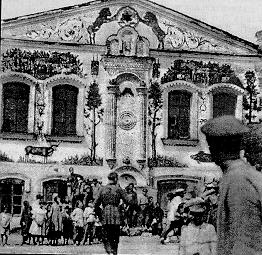 Peschanka Synagogue around WW I
Photo taken by soldier in Austro-Hungarian Army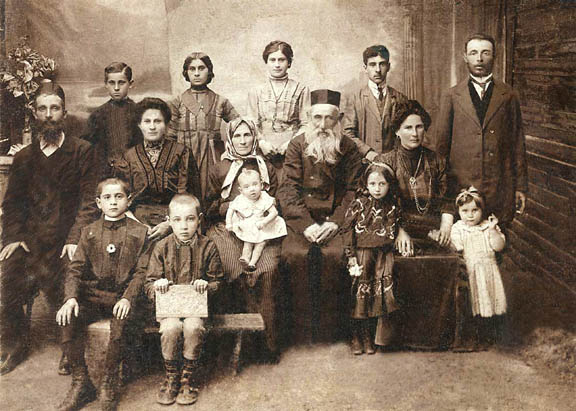 The Vatnick family of Peschanka
Photo taken in 1905 in Peschanka, Podolia Gubernia. Sitting in the centre: Ratse and Zacharia VATNICK. At their right, daughter Ruchl. One of the girls was Golda. The others' names are not yet known. In 1922, Ratse, Ruchl and Golda fled to Toronto, Canada, where they changed their surname to WHITE (or variations). Photo contributed by Eliana Aizim, who is looking for the families of Ratse, Ruchl, and Golda.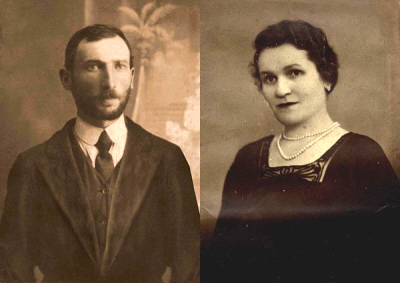 Burach and Esther Vatnick
Burach VATNICK, the son of Ratse and Zacharia VATNICK, was born in 1890 in Peschanka, Podolia Gubernia; Esther (née AVERBUCH) VATNICK, the daughter of Zlata (née SCHENKER) and Fischel AVERBUCH, was born in 1895 in Zhabokrich, Podolia Gubernia. After their marriage they lived in Kryzhopol. Burach died in a pogrom in 1919. In 1920 Esther fled to Rio de Janeiro, Brazil, with her two children Chaie and Luba. She died in 1991. Photo contributed by Eliana Aizim.
Other photos of the Vatnick family are here, living in Kryzopol.
Pinkas Community Register
The Pinkas - the Jewish Community Register of Peschanka has been preserved and is on microfilm in The Institute of Microfilmed Hebrew Manuscripts, a part of the Jewish National and University Library in Jerusalem. Getting copies of the relevant pages, or obtaining the microfilm, is a SIG project waiting for help. Click here to read more.