Old Website Town Pages
Important Note
The information on this page has been compiled by Ukraine SIG long time ago.
As JewishGen and the Ukraine SIG evolved, the contents of the page became redundant with other areas of
JewishGen (specially the KehilaLinks) and the new SIG website.

This page will be temporarily hosted by the Ukraine SIG site until this contents is transferred to the corresponding
KehilaLink and/or indexed into the Ukraine Database. Then it will be removed.
Ekaterinoslav Gubernia
Ekaterinoslav was named for Czar Catherine - "Catherine's City". After the revolution of 1917, not only were the Czars overthrown, so was everything they stood for. So the city was renamed Dnepropetrovsk, because it was on the Dneiper River. Because our ancestors knew it as Ekaterinoslav, we'll generally use that name on this website.
Ekaterinoslav is in the center of the Ukraine, on the Dnieper River. The Dnieper river runs south all the way from Dorogobuzh, Russia, northeast of Belarus, through Russia, Belarus, and the Ukraine to the Black Sea.
The gubernia of Ekaterinoslav is named for its central city. Both the city and the gubernia were renamed after the revolution of 1917.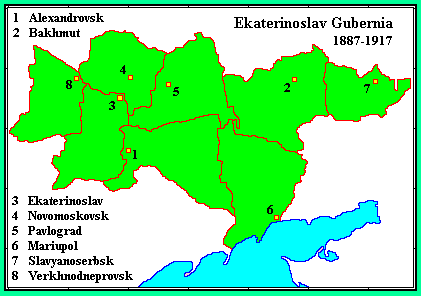 Map courtesy of "World History at KLMA ".
Ekaterinoslav gubernia was founded in 1802. The various gubernias were reorganized into oblasts in 1924. Some of its major Jewish communities are:
| | | |
| --- | --- | --- |
| Aleksandrovka (Zhaporzhye) | | Pavlograd |
| Bakhmut (Artemosvk) | | Slavianoserbsk/Lugansk (Voroshilovgrad) |
| Ekaterinoslav (Dnepropetrovsk) | | Verkhnedneprovsk |
| Mariupol (Zhdanov) | | Lugansk |
| Novomoskovsk | | Donetsk / Yuzovka |
| | | |
It was founded as part of an effort to migrate people from other parts of the Russian Empire to the Southern Ukraine, and develop that area for farming. For more information about this part of its history, please visit the "Agricultural Colonies of the Ukraine".
Families from Ekaterinoslav Gubernia
Yekaterinoslav Guberniya
February 1999
[The following article was recently posted to our [Belarus-SIG] forum by a noted genealogist in Israel and we believe it is of general interest to readers who may not have seen it there as well as to new subscribers - Ed.]
By Chaim Freedman
In reply to several messages about Yekaterinoslav, I will briefly outline some of my research of the Jewish communities in the Guberniya (province) that was once called Yekaterinoslav and is now called Dnepropetrovsk. For the record, my late mother's great-great-grandparents on all sides were amongst the first colonists in the region, hence my involvement in research over more than three decades.
Read the rest of the history here.