Old Website Town Pages
Important Note
The information on this page has been compiled by Ukraine SIG long time ago.
As JewishGen and the Ukraine SIG evolved, the contents of the page became redundant with other areas of
JewishGen (specially the KehilaLinks) and the new SIG website.

This page will be temporarily hosted by the Ukraine SIG site until this contents is transferred to the corresponding
KehilaLink and/or indexed into the Ukraine Database. Then it will be removed.
Taurida gubernia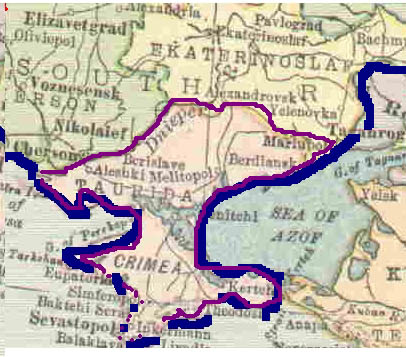 Taurida Gubernia - Southernmost Ukraine
Taurida gubernia was established in 1802. It was dissolved during the Russian Revolution in 1917-1918, when oblasts replaced the gubernias. Its territory was divided between the Ukraine in the North,and the Crimea in the South.
It's now divided into eight districts (uyezds): Aleshki or Dniepr, Berdyansk, Melitopol, Eupatoria, Perekop, Simferopol, Theodosia and Yalta, as well as the two cities of Kerch and Sevastopol.
The MAJOR JEWISH COMMUNITIES IN TAURIDA GUBERNIA are:
| | | |
| --- | --- | --- |
| Berdyansk | | Dnepr/Aleshki (Tsyurupinsk |
| Feodosiya | | Melitopol |
| Perekop | | Simferopol |
| Yalta | | Yevpatoriya |
Records Available
There are records from Taurida at the Family History Library. More info is here.
Other Links
For more information about Taurida, visit the World History at KLMA:
http://www.zum.de/whkmla/region/russia/xgovtaurida.html