Old Website Town Pages
Important Note
The information on this page has been compiled by Ukraine SIG long time ago.
As JewishGen and the Ukraine SIG evolved, the contents of the page became redundant with other areas of
JewishGen (specially the KehilaLinks) and the new SIG website.

This page will be temporarily hosted by the Ukraine SIG site until this contents is transferred to the corresponding
KehilaLink and/or indexed into the Ukraine Database. Then it will be removed.
Lugansk
Yekaterinoslav Province
Lugansk, began around 1795, when a British industrialist founded a metal factory there. Lugansk is still known today for it's metal-working industries, as well as for building locomotives.
It became a city around 1882. On November 5, 1935, its name was changed to Voroshilovgrad, to honor Soviet military commander and politician Kliment Voroshilov, but on March 5,1958, it was changed back, due to a new Soviet law prohibiting naming cities after living people. In 1970, after Voroshilov died, the city was re-re-named to honor him. In 1990, the Ukranian government renamed it with the original name.
While it's now the administrative center of Lugansk oblast, between WWI and WWII it was considered part of Yekaterinoslav province.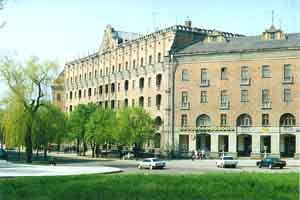 Hotel at Lugansk, from an old postcard.