Old Website Town Pages
Important Note
The information on this page has been compiled by Ukraine SIG long time ago.
As JewishGen and the Ukraine SIG evolved, the contents of the page became redundant with other areas of
JewishGen (specially the KehilaLinks) and the new SIG website.

This page will be temporarily hosted by the Ukraine SIG site until this contents is transferred to the corresponding
KehilaLink and/or indexed into the Ukraine Database. Then it will be removed.
Pre-war Pictures from Kovel
We are collecting photos of pre-WWII Kovel for this page in order to share them with other Kovel researchers. If you have a photo that you would like to share, please send it to us. Photos scanned greyscale or color at 150dpi work best. If you do not have access to a scanner, contact us for a surface mail address and we can scan it for you.
Links to larger views of these images will be added in the near future.
| | | |
| --- | --- | --- |
| | | |
| Jewish market, c. 1917, probably taken during the German occupation of Kovel in WWI | Brest Litovsk Street, printed by the German Army in WWI. | Gymnasium in Stowackiego. Mailed in 1932, and shows a boys' high school. Photo by J. Wolynski. |
| | | |
| | | |
| Lutzker Street. Printed in Berlin, by Alexander Pfeiffer, circa 1915. | Lutzker Street. Hand colored, and mailed in 1916 by a member of the German or Austrian armies. | Painting of Alexander II Street. Mailed in 1917, published by Sh. (Shulim?) Aschkenase, Kowel. |
| | | |
| | | |
| Boulvar Street . This street scene matches the photo captioned "Mickiew St." below, but the street names clearly are not the same even though the building is the same. Perhaps the name of the street was changed after the Poles took over at the end of WW I? | | |
.
The following pictures were contributed by Andrew Lavris, a software engineer who lives in Kovel. The photo captions are his.
| | | |
| --- | --- | --- |
| | | |
| Verbka Church, c. 1925. An Orthodox church visited by Taras Shevchenko, the Ukrainian poet. This church was placed on an island in the Turia river and destroyed during the 2nd world war. | Mickiew St. Street scene (center of town; this building exists now). | Kovel Railway Station. destroyed during the 2nd world war. |
| | | |
| | | |
| Hospital for Railroad Workers , destroyed during the 2nd world war. | Main Street Scene | Orthodox St. Nikolay Church, destroyed during the 2nd world war. 95% of the town was destroyed during the 2nd world war. |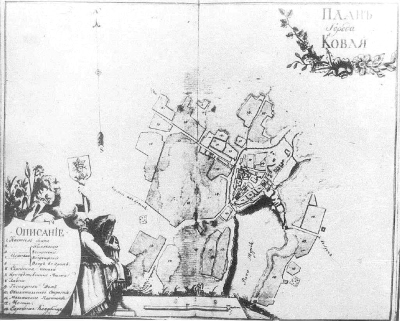 Old Kovel Map, end of XVIII Century. The title of map says in old Russian: "Map Of Kovel Town".
1-Catholic church
2,3,4,5-Orthodox churches
6-Jewish school
7-Public places
8-12 (?)
13-Jewish cemetery


Webmaster: Andrew Blumberg

© 2000 Volhynia SIG