Passports and other Emigration or Travel Documents
Petition for Exemption to US Immigration Quota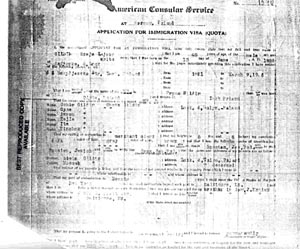 Petition for exemption to US immigration quotas, for a family living in Lutsk, Volhynia province. More information about the Gildin family of this document is on the Old Website Town Page of Lutsk. Document courtesy of Marvin Brooks.

This document was created for a resident of modern Ukraine who lived in what is now Rivne Oblast in the 1920s. In the 1920s until just before WW II, that part of the Western Ukraine, which had been part of the Russian Empire in the Czarist period, was claimed by newly independent Poland. So this emigration document, a petition to the United States government for a lawful exemption to the US immigration quotas based on reuniting a family, was filed in the Warsaw consulate of the United States.
Notice that this form provides details of parents' names and current residences, including that the father of the applicant is deceased and a current address for the mother. There are dates of residence at the current address, names and birthdates of spouse and children, and information on the family in the United States.
This form was used by the US Consular Service. If the person you were investigating had been living in independent Ukraine during its short tenure, then the US Consular office would have been in Kiev; if the person was living in the territories owned by Poland then the office would have been in Warsaw; and if the person was living elsewhere in the Soviet Union then the offices would have been in Moscow. The records of the US Consular service are now in the National Archives in Washington DC and while some finding aids are online, the actual records are not.
Internal Passports for Travel Within Russia

Internal Passport 1906
Dashev, Kiev Province


Document courtesy of Bonnie Blish

.

Internal Passport 1907 Pavoloch, Kiev Province


Document courtesy of Linda Shefler.
1906 Internal Passport - translation
Name: Max Khariton
Stamp: "No fee. Its validity for a term of no more than one year"
Passport issued by the Dashev Town Council
1. Religion: Jewish
2. Date of birth or age : 28 years
3. Occupation: tradesman
4. Is he or has he been married : married*
5. Accompanied by : wife Zislya Vipt*
6. Relationship to the fulfillment of military service: 2-nd rank conscripted in 1900
7. Signature of the owner : Motl Khariton
Height: medium Color of hair: dark brown Distinguishing marks: none
The bearer of this document resident of Kiev Province, Lipavets* district, Dishev townsman, Motl Leyb Khariton, free to travel into the various cities & villages of the Russian Empire until the date written below: 27th February, 1907.
Issued with seal affixed, February 27, 1906 …..*
Council chairman – signature
Secretary - signature
* means the handwriting is hard to interpret
To learn more about this document and its holder Max (nee KHARITON) SABBATH, visit the Old Website Town page for Dashev, Kiev province.
1907 Internal Passport - translation based on 1906 passport above (no photo available)
This passport was issued to Avrum Yankel Schnaparski 23 Sept 1907 Stamp: "No fee. Its validity for a term of no more than one year"
Passport issued by the
1. Religion: Jewish
2. Date of birth or age : 32 years
3. Occupation: Carpenter
4. Is he or has he been married : married
5. Accompanied by : space left blank
6. Relationship to the fulfillment of military service: conscripted 1892, not professional army, short term
7. Signature of the owner: There is no signature (possibly indicating illiterate in Russian)
Height: space left blank Color of hair: space left blank Distinguishing marks: there may be a word obliterated there
The bearer of this document resident of Kiev Province, ___ district [illegible], Pavoloch townsman, Avrum Yankelev Schnaparski, free to to travel into the various cities & villages of the Russian Empire until the date written below: 23 Sept 1908 [no note of renewal]
Issued with seal affixed, 23 September 1907 …..*