Revitalizing JewishGen Ukraine SIG
General Meeting at the IAJGS Conference, 15 August 2011
A New Research Plan
Let's get into some specifics. It is clear that very large amounts of data are available … but not all data are created equal. Some resources require language skills; some carry restrictions imposed by Ukraine Archives; some datasets are available only if purchased. Because of these constraints we've divided potential projects into those that can be done in the short term and those that will require more time and skills. In all cases, however, we will be relying on volunteers to lead and work on our projects. If there are no volunteers for a project it just won't get done. And, if there is not funding for a project that requires professional translators, that project will not get done.
Medium to Long Term Projects
Some of the most important data sources will take time and skills to develop. Our medium to long-term tasks include:
Open negotiations with FHL & Ukraine Archives to allow indexing projects
111 towns on FHL vital records microfilms
158 towns on FHL revision list microfilms
Obtain & translate CAHJP-vital records, kahal docs, official documents
Obtain & translate Holocaust era documents
USHMM has 293 documents
Yad Vashem has more than 1,000 documents
Extract Ellis Island Database records by town name and index the unindexed fields
Obtain & translate … by town
Russian & Polish Business Directories
Pinkasim
YIVO & HIAS documents
Viedemosti (gazettes/newspapers) … by guberniya
Russian language websites (like Jewish Roots Forum) … more than 100 document sets
Vital records and Russian censuses (revision lists) are, by far, the most important sets of documents available. They are available at the LDS Family History Library in Salt Lake City. The FHL catalog lists vital records microfilms with Jewish records for 111 towns, and 158 revision list microfilms for 158 towns in Ukraine. The problem is that Ukraine Archives has put restrictions on indexing projects that use "their" records. We'll try to change this. If we are successful in negotiating with Ukraine Archives and with the LDS, we will be able to obtain these records in digitized form. Then, with sufficient funding via your donations, and with volunteers to lead the translation and indexing projects, we can hire professionals to translate the Cyrillic and Hebrew/Yiddish records.
In addition to the LDS, the Central Archives for the History of the Jewish People at Hebrew University in Jerusalem also is microfilming vital records and other key documents in Ukraine. We can build on existing relationships with them to begin acquisition, translation and indexing projects.
Holocaust era documents are underutilized. The online catalog of the US Holocaust Memorial Museum has 293 documents and lists that deal with Ukraine Jews. Yad Vashem has more than 1,000. We need project leaders to obtain these documents, manage translation projects, and extract names and places for the JewishGen Ukraine database.
Several JewishGen groups have been extracting town-based data from the Ellis Island database. These extractions are important. They allow us to index the two sets of fields that the Ellis Island folks did not index: person and address at destination and person left behind in the old country. By extracting and sorting data from these fields we can identify family groups that have different surnames. We will begin EIDB extraction projects for key Ukraine towns, and we'll need town leaders for each project.
I want to highlight an unusual data set that popped up recently. You may have seen the messages that Marilyn Robinson has been posting on the Discussion List. Marilyn has been extracting messages, data, and documents from several Russian language websites. She has sent us more than 100 document sets. Marlis Humphrey is organizing and classifying these documents so that we can figure out which are worth pursuing. I'll turn this over to Marlis now so that she can describe what she has found.
Marilyn Robinson's has found a very large number of Russian language documents, data sets and name lists on the following websites.
Forum Revival Union Pedigree Traditions
( http://forum.svrt.ru/index.php?s=b069ea2fad4a6694fcc4d15bae0c42fc&showforum=63 )
http://www.forum.j-roots.info/index.php
Marlis is reviewing and organizing the data on these sites to determine which are high value resources. Here is a sample from her evaluation spreadsheet.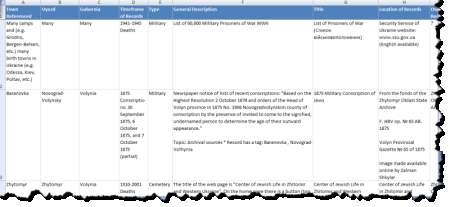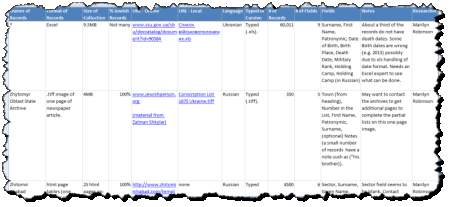 (click on either image for a larger view)
As she progresses further we will post updated spreadsheets on our website and will notify you of updates via our Discussion List.
[NOTE: Yefim Kogan spoke to us about Ukraine data that he has found as Coordinator of the Bessarabia Revision List translation project. His presentation is not yet available. We will notify you of its availability through messages on our Discussion List.]
Short Term Projects
Most of the medium to long term projects we've just discussed will require some minimal skill in reading names recorded in Cyrillic and/or Hebrew/Yiddish. However, most of the short term projects we've identified don't require these skills.
Index unindexed Yizkor Book translations and submit to Yizkor Book Master Name Index
Extract data from Shtetlinks sites
Extract data for Ukraine towns from Montefiore Census
Add town data to JG Communities Database for towns that are not currently in it
Photograph matzevot & gather data from U.S. landsmanshaftn burial plots for Ukraine towns
Most require only the ability to enter data into a spreadsheet or word processing program. Existing Shtetlinks websites and Yizkor Book translations are particularly important. We are starting to reach out to people involved with these projects. Linda Cantor is leading this effort. She soon will be in contact with you if you are a Shtetlinks (Kehila Links) website owner or if you led a Yizkor Book translation Project. We hope you will be receptive to her offer of assistance.
NOTE: Linda Cantor's presentation is not available. When it becomes available we will post it on our website and will announce it on our Discussion List.
We need volunteers for all these activities. The Cemeteries Project also is important. There are Landsmanshaftn plots in many of old Jewish cemeteries around the U.S. We need to identify which of these plots are for emigrants from towns in Ukraine so that we can recruit volunteers to photograph the matzevot, translate the Hebrew inscriptions, and enter the data to a spreadsheet in JOWBR format.