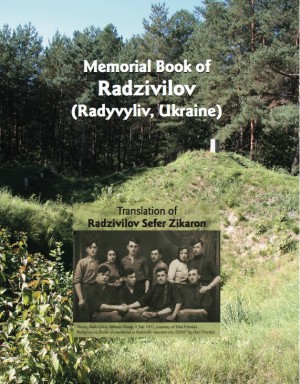 Dear JewishGen Community,
JewishGen.org is pleased to announce the publication of the newly translated Memorial Book of Radzivilov (Radyvyliv), Ukraine permitting English speaking audiences to learn about the history of this town for the first time.
Translated from the original Radzivilov: Sefer Zikaron, this new publication contains 546 pages of historical anecdotes, biographical sketches, photographs, illustrations, and first -hand accounts of what life was like for residents of this town during the Holocaust.
Radzivilov was once a prosperous Russian frontier town connecting the Russian and Austrian Empires. Because of its location, it was a center for trade, and had a thriving Jewish community. During the First World War it became a front line for different warring armies, and was nearly destroyed. Later it became an arena for the war between Ukrainian Nationalists and Bolsheviks, until a new Polish government was established. With it came a rebirth of Jewish life, including a robust Zionist movement.
By 1935, the town was home to 12,000, more than half of whom were Jews. The community supported three Jewish schools, a Talmud Torah, several private cheders, two synagogues, 14 houses of prayer, a Jewish hospital, and a home for invalids. Most of the Jews worked in commerce. They also owned several factories, a Jewish printing press, a brewery, a lime furnace, and a flour mill.
After the Germans occupied the town in July 1941, the Nazis and their Ukrainian helpers began a program of repression and murder, culminating in the 1942 massacre of an estimated 4,000 Jews. When Radzivilov was liberated in March 1944, only about 50 Jews had survived.
During the 1960s, a group of survivors and former residents met in Israel, determined to re-create in book form, their town that had been destroyed. This book, newly translated from Hebrew, is their tribute to the Jewish Radzivilov that was. JewishGen.org is privileged to make this book available to English speaking audiences for the first time.
To learn more, and to purchase the book, please visit: https://www.jewishgen.org/yizkor/ybip/YBIP_Radzivilov.html
Sincerely,
The JewishGen Team
###