JCR-UK is a genealogical and historical website covering all Jewish communities and
congregations throughout the British Isles and Gibraltar, both past and present.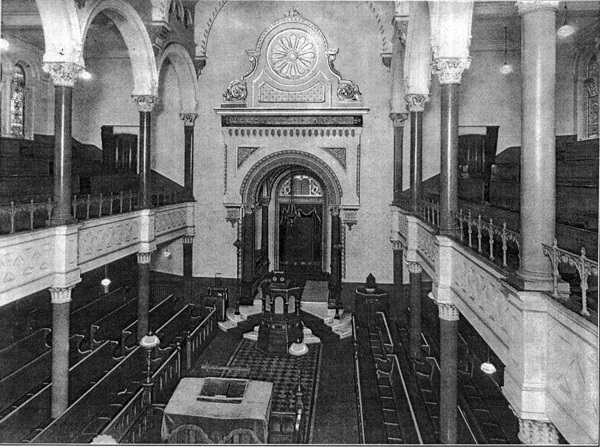 Bayswater Synagogue, 1938

Congregation Data

Name:

Bayswater Synagogue
(known as Bayswater & Maida Vale Synagogue from about 1972(i))

Address:

Andover Place / Kilburn Park Road, Maida Vale, London W2, from 1967 to 1984 (when building became Jewish Preparatory School and, later, part of building became the Saatchi Synagogue)

Previous Addresses:

From 1965 to about 1967, services were held temporarily at 2 Ashworth Road, London W9;(ii)

From 1863 to 1965, the synagogue was at Chichester Place, Harrow Road, London W2

The foundation stone was laid 10 July 1862 by the Chief Rabbi Dr. Nathan M. Adler, the building being consecrated by him on 30 July 1863.(iii)

The building was ultimately acquired by the Greater London Council and demolished to make way for a motorway development(iv).

Date Founded:

Formed in 1863, initially (until 1870) as a branch synagogue jointly of the Great Synagogue and the New Synagogue. For additional information, see "the Story of the Synagogue".

Current Status:

Closed 1984

Ritual:

Ashkenazi Orthodox

Affiliation:

One of the original five synagogues that formed the United Synagogue in 1870, of which it remained a constituent member until its closure.

Ministers:

(To view a short profile of a minister or reader - hold the cursor over his name.)

Readers / Cantors (Chazanim):

First (or only) Readers

Rev. Isaac Samuel - 1864 to 1914(xxiv)

Rev. David Klein - c.1915 to 1934(xxvi)
(previously second reader)

Rev. Leo Bryll - 1935 to 1955(xxxiii)

Rev. Abraham Lubin - 1957 to 1958(xxxiv)

Rev. M. J. Dubiner - c.1963 to c.1967(xxxv)

Rev. David Katanka - 1972 to 1975(xxxvi)

Second Readers

Rev. Raphael Harris - 1863 to 1910(xxv)

Rev. David Klein - 1910 to c.1915(xxvi)
(subsequently first reader)

Rev. Arthur Barnett - c.1914 to c.1918(xxvii)

Rev. Ephraim Moses Levy - c.1918 to c.1919(xxviii)

Rev. Asher Littenberg - c.1919 to c.1923(xxix)

Officers:

See List of Wardens of the Synagogue from 1864 through 1956.(xl)

See List of the Congregation's Financial Representatives and Secretaries.

Membership Data:

List of Original Seatholders of the Synagogue (including addresses)(xli)

Number of male seat-holders:(xlii)

| | | | | | | | | | | |
| --- | --- | --- | --- | --- | --- | --- | --- | --- | --- | --- |
| 1870 | 1880 | 1890 | 1900 | 1910 | 1920 | 1930 | 1940 | 1950 | 1960 | 1970 |
| 359 | 318 | 377 | 365 | 306 | 366 | 338 | 293 | 406 | 419 | 191 |

National Reports & Surveys(xliii)

1977 - 204 male members and 203 female members

1983 - 177 male members and 173 female members

Also see below for seatholder records on All-UK Database.

Local Government District:

Bayswater is an area of central London lying to the north of Hyde Park. All the above addresses for the Bayswater Synagogue are in the current City of Westminster and were (from 1900 to 1965) in the former Metropolitan Borough of Paddington. Prior thereto, Paddington was solely a civil parish.(xliv)

Cemetery Information:

For United Synagogue cemeteries, see Cemeteries of the United Synagogue.

Notes & Sources (↵ returns to text above)
The records in the database specifically associated with the Bayswater Synagogue include:
Seatholders Lists
1885 (371 records);
1899 (463 records;
1910 (424 records);
1933 (297 records).
For a list of other London records in the Database that may also include records associated with this congregation, click here.

Bibliography, On-line Articles and Other Material
relating to this Congregation
on JCR-UK
The Bayswater Synagogue 1863 - 1938 - Origin and History, a booklet (including a "Short History " by Cecil Roth and several lists), issued in commemoration of the 75th anniversary of the Synagogue, 1938. Kindly donated by Ronald Wallace.

Selected Bibliography:

The Bayswater Synagogue 1863-1963 by O. S. Philips and H. A. Simons.

The Synagogues of London by P. Lindsay, 1993 (Valentine Mitchell, London) pp. 83-85

The Lost Synagogues of London by P. Renton, 2004 (Tymsder Publishing, London) pp. 79-84
Congregational Records

Registration District (BMD):

Westminster (since 1 January 1978)- Link to Register Office website

Previous Registration Districts:
Paddington - until 1 January 1978;
Marylebone - from founding of congregation until 1 January 1885.
(All records would now be held by current office.)

Marriage Registers:

Marriage Registers (first entry 25 October 1865; last entry 20 May 1984) deposited with Westminster Register Office

List of United Synagogue Congregations
Jewish Congregations in the London Borough of the City of Westminster
Jewish Congregations in Greater London (other than East End)

Page created: 24 July 2003
Data significantly expanded and notes first added: 25 March 2018
Latest revision or update: 26 September 2021
---
Explanation of Terms | About JCR-UK | JCR-UK home page

Contact JCR-UK Webmaster:
jcr-ukwebmaster@jgsgb.org.uk
(Note: This is to contact JCR-UK, not the above Congregation)

Terms and Conditions, Licenses and Restrictions for the use of this website:
This website is owned by JewishGen and the Jewish Genealogical Society of Great Britain. All material found herein is owned by or licensed to us. You may view, download, and print material from this site only for your own personal use. You may not post material from this site on another website without our consent. You may not transmit or distribute material from this website to others. You may not use this website or information found at this site for any commercial purpose.


Copyright © 2002 - 2023 JCR-UK. All Rights Reserved