Jewish Congregations of the City of London
and the East End of London
(London Borough of Tower Hamlets)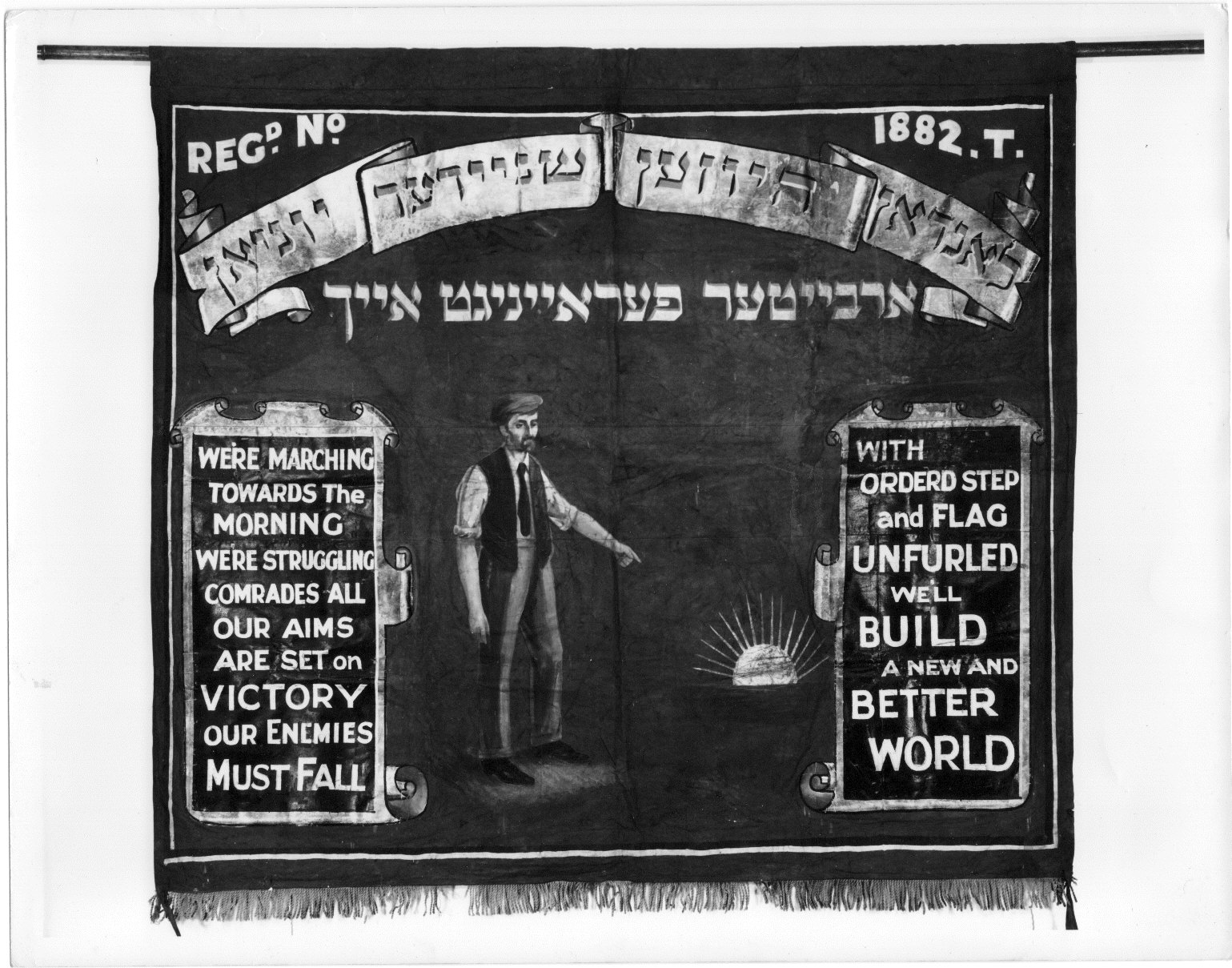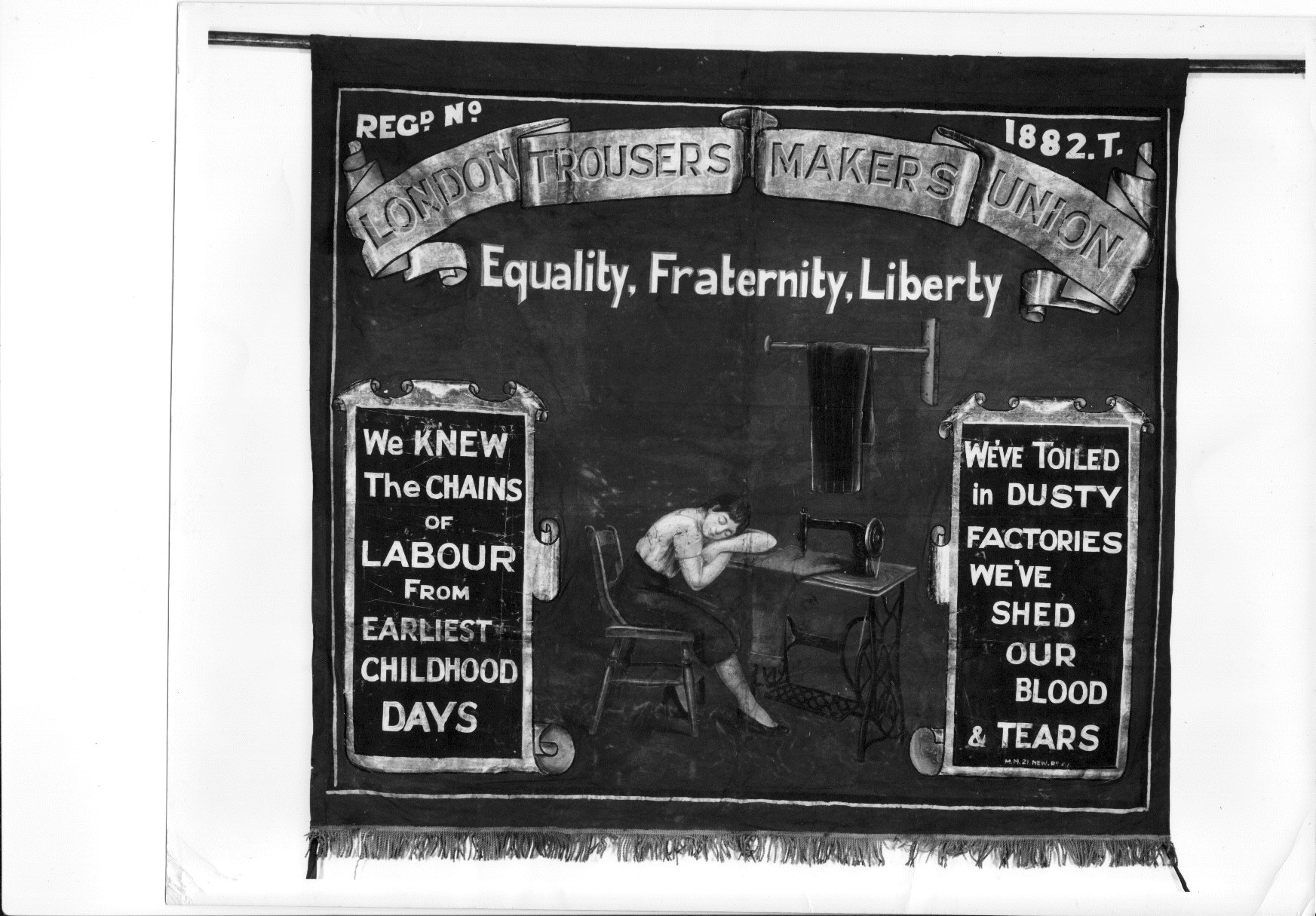 Many of the Jews in the East End were active in the Trade Union Movement.
Among the Jewish unions was the Trousermakers' Union. Their banner was in Yiddish with an English version on the obverse.
(Photographs courtesy of Harold Pollins
The following congregations were within the CITY OF LONDON (the historic "One Square Mile"), generally close to the eastern boundary, and in most instances (particularly in the later period) formed a single community together with the Jews of the East End.
Registration District - London City - Register Office Website (hosted by London Borough of Islington)
Artillery Lane Synagogue, EC2 - see East End list below
The Beth Hamedrash, EC3 (later elsewhere in London)
Bevis Marks Synagogue*(1,3,4,5,6,7), EC3
Creechurch Lane Synagogue(4,5,6,7)#, EC3
Great Synagogue(1,4,5,6), Dukes Place, EC3
Hambro' Synagogue(1,5), Fenchurch Street, EC3 (later moved to East End)
Kovno Chevra#, Catherine Wheel Alley, E1
New Synagogue(1,3,4,5,6), Leadenhall Street, EC3 and Great St. Helens, EC3 (later moved to Stamford Hill)
Polish Synagogue, Cutler Street,(7)# E1
Rosemary Lane Congregation◊ (Mahazike Torah) - see East End list below
Windsor Street Chevra◊, Windsor Street, E1
The following Congregations comprised the Jewish Community of the
EAST END OF LONDON,
all situated within the boundaries of the present
LONDON BOROUGH OF TOWER HAMLETS.
Since 1 January 1983, this is also the Registration District for the whole borough
Tower Hamlets Register Office Website
List of Synagogue Marriage Registers held at Tower Hamlets Register Office
All but four of the synagogues in the borough have now closed and several were bombed during the London Blitz.

* An active congregation.

◊ A congregation that subsequently changed its name or merged into another congregation.

# Pages recently fully reformatted, with expanded data.

(1) Congregation records (as listed) in All-UK Database.

(2) Pages with their own searchable databases.

(3) Pages with a press report or reports on the congregation.

(4) Pages with photographs.

(5) Pages with articles and other contributed material.

(6) Pages with browsable lists.

(7) Pages with Ministers and/or Officers listed.

Some Other City or East End Jewish Institutions
Board of Guardians and Trustees for the Relief of Jewish Poor, founded 1859, incorporated 1920.

Oxford & St George's Club, founded 1914.

Poor Jews Temporary Shelter. Tens of thousands Jews stayed at the Shelter in Leman Street, London during the period 1896-1914. There is a searchable database maintained by the Department of History at the University of Leicester.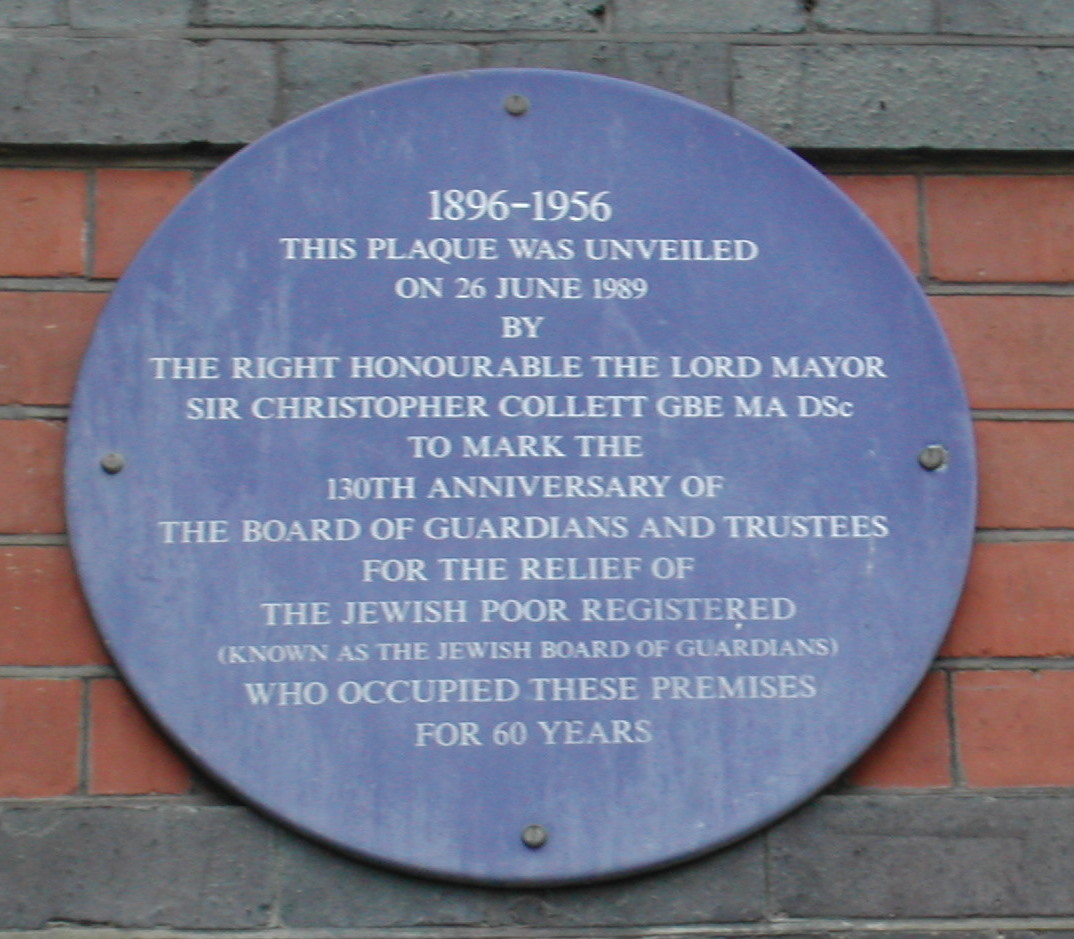 Plaque marking the site of the former offices of the Jewish Board of Guardians,
British Jewry's foremost charitable institution, at 125-9 Middlesex Street, London E.1.
(situated almost on the boundary between the City of London and former
Borough of Stepney, now part of London Borough of Tower Hamlets)
(Photograph provided by David Shulman)

Useful Links
Jewish East End Celebration Society (JEECS) whose purposes include, among others, the focusing of attention on Jewish life and culture in the East End of London; disseminating information about the Jewish East End; re-establishing roots and interest in the Jewish East End; and preserving and documenting past Jewish life. Publishes the Cable magazine.
Poor Jews Temporary Shelter - A database of approx 43,000 Jews who stayed at the Shelter in Leman Street, London during the period 1896-1914
For other links, see JCR-UK - Selection of Recommended Websites.

Greater London home page
Jewish Communities of England home page
Page created: 2002
Redesigned and substantially expanded by David Shulman: 7 August 2007
Reformatted by Louise Messik: 4 November 2011
Ongoing revisions and updates by David Shulman
Latest revision or update: 4 December 2023