Page created: 6 September 2006
Latest revision or update: 1 September 2017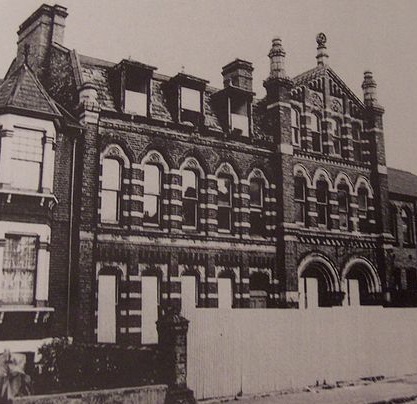 Dalston Synagogue, following closure
Source: Wikipedia Commons
Congregation Data

Name:

Dalston Synagogue

Address:

Poet's Road, Canonbury, London N.5 (1885-1967)
Mildmay Road, Kingsland, London N.1 (1876-1884)
A room in Colveston House, Birbeck Road, London E.8 (1874-1876)
(Note: none of the above addresses are actually in Dalston)

Date Formed:

1874

Incorporated Congregations:

Clephane Road Congregation - 1874
North London Synagogue - 1958

Current Status:

Closed - amalgamated in 1967 with Stoke Newington Synagogue (whose predecessor congregation, the New Dalston Synagogue, had been formed in a secession from the Dalston Synagogue in the 1880's)

Ritual:

Ashkenazi Orthodox

Affiliation:

A constituent synagogue of the United Synagogue from 1885 until its closure.

Membership Data:

Number of male seat-holders, 1897-1970(i):

| | | | | | | | | |
| --- | --- | --- | --- | --- | --- | --- | --- | --- |
| 1885 | 1890 | 1900 | 1910 | 1920 | 1930 | 1940 | 1950 | 1960 |
| 208 | 269 | 365 | 368 | 340 | 355 | 306 | 402 | 463 |

Also see below for seatholder records on All-UK Database.

Local Government Districts:

Both Poet's Road and Mildmay Road, the addresses where the Synagogue had been situated, are actually just outside Dalston (in Canonbury and Kingsland) and are within the London Borough of Islington (whereas Dalston proper is in the London Borough of Hackney). Both of these Northeast London authorities are Inner London Boroughs created on 1 April 1965, within the administrative area of Greater London.

Previously, both roads were in the somewhat smaller former Metropolitan Borough of Islington (established in 1900, conterminous with the pre-existing parish of Islington), within the former County of London (established in 1889). Prior to 1889, the parish of Islington was in the former County of Middlesex.

Registration District:

Islington (since formation of congregation) - Register Office website

Cemetery
Information:

For United Synagogue cemeteries, see Cemeteries of the United Synagogue.

Notes & Sources (↵ returns to text above)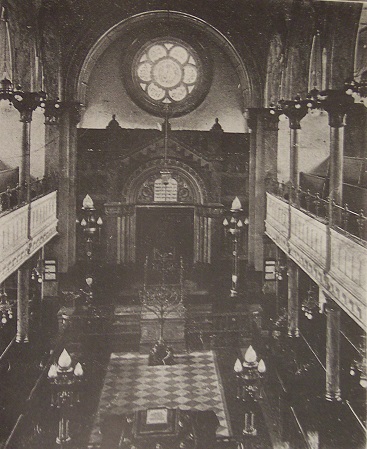 Interior of former Dalston Synagogue
Source: Wikipedia Commons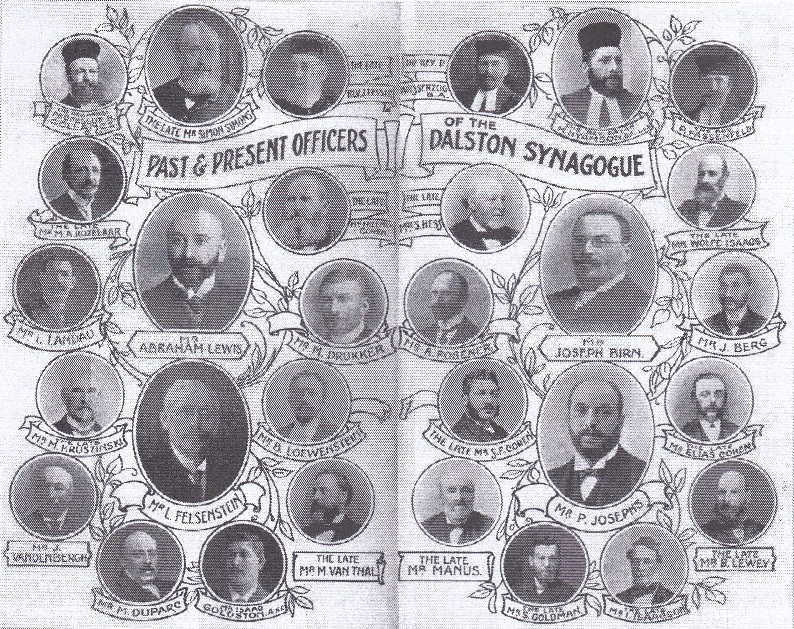 Leading 19th Century Ministers & Officers of the Congregation
Please click on photo to see a larger image
(Reproduced from Dalston Synagogue, An Historcal Sketch by D. Wasserzug, 1910)
Bibliography, On-line Articles and Other Material
relating to this Congregation
on JCR-UK
Synagogue Review - South Hackney & Dalston, December 1930 (kindly contributed by Mr. Lewis H Glinert, whose parents were members of the Hackney Synagogue).

Selected Bibliography:

The Dalston Synagogue, An Historical Sketch by D. Wasswezug (1910).

An Historical Sketch of the Dalston Synagogue 1885-1935 by J. Rabbinowitz (1935).

The Lost Synagogues of London by P. Renton (2000), pp. 95-99.

The Jewish Communities of Islington, 1730s-1880s by P. Laidlaw (2013) pp72-87.