Page created by David Shulman: 12 May 2005
Page redesigned by Louise Messik: 9 November 2011
Latest revision or update: 19 November 2015
JEWISH COMMUNITIES AND CONGREGATIONS IN WALES
listed alphabetically according to current unitary authorities
(since 1 April 1996 Wales has been divided into 22 unitary authorities)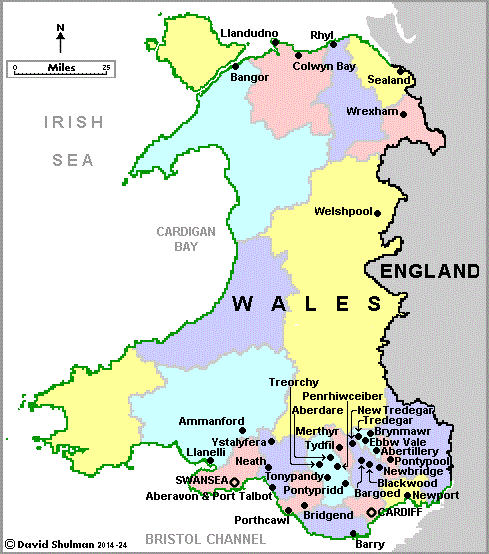 Map of Wales, showing unitary authority borders and the name of every town
that ever had a Jewish community and congregation.
Abertillery Hebrew Congregation(3)
Brynmawr Hebrew Congregation(3,5,6)
Ebbw Vale Hebrew Congregation(3,5)
Llanhilloth (see Newbridge Hebrew Congregation(3))
Tredegar - Montefiore Centenary Synagogue(3,5)
Abercarn (see Newbridge Hebrew Congregation(3))
Bargoed Hebrew Congregation(3)
Blackwood & District Hebrew Congregation
Crosskeys (see Newbridge Hebrew Congregation(3))
Crumlin (see Newbridge Hebrew Congregation(3))
Newbridge Hebrew Congregation
New Tredegar Hebrew Congregation(3)
Cardiff Community(1,5,6)
Beth Hamedresh
Cardiff Reform Synagogue
Cardiff United Synagogue(4)
Marlborough Road Synagogue
New Congregation (Orthodox)
Talmud Torah Congregation
Windsor Place Synagogue
Colwyn Bay Hebrew Congregation
Merthyr Tydfil Hebrew Congregation(1,3,4,5,6)
Aberavon and Port Talbot Synagogue(3)
Neath Synagogue(5)
Ystalyfera Synagogue
Aberdare Synagogue(3)
Penrhiwceiber Synagogue
Pontypridd Synagogue(3,5)
Tonypandy Synagogue(5)
Swansea Community(1,3,5)
(1) Community records (as listed) in All-UK Database.
(2) Pages with their own searchable databases.
(3) Pages with press reports on the community.
(4) Pages with photographs.
(5) Pages with articles and other contributed material.
(6) Pages with browsable lists.
Articles on the Welsh Jewish Community
How 'Greeners' Came to the Valley by Michael Wallach, Jewish Chronicle Colour Magazine, 1975 (posted on JCR-UK).

Other Wales Information
JOWBR (JewishGen Online Worldwide Burial), searching under "Wales"
Bibliography and other sources
Welsh Jewish Cemeteries - IAJGS Cemetery Project
Medieval (Pre-1290) Jewish Communities in Wales