Memorial Book of the Community
of Radomsk and Vicinity
(Radomsko, Poland)
51°04' / 19°27'
Translation of
Sefer Yizkor le-Kehilat Radomsk ve-ha-seviva
Edited by: L. Losh
Published in Tel Aviv, Former residents of Radomsk, 1967
---
Acknowledgments
Project Coordinator
Yiddish translations by Gloria Berkenstat Freund
and Hebrew translations by Jerrold Landau
Our sincere appreciation to Chana Asch and the Nowo-Radomsker Society in Israel
for their permission to place the contents of the Radomsko Yizkor Book on the JewishGen
web site and to Pessach Fiszman, a master Yiddish teacher, for his guidance with the translations.
Our sincere appreciation to Stefanie Holzman for extracting the pictures from the original book,
enabling their addition to the project.
This is a translation from: Sefer yizkor le-kehilat Radomsk ve-ha-seviva;
(Memorial book of the community of Radomsk and vicinity),
Editors: L. Losh, Tel Aviv, Former residents of Radomsk, 1967 (H,Y, 603 pages).
Note: The original book can be seen online at the NY Public Library site: Radomsko
---
This material is made available by JewishGen, Inc. and the Yizkor Book Project for the purpose of
fulfilling our mission of disseminating information about the Holocaust and destroyed Jewish communities.
This material may not be copied, sold or bartered without JewishGen, Inc.'s permission. Rights may be reserved by the copyright holder.
---
JewishGen, Inc. makes no representations regarding the accuracy of the translation. The reader may wish to refer to the original material for verification.
JewishGen is not responsible for inaccuracies or omissions in the original work and cannot rewrite or edit the text to correct inaccuracies and/or omissions.
Our mission is to produce a translation of the original work and we cannot verify the accuracy of statements or alter facts cited.
---
Irgun Yotzei Radomsko b'Yisroel
(Organization of Radomskers in Israel)

Tel Aviv, Hulda Street 9

Israel, Tevet 5729– January 1968

Distinguished Landsman and Dear Friends,

We have the honor herewith to deliver to you

The Yizkor Book in Memory

of Our Annihilated Radomsk Kehile

This book appears after 20 years of effort and difficulties, carried out by a small group of devoted landsleit – volunteers in Israel, New York, Los Angeles and Argentina.

With the conclusion of this important work of commemoration, we have lit an eternal light to the memory of our Kehile and our martyrs and will ensure that this flame of light will not be extinguished.

We will cherish this book with honor and awe – read and breathe in its contents and sadness.

With esteem and blessings
The one responsible for the publication
Y. Liberman
Sirkin Street 43, Givataim, Israel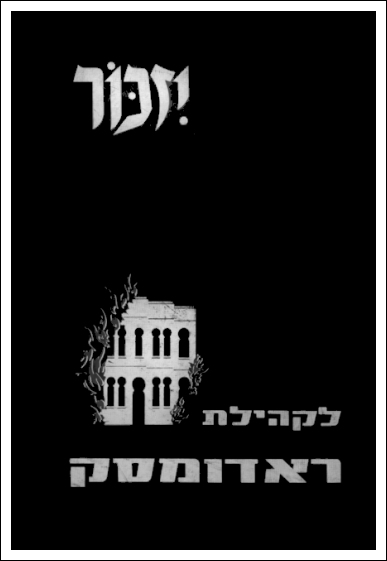 ---

Yizkor Book Project

JewishGen Home Page

Radomsko at KehilaLinks
---
Yizkor Book Director, Lance Ackerfeld
Emerita Yizkor Book Project Manager, Joyce Field
Contact person for this translation Gloria Berkenstat Freund
This web page created by Mike Kalt
Copyright © 1999-2021 by JewishGen, Inc.
Updated 19 Sep 2021 by OR