JCA: Passenger Lists
In the late 1880's the Baron Maurice Hirsch founded the Jewish Colonization Association (JCA) with the goal of rescuing the eastern European Jews from their difficult situation. To this end, JCA bought lands mainly in Argentina and in the late 1880's started transferring entire families to agricultural colonies in Argentina, as well as few other countries including Brazil, Canada, and the USA. Those families were the ancestors of hundreds of thousands of Jews living today around the world.
The JCA maintained a very organized system of registering the colonists and prepared detailed passengers lists of all the families that were brought to South America. This collection includes all the passengers lists of the JCA stored at the Central Archives for the History of the Jewish People (CAHJP) in Jerusalem. The collection includes several types of lists, some more detailed than others.
Information on these records include:
names
surnames
ages
place of origin in Europe
name of vessel
date of departure
date of arrival to Argentina
and more.
The JCA file names appearing for each family are the catalog number of the files in the CAHJP.
Acknowledgements
This collection was digitized and transcribed by our dedicated volunteers Estela Rappaportt, Barbara Ellman, Barbara Hershey, Laura Steiman, Pedro Czackis and Miguel Bronstein. This wouldn't be possible without their work.
Special thanks to Dr. Yoni Kupchik for organizing these files, and overseeing our research efforts for Latin America.
Sample Image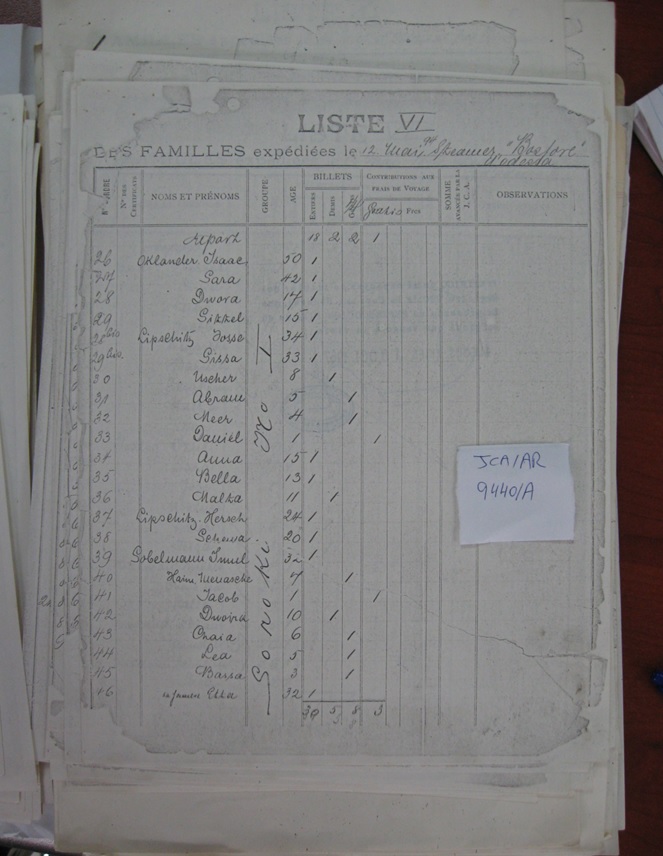 Searching the Database
This database is searchable by clicking here.
---
Last Update: May 2020