Russian-Jewish Fallen Soldiers of World War I from Bessarabia
This database contains information about 1,559 Jewish soldiers in the Russian army from Bessarabia Gubernia, who were killed or wounded in the First World War.
In 2014, the JewishGen Bessarabia SIG learned of the availability of lists of Russian casualties from World War I for the years 1914-1916. Under the coordination of Joel Ratner, various Jewish genealogical Special Interest Groups (SIGs) were invited to collaborate on a project to create detailed extracts of all information in these Russian-language lists. (While the lists for 1917 and 1918 are not currently available, it is hoped that they will also be scanned and accessible for extraction.)
The lists are published on the website of the Russian State Library (www.rsl.ru). There are images of more than 50,000 pages, covering the years 1914-1916.
Many of the Russian Gubernias (provinces) did not have sizeable Jewish populations, and thus many pages did not include Jewish soldiers. For Gubernias with a significant numbers of Jews, the ratio of Jewish to non-Jewish soldiers listed is still relatively small.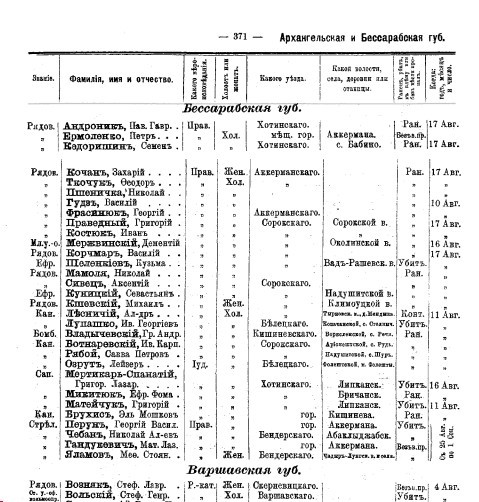 About this database
Each record in this database contains the following information:
Name — Family Name and Given Name(s) of the soldier.
Patronymic — The soldier's father's Given Name.
Rank — Military Rank. See below.
Religion — Either "Jewish" or blank (not listed).
Marital Status — Either "single", "married", "widower", or blank (not listed).
Town — Town or village where soldier originated. The prefix "m." indicates a town, the prefix "s." indicates a village.
Uyezd — The district where soldier originated. One of the eight uyezds (districts) of Bessarabia.
Gubernia — Always "Bessarabia", for this dataset.
Status — Either "Wounded", "Missing", "Killed".
Date — The date when the soldier was declared dead, wounded or missing in action.
Source Issue, Page — The Issue number and Page number of the source listing for this soldier.
Comments — Any miscellaneous comments.
All information appearing in the original publication of the Russian-Jewish Fallen Soldiers lists has been included in the database. There is no further information available.
Overview of Bessarabia data
The database includes 1,559 entries (some soldiers appear more than once). 638 were listed as "Missing in Action", 179 "Killed in Action", 699 "Wounded", and the rest having miscellaneous statuses.
Hundreds of towns are represented, but most Jewish soldiers were from the larger centers of Kishinev (250), Bieltsy (58), Bendery (53), Lipkany (48), Brichany (45), Khotin (33), Soroki (30), Orgieev (25) and Akkerman (25). All eight uyezds (districts) of Bessarabia were included: Kishinev, Soroki, Bendery, Khotin, Akkerman, Orgieev, Izmail and Bieltsy.
Most of the Ranks were рядовой "Private" (1,266), but other ranks such as стрелок "Rifleman" (112), Ефрейтор "Lance Corporal" (76), and канонир "Cannoneer" (32) each appeared more than 25 times.
Obtain a Copy
Any researcher may obtain a scan of the pages(s) with your family entries by making a qualifying contribution of $18 or more to the JewishGen Bessarabia SIG's General Fund. Please send requests to Terry Lasky.
Acknowledgements
The Project Manager and translator was Terry Lasky, of Centennial, CO, USA.
---
Search the Database
The "Fallen Jewish Soldiers of WWI from Bessarabia" database can be searched via both the JewishGen Romania Database and the JewishGen Ukraine Database.
---
Last Update: 10 Nov 2015
WSB