The Hessen Gatermann Index
Compiled by members of the JewishGen Ger-SIG
Introductory Notes by Roger Lustig
Introduction
This database is a surname and town index of 19th- and 20th-century Jewish vital records from Hessen, linking to images of the records. To date, it contains 55,000 records from northern and eastern Hessen.
The "Gatermann" microfilms are the only remaining source for a large collection of German Jewish vital records and related documents. These items were collected by the German government during World War II. They were microfilmed in the last months of the war by Gatermann & Co. The original documents were destroyed shortly after the end of the war.
In 2013, the Hessian State Archives put most of their collection of Gatermann films on line. (Over 100 microfilms relating to Frankfurt am Main are still being processed as of December 2014.) The present database is an index to some of these records, and will eventually describe most of the on-line collection. Queries to the database will return surnames and town names mentioned in the records, along with direct links to the images themselves.
Index Contents
Vital records currently indexed
Principality of Waldeck (now in northern Hessen), mainly 1833-1875 (ca. 1,500 records)
17 Kreise in the former Kassel administrative region of Hessen-Nassau, mainly 1825-1938 (ca. 51,000 records)
The designations of Kreise (counties, districts) are those of circa 1900. This reference explains changes in Hessen-Nassau's administrative structure over time (Item 4 on the page).
Waldeck comprised three Kreise: Kreis der Twiste, Kreis des Eisenbergs, and Kreis der Eder. All are included in the index. The Hessen Gatermann collection does not contain any records for Bad Pyrmont, which belonged to Waldeck until 1921.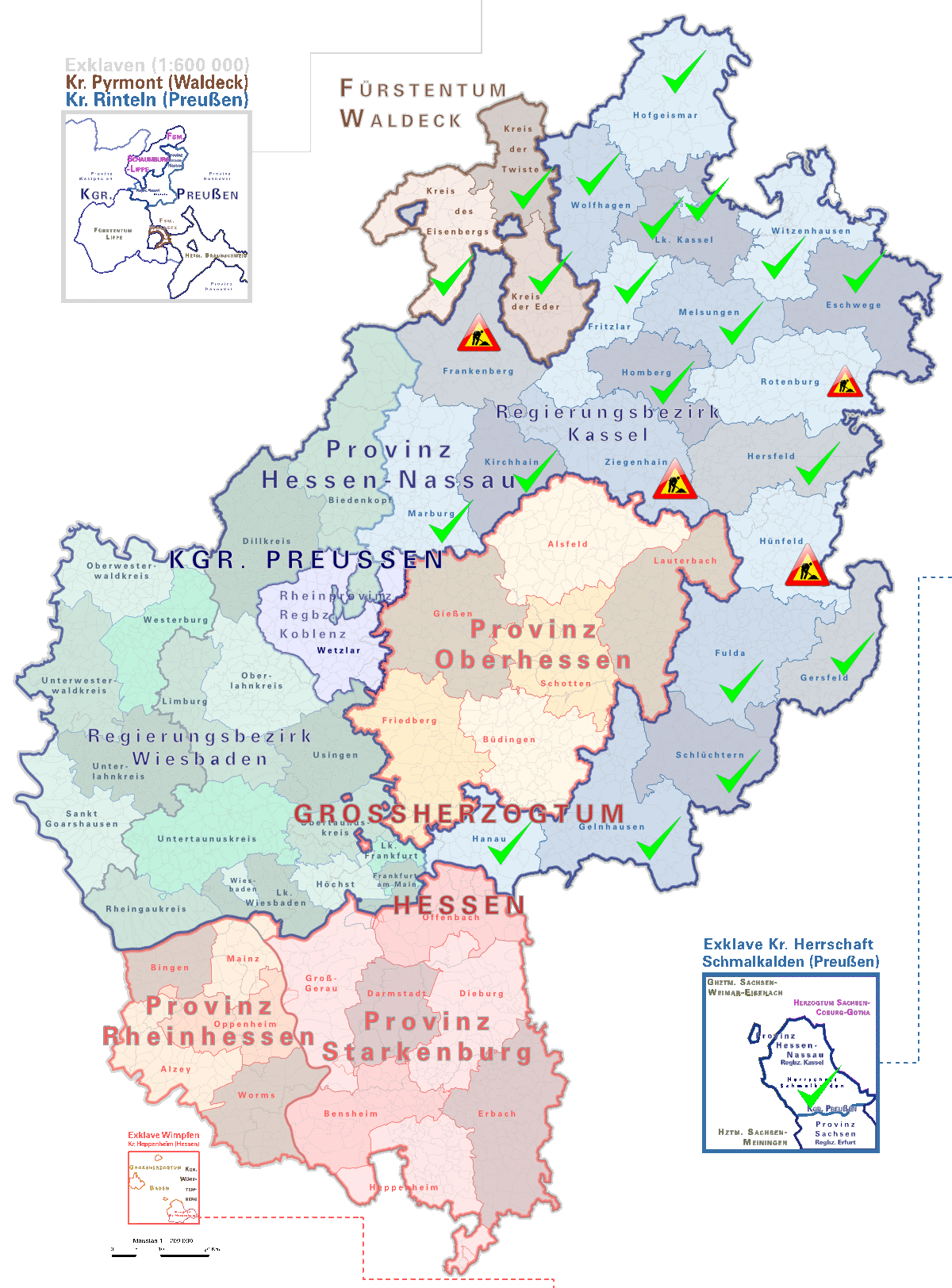 Phase 2 of the Hessen Gatermann project:
Vital records post-1825 from Waldeck and the Hessen-Nassau Kassel region.
Source: https://commons.wikimedia.org/wiki/File:Nordhessen_districts.png
The 17 Kreise from Hessen-Nassau/Kassel currently indexed are:
Eschwege
Fritzlar
Fulda
Gelnhausen
Gersfeld
Hanau
Hersfeld
Hofgeismar
Homberg
Kassel
Kirchhain
Marburg
Melsungen
Schluechtern
Schmalkalden
Witzenhausen
Wolfhagen
Note that "Homberg" is Homberg/Efze (part of today's Schwalm-Eder-Kreis), not Bad Homburg vor der Höhe.
The rest of the Collection
The 17 Hessen-Nassau/Kassel Kreise indexed to date include about 75% of the post-1825 records from that region. The rest will be added as Kreise are completed.
The records from the Wiesbaden administrative region of Hessen-Nassau are primarily from Frankfurt am Main and are not yet available on-line. Frankfurt and the rest will be treated as two separate phases of the project.
Registers from Hessen-Nassau consisting primarily of pre-1825 entries will be indexed separately.
Many of Hessen-Darmstadt's registers survive in original form. The Hessian State Archive at Darmstadt is currently digitizing these records and putting them on line. Indexing them may eventually be an extension of this project, after we finish those Hessen-Darmstadt registers included in the Gatermann films.
Nassau (pre-1866) had civil registration from Napoleonic times onward, and thus has fewer specifically Jewish records. Those in the on-line collection will be indexed.
The Gatermann collection also includes family registers, censuses of Jews and cemetery surveys. The cemetery surveys are being indexed by JewishGen's Online Worldwide Burial Registry (JOWBR).
User guide
Surnames are indexed as read, with umlauts resolved to the letter 'e' following the marked vowel, and the Eszett (ß) represented by double s. A few town names have been standardized, especially where D-M Soundex would not produce a match.
Some queries will return large numbers of results, not least because some Jewish communities consisted of families with the same few surnames. The 10 most frequently encountered surnames (KATZ, GOLDSCHMIDT, STERN, PLAUT, LEVI, ROTHSCHILD, KATZENSTEIN, LOEWENSTEIN, KAHN, OPPENHEIM) account for almost 25% of the surnames in the database; with variant spellings, the figure is closer to 30%. Accordingly, searches that specify two or more surnames may return more useful results.
The entire collection of images may be accessed here.
Acknowledgements
The records now on-line were indexed by Karen Catania, Elizabeth Levy, Gabriel Moeller, Ed Salier, Michael Moritz, Diane Weber, Jeanette Rosenberg, Helen Hill, Dan Bing, Dan Nussbaum, Sylvia Stawski, Jeanette Beebe, Reuven Mohr, Wendy W and Dennis Aron.
We fondly remember Martha Lev-Zion's enthusiasm for the project.
---
Searching the Database
This database can be searched via the JewishGen Germany Database.
---
20 Jan 2015