WELCOME to the AUSTRIA-CZECH SIG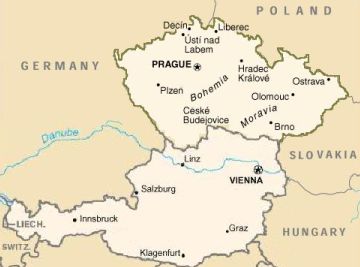 The purpose of our group is to serve as a forum for the exchange of genealogical and historical information relating to the Jewish communities that once existed in Austria and the Czech Republic (Bohemia and Moravia). We would also like to gather information about life there and make it available on-line to those who are interested. To foster this goal we've created the project, GemeindeView, to which we greatly urge you to contribute.
Please explore the resources found on this site including the guides to getting started with your research in Austria and the Czech Republic. If you're not already a member of our discussion list please join so that you can expand your knowledge of Austrian and Czech research as well as help others with their research.
Suggestions? Comments?



E-mail the Webmaster
Visit Our Resources
Articles and Features
about research in Austria
and the Czech Republic
Jewish Genealogy Guides
Austria-Czech SIG Projects
Join Us!
News-Nu?
recent additions to the site
Gundacker List
a list of all towns for which Jewish records may be accessed for the Czech Republic
Maps
Austria-Czech Bibliography
books on Austrian and Czech Jewry
Austria-Czech SIG Members' Genealogy Pages


Many thanks to JewishGen for providing space on their server for our web site. Explore the JewishGen Family Finder, the Family Tree of the Jewish People, and the ShtetlSeeker , and take advantage of the ViewMate service.