This photo is from a collection of photos
on the Mikulov web site.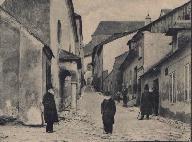 GemeindeView
(Gemeinde = Community)
The Web Encyclopedia of Jewish Communities
In
Bohemia and Moravia
Austria-Czech SIG's GemeindeView Project seeks to create a web-based encyclopedia commemorating all of the Jewish communities that once existed in the Bohemia-Moravia region. The indices below provide alphabetical listings of all known Jewish communities in the region. If you cannot find your ancestral town, please E-mail us and we will add it to the list.
Austria-Czech SIG is soliciting contributors to provide descriptions of the various Jewish communities. For examples, look at the current web sites for Ckyne, Mikulov, Rousinov, Safov and Valasske Mezirici. If you would like to contribute the description of one or more of your ancestral communities, or have additional information to contribute to an existing description, please click here.
In many cases, Austria-Czech can assist people submitting descriptions by making sure that the submitter has access to various hard-to-find books, or by providing translations from Czech or German. Contributions of money and time to Austria-Czech through the JewishGen JewishGenerosity Program will help facilitate this project.
---
Listing of Towns Alphabetically by Current Czech Name
with corresponding Czech and German spelling variations
[ A-B ] [ C-E ] [ F-K ] [ L-O ] [ P-S ] [ T-Z ] [ Other ]*
*"Other" lists a few ancestral Jewish communities for which no current Czech town has been identified.
If you can identify any of these towns with a present-day Czech town, please Email us with your information.
Thank you.

---
Listing of Towns Alphabetically, Using All Spelling Variations in Czech and German
- with corresponding current Czech name
[ A-B ] [ C-E ] [ F-I ] [ J-K ] [ L-M ] [ N-O ] [ P-R ] [ -S- ] [ T-Z ]

---
To see if vital records are available for your ancestral town, consult
Gundacker's List of Available Vital Records (by Community)
---
Return to Austria-Czech SIG Homepage
---