Old Website Town Pages
Important Note
The information on this page has been compiled by Ukraine SIG long time ago.
As JewishGen and the Ukraine SIG evolved, the contents of the page became redundant with other areas of
JewishGen (specially the KehilaLinks) and the new SIG website.

This page will be temporarily hosted by the Ukraine SIG site until this contents is transferred to the corresponding
KehilaLink and/or indexed into the Ukraine Database. Then it will be removed.
Dashev
Lipovets District, Kiev Province
Emigrants with a last Residence of Dashev in Ellis Island Records
Bonnie Blish has laboriously compiled a list of all immigrants through Ellis Island who listed their last residence as Dashev (including spelling variation).
Click here to browse the list.
Dashev residents in the Kiev Duma Lists (Eligible Voters)
There are 275 listings in the Kiev Duma List for residents of Dashev.
Dashev Records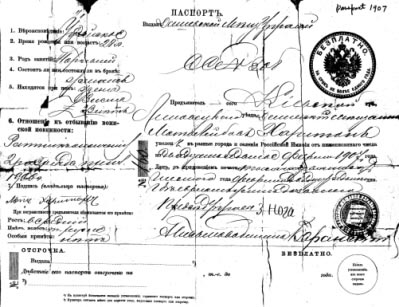 1906 Russian Passport for Mordechai KHARITON, later Max SABBATH
This is an Internal Passport issued in 1906. Translation:
Stamp: "No fee. Its validity for a term of no more than one year"
Passport issued by the Dashev Town Council
1. Religion: Jewish
2. Date of birth or age : 28 years
3. Occupation: tradesman
4. Is he or has he been married: married
5. Accompanied by: wife Zislya Vipt
6. Relationship to the fulfillment of military service: 2nd rank conscripted in 1900
7. Signature of the owner: Motl Khariton
8. Height: medium. Color of hair: dark brown. Distinguishing marks: none