Old Website Town Pages
Important Note
The information on this page has been compiled by Ukraine SIG long time ago.
As JewishGen and the Ukraine SIG evolved, the contents of the page became redundant with other areas of
JewishGen (specially the KehilaLinks) and the new SIG website.

This page will be temporarily hosted by the Ukraine SIG site until this contents is transferred to the corresponding
KehilaLink and/or indexed into the Ukraine Database. Then it will be removed.
Faces From Chernigov
Some photos are reduced. If so, click on the images, and a larger one will open in a new window.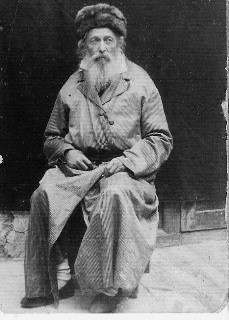 Munie Chernoff of Chernigov was said to be around 102 when this picture was taken in 1911. The back of this picture notes that he died in 1914 at around 104 years of age.
Photo courtesy of Leah Hammer.