Buffalo Synagogues
The following is a list of Buffalo synagogues and their websites. Some of these synagogues may have old records although they may not have the resources available to search through them.
Temple Beth Zion: Buffalo's second oldest synagogue, founded in 1850, and one of the oldest reform congregations in the United States. Temple Beth Zion
Congregation Shir Shalom: Buffalo's newest congregation, it will result from the upcoming merger of the Reform congregation Temple Beth Am in the suburb of Williamsville, founded in 1955, and the Reconstructionist Temple Sinai in Amherst, established 1954. Websites: Congrgation Shir Shalom
Temple Beth Tzedek: A conservative congregation formed by the merger of Temple Beth El and Temple Shaary Tzedek in 2008. Temple Beth El was Buffalo's first synagogue, founded in 1847.Temple Shaarey Zedek was formed in 1968 in a merger of Temple Emanuel and Temple Beth David Ner Israel, both of which had been founded in the 1930s. Temple Beth Tzedek.
Congregation B'nai Shalom. A conservative congregation founded in 1950 through the merger of Ahavas Achim and Anshe Lubavitz synagogues. Anshe Lubavitz had been founded in 1890 by Hasidic Jews from the Russian city of Lubavitz. Congregation B'nai Shalom.
Congregation Beth Abraham. A conservative congregation, it is one of Buffalo's oldest. Congregation Beth Abraham.
Young Israel of Greater Buffalo. An orthodox congregation in Amherst. Young Israel of Greater Buffalo
Congregation Achei Tmimim. Formerly Saranac Synagogue. An orthodox synagogue in the Hertel Avenue district of Buffalo. Saranac Synagogue.
Kehillat Ohr Tzion. A Modern Orthodox synagogue in Amherst. Kehillat Ohr Tzion
Congregation Havurah. A Reform congregation founded in 1971. Congregation Havurah.
Temple Beth Israel. Now closed, Temple Beth Israel was a conservative synagogue in the city of Niagara Falls (USA).
Any changes or corrections? Please Contact Us.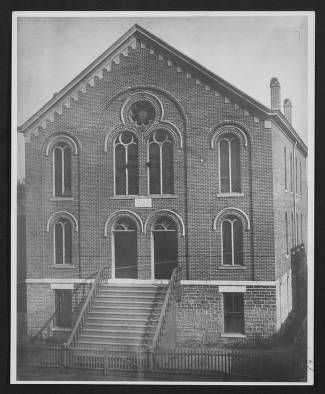 Temple Beth El, Elm Street Synagogue, about 1900. Courtesy, University Archives, State University of New York at Buffalo