Sometimes, if you want to go forward, you first have to go backward. You see where you are coming from, and then you know where you are going.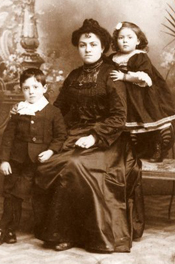 Grandmother Rachel Samuels (Rochelle Borkovsky nee Goldenberg), with Maurice and Blanche, London, England, c. 1903.


As I spoke with my older cousins and my one remaining maternal uncle, I started gathering some information on the family history. A friend suggested that I should tape these conversations, which I did.
I discovered from his English naturalization application that my grandfather Samuel (Schmuel) Borkowsky, who was later known as Robert Samuels, was born in 1870, in Kolno, Lomza Gubernia, in Russia. He had travelled to the United States, then France, and finally settled in England. I wanted to know more about my Borkowsky family and so entered all the various spellings of my family names and possible places where they had lived into the Family Finder on the JewishGen website. I'd been told that this is a most important thing to do, as Jewish people worldwide look through this list to check whether anyone is looking for the same ancestors.
For about eighteen months I heard nothing positive from these entries. Then I received an email from a woman in Israel who wondered whether we could be related, as her father had had an uncle with the surname of Borkovsky who lived in Berne, Switzerland, and who had been a clock-maker and jeweler. Since my father had also had a Borkovsky uncle living in Switzerland, a watchmaker and jeweler by trade, it did seem quite possible that we were related. I didn't know his given name, but I did remember my parents discussing my great-aunt Maria, to whom he was married.
We were both very excited as we emailed little bits of information to each other which did seem to tie up a possible relationship. She emailed me the names of all of my paternal grandfather's siblings, their descendants, and the names of his parents, none of which I had previously known. Her great-uncle Moshe was married to a woman called Maria. Was this a match? We have now been able to determine that our fathers were first cousins and that Keila and Dovid Yosef Borkovsky were great-grandparents to both of us.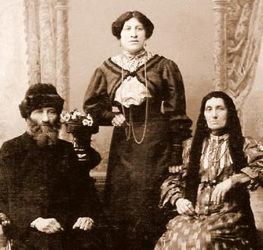 Great-Grandparents Dovid and Keila Borkovsky with Daughter Rachelle,
c. 1912, Hailar, China.


One of my older paternal cousins had given me the only information I had known about that side of my family, which was that my great-grandparents Borkovsky, who had lived in Kolno when my grandfather was born, were buried on the Chinese side of the Russian-Chinese border and I had wondered what on earth they had been doing in China! My Israeli cousin also told me about another Australian cousin who lived in Melbourne (about 800 miles from where I live in Adelaide, Australia). When I phoned her, I discovered that she was also a first cousin of my father and that she was born in Hailar, China. We were so excited as we chatted, and I promised that my husband and I would go to Melbourne and have lunch with her and her son and daughter.
In February 2003, complete with trusty cassette recorder, we went to Melbourne to meet my newly-found cousin. She told me that she had been in Australia since 1958. I arrived in 1959 and my parents in 1968. What a shame we hadn't known of each other's existence before 2003. However, without the internet and JewishGen, we probably would never have met, nor even heard of each other.
After an enormous lunch, we settled down to talk. She told me that my paternal family was Ashkenazi and had gone to live in China from Irkutsk in Siberia, where her mother, Rachelle Borkovsky, was born. They later moved to Hailar in the north of China where she and her children were born. She then recounted the horrific time she and her family had suffered during and immediately after World War II.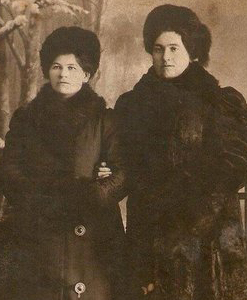 Great-Aunts Rachelle and Pasha nee Borkovsky, Lomza, Poland, 1948.

She and her family were living in Hailar when the Japanese arrived. She was strafed while she was walking down a road, carrying her 18-month-old baby son. Although they both survived, her son suffered a head injury during this incident. She also told me that her husband and brother were imprisoned and tortured by the Japanese and her father, uncle and brother-in-law were beheaded by the Japanese Kwantung Army during the August 1945 massacre of Soviet citizens living in Hailar.
My Australian cousin then took out a box of family photos. The first one she showed me was a photo of my grandparents and, would you believe, I took a photograph out of my folder to show her and it was a copy of the same photo! Even my rather skeptical husband was convinced of the relationship after that. He had been worried that perhaps my Israeli cousin and I were mistaken and he knew how disappointed I would have been should there turn out to be no relationship. But thanks to JewishGen's Family Finder, three branches of the Borkovsky family have been reunited!
I downloaded a family tree programme from the internet and entered all the information I had been given, offering copies of the trees to my cousins. Some said they would love to have the relevant tree and others that they were only interested in the history, which I was discovering bit by bit. Some even said that only the future was of interest to them. Surely it's the past that makes us what we are today!
January 2015
Adelaide, Australia