JCR-UK is a genealogical and historical website. It is not the official website of this congregation.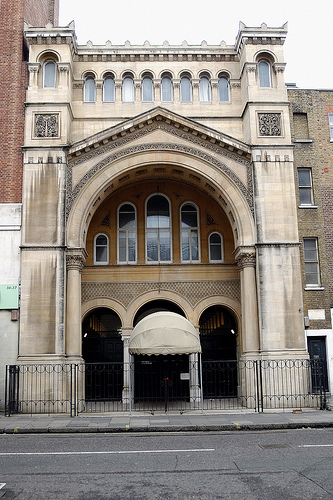 The West London Synagogue, Upper Berkeley Street (May 2008)
Reproduced with the kind permission of Leslie Bailey
© 2008 Leslie Bailey
Congregation Data

Official Name:

West London Synagogue of British Jews

Other Names:

The Synagogue is also sometimes referred to as:

The West London Synagogue

The West London Reform Synagogue

The Berkeley Square Synagogue

Current Address:

34 Upper Berkeley Street, London W1 (consecrated 22 September 1870)

Synagogue offices at 33 Seymour Place, London W1H 5AU

Previous Addresses:

Margaret Street, Cavendish Square, London W1 (1849 to 1870)

Burton Street, St. Pancras, London WC1 (1841 to 1849)

Current Status:

Active

Date Founded:

15 April 1840 - Resolution to establish congregation

1841 - Establishment of congregation

27 January 1842 - First Synagogue consecrated (Burton Street)

Ritual:

Reform - the first reform synagogue in the United Kingdom

Affiliation:

A constituent, and the premier synagogue, of the Movement for Reform Judaism (formerly the Reform Synagogues of Great Britain).

Website:

Ministers & Officers:

See:

Membership Data:

1965 - approx. 2,500 families(i)

2006 - approx. 3,500 members(ii)

Legal & Charitable Status:

The congregation is now a registered company, The West London Synagogue of British Jews (company no. 08578248), a private company limited by guarantee, incorporated on 20 June 2013 (to which the assets and liabilities of the hitherto unincorporated congregation were transferred on 10 February 2014).(iii)

It is also a registered charity (no. 1155821), first registered on 18 April 1963.(iv)

The governing documents are the Company's Memorandum & Articles Association.

Local Government District:

All of the above addresses, apart from Burton Street.(v), are now in the City of Westminster and were (from 1900 to 1965) in the former Metropolitan Borough of St Marylebone. Prior to 1900, St Marylebone was a civil parish in the former County of Middlesex.(vi)

Registration District (BMD):

Barnet (since founding of the merged congregation) - Register Office website.

Cemetery Information:

The Congregation has the following cemeteries:

Balls Pond Road Cemetery, Kingsbury Road (disused), Balls Pond Road, London N1. In use by the Congregation from 1843 to 1951.

Hoop Lane Cemetery West (active), Hoop Lane, Golders Green, London NW11.The Hoop Lane cemetery was acquired in 1894 by the West London Synagogue and in 1894, the eastern (smaller) section of which was sold in 1896 to the Spanish and Portuguese Jews' Congregation.

Edgwarebury Cemetery (active), Edgwarebury Lane, Edgware HA8 8QP. This cemetery, opened in 1973, is also shared by the Congregation, various other non-orthodox Jewish congregations as well as the Spanish and Portuguese Jews' Congregation.

For additional information, see London Cemeteries of the Movement for Reform Judaism.

Notes & Sources (↵ returns to text above)

The records in the database specifically associated with the West London Synagogue include:
Births
WLS Birth Register 1, 1844 - 1905 (859 records).

Marriages
1842 - April 1981 (4,933 records) - (Please note - to comply with UK Data Protection records 1930-1959 contain limited data and thereafter minimum data).

Burial
Balls Pond Road Cemetery, 1843 - 1941 (900 records);
Edgwarebury Lane Cemetery, 1976 - 2006 (1,625 records);
Hoop Lane Cemetery, 1900 - 2007 (7,334 records);
Golders Green Crematorium, 1905 - 2006 (4,443 records of WLS officiated cremations & interments of cremated remains);
Miscellaneous, 1905 - 2005 (389 records of burials, WLS officiated cremations & interments of cremated remains).
For a list of other London records in the Database that may also include records associated with this congregation, click here.
Bibliography, On-line Articles and Other Material
relating to this Congregation
on JCR-UK
Congregational Records

Registration District (BMD):

Westminster (since 1 January 1978)- Register Office website

Previous Registration Districts:
St Marylebone - from 1 January 1902 until 1 January 1978;
Marylebone - from 1856* until 1 January 1902
(*It was not until 1856, when the Congregation received special Parliamentary sanction, that marriages conducted by the Congregation could be registered.)
(All records would now be held by current office.)

Marriage Certification Group: West London Synagogue

Marriage Registers:

Marriage registers, other than register currently in use, deposited with the Register Office. First entry - 10 June 1857

List of Reform Judaism Congregations
Jewish Congregations in the London Borough of the City of Westminster
Jewish Congregations in Greater London (other than East End)

Page created: 2003
Latest revision or update: 18 July 2018
---
Error processing SSI file