Town of Whitley Bay
The seaside town of Whiteley Bay (population about 10,000) in the North East of England is situated about five miles north of the Tyne estuary, some 10 miles northeast of Newcastle and about three miles north of North Shields.
Whitley Bay is now in the metropolitan borough of North Tyneside (in the metropolitan county of Tyne and Wear), which was created in 1974 upon the merger of several authorities, including most of the then Municipal Borough of Whitely Bay, all of which auuthorities had been within the county of Northumberland. Whitley Bay had received borough status in 1954, having previously been the urban district of Whitley Bay since 1944, and prior to then, the urban district of Whitley and Monkseaton.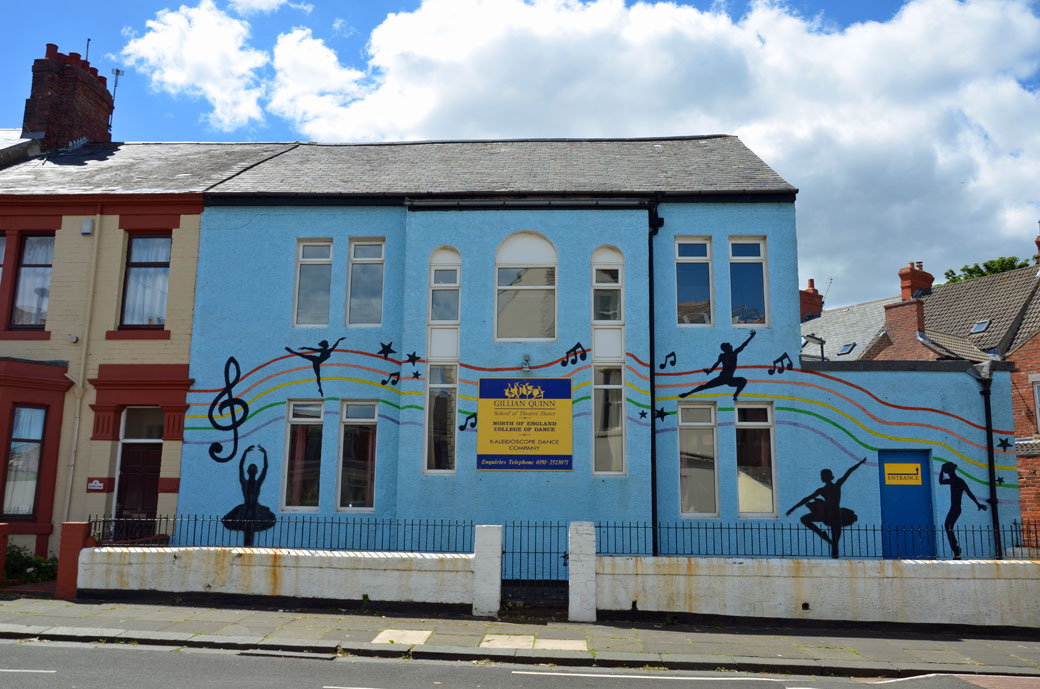 The former Whitley Bay Synagogue, 2 Oxford Street (June 2018)
now a School of Theatre Dance
© Steve Ellwood 2018
The Whitley Bay Jewish Community
The Whitley Bay Jewish community dates from the early 1920s, although aA Synagogue building was not acquired until the late 1930s. In 1953, a Jewish Sections was dedicated at the local cemetery. The community began to decline in the the late 1960s and finally closed at the end of the 1990s.
Congregation Data

Name:

Whitley Bay Hebrew Congregation

Address:

Synagogue at 2 Oxford Street, Whitley Bay NG26 3TB, acquired in 1937(i) and consecrated by Chief Rabbi Dr. Hertz on 21 September 1938. Following extensive rebuilding, the building was reconsecrated on 27 February 1966.
Services were initially held in a room above a shop in Whitley Road and later in a room in South Parade.(ii) Services were also held in private homes, including that of the minister

Date Founded:

1922, when first regular services were held in private homes.(iii).

Current Status:

Closed by about 2000(iv)

Ritual:

Orthodox - Ashkenazi

Ministers:

Rev. Nemeth - (the congregation's first minister) until 1930s(vi)

Rev. Samuel Zucker - from 1930s until 1937(vii)

Rabbi Wengroff - from 1937(viii)

Rev. A. Brysh - about 1950/51(ix)

Rev. S. Ballenow - from about 1953 until about 1960(x)

Rev. H. Greenberg - from about 1960 until 1965(xi)

Rev. A. F. Herling - 1970s(xii)

Notes & Sources (↵ returns to text above)
Bibliography, On-line Articles and Other Material
relating to the Whitley Bay Jwish Community
on JCR-UK
Congregational Records

General:

Numerous records of the Jewish Communities in Northeast England are deposited with the Tyne and Wear Archives Service (http://www.legacyarchives.org.uk). CLICK HERE to view a full list of these records (correct to December 2005).

Synagogue Registers:

Orders of service 1938-1966, brochures, etc. - Tyne and Wear Archives Service (see above)

Registration District (BMD):

North Tyneside - Register Office website
Whitley BayJewish Population Data

1934

300

Jewish Year Book 1935

1946

120

Jewish Year Book 1947

1950

175

Jewish Year Book 1951

1957

150

Jewish Year Book 1958

1977

85

Jewish Year Book 1978

1985

30

Jewish Year Book 1986

1988

20

Jewish Year Book 1989

North Tyneside Jewish Community home page

Jewish Congregations in Tyne and Wear
Jewish Communities of England home page

Page created: 6 March 2004
Latest revision or update: 23 August 2018
---
Explanation of Terms | About JCR-UK | JCR-UK home page
Contact JCR-UK Webmaster:
jcr-ukwebmaster@jgsgb.org.uk


Terms and Conditions, Licenses and Restrictions for the use of this website:
This website is owned by JewishGen and the Jewish Genealogical Society of Great Britain. All material found herein is owned by or licensed to us. You may view, download, and print material from this site only for your own personal use. You may not post material from this site on another website without our consent. You may not transmit or distribute material from this website to others. You may not use this website or information found at this site for any commercial purpose.


Copyright © 2002 - 2019 JCR-UK. All Rights Reserved