Page created: 22 August 2005

Latest update or revision: 26 September 2016
Town of Harrogate
Harrogate is a town in Northern England with a population of about 70,000, well known as a spa, some 15 miles from Leeds. It is part of the District of Harrogate (which also includes the historic town of Knaresborough) within the county of North Yorkshire. Prior to 1974, Harrogate, covering a much smaller area, was a municipal borough within the West Riding of Yorkshire.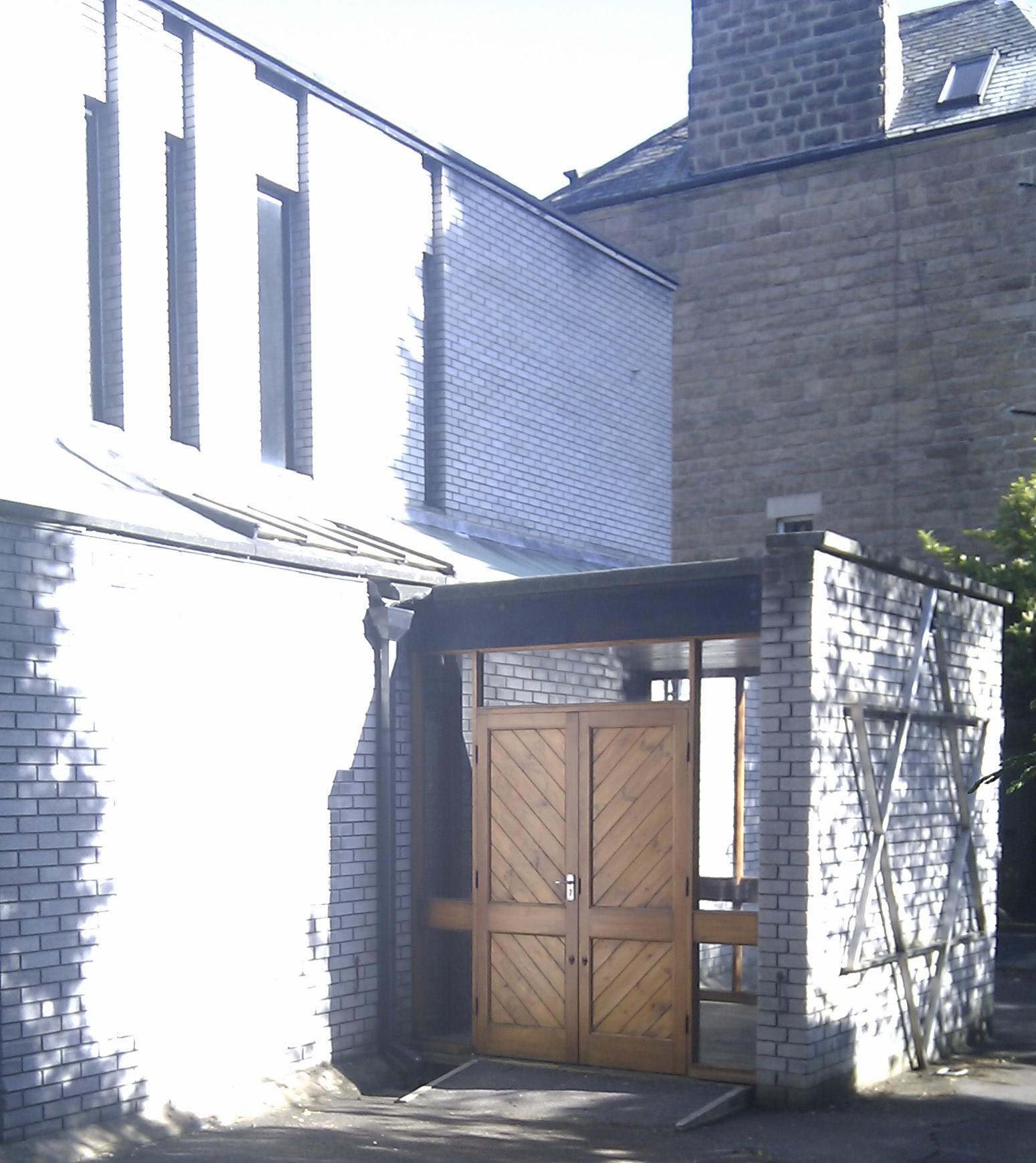 Entrance to Harrogate Synagogue, May 2013
© David Shulman 2013
Harrogate Jewish Community
Only one Jewish congregation, the Harrogate Hebrew Congregation, is known to have existed in Harrogate in modern times, although there was a medieval Jewish community in Knaresborough.
Congregation Data

Name:

Harrogate Hebrew Congregation

Address:

St. Mary's Walk, Harrogate HG2 0LW, from 1925.

Services were originally held in the Barozinsky boarding house.

Current Status:

Active

Date Formed:

1918

Ritual:

Ashkenazi Orthodox

Affiliation:

Synagogue functions under the under the auspices of the Chief Rabbi but as an independent body.
The Congregation was affiliated to Leeds United Hebrew Congregation for the purposes of burial rights, until the opening of the Harrogate Stonefall Jewish Cemetery in May 1964.

Marriage Certification:

Group for Certification: Board of Deputies
Appears in 1998 General Registrar Official List
Worship Number: 49980
Registration District: Claro

Website:
Search the Harrogate Jewish Cemetery Database,
including burial records and photographs of headstones,
as well as a description of the cemetery

Basic Cemetery Information
The cemetery is at Stonefall Jewish Cemetery, Wetherby Rd, Harrogate HG3 1DE. Opened 1964. The Database includes approximately 180 interments or re-interments from 1964 to 2014, as well as 6 Jewish servicemen buried in the Stonefall Military Cemetery.
(For some additional information, also see IAJGS Cemetery Project - Harrogate
On-line Articles and Other Material
relating to the Harrogate Jewish Community
on JCR-UK
Harrogate Jewish Population Data

1946

250

(The Jewish Year Book 1947)

1955

300

(The Jewish Year Book 1956

1965

300

(The Jewish Year Book 1966)

1990

240

(The Jewish Year Book 1991)

1999

140

(The Jewish Year Book 2000)

2004

327

(The Jewish Year Book 2005)
Records

Synagogue Records: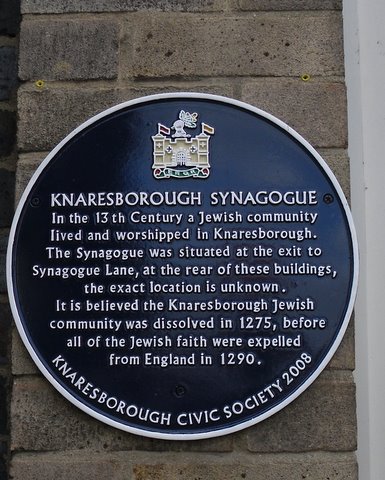 Plaque commemorating the medieval synagogue in Knaresborough
© Murray Freedman 2009
Jewish Congregations in North Yorkshire