Page created: 3 November 2003
Latest revision or update: 20 July 2017
Town of Darlington
The town of Darlington, in the North East of England, has a population of about 100,000 and is in the county borough of Darlington, a unitary authority since 1997. Prior to then, Darlington was a district of County Durham. The present boundaries were formed in 1974 by the merger of the old borough of Darlington and the rural district of Darlington. It lies on the river Skerne near the confluence with the river Tees. The world's first railway line, opened in 1825, ran from Darlington to Stockton.
Darlington Jewish Community
The town had a Jewish congregation during the late nineteenth century. It dwindled as several families saw no prospect of there being a larger Jewish population and making a congregation, so they left and by 1894, the Congregation was defunct. Board of Deputies cancelled the congregation's right to maintain a Marriage Register "owing to the decay of the congregation". The Jewish community began to increase again at the end of the nineteenth century and the present congregation, the Darlington Hebrew Congregation, dates back to 1904.

Congregation Data

Name:

Darlington Hebrew Congregation

Address:

15 Bloomfield Road, Darlington DL1 5TG

Previously at 13 Bloomfield Road, Darlington

(The congregation moved to 13 Bloomfield in 1967 and the new synagogue was dedicated by the then Emeritus Chief Rabbi Dr. Israel Brodie. In 2007, the congregation moved next door (No. 15) to somewhat smaller premises that had been the rabbi's bungalow.(i))

Other Former Addresses:

Studley House, 9 Victoria Road, Darlington (from 1930 until 1967(ii))
and prior thereto in rented premises including Albion Hall, Northgate; 7 Prospect Chambers, Bondgate; Russel Street Chambers, 74 Northgate; and West End Building, Skinnergate.

During the nineteenth century, the Congregation had no fixed premises and would frequently used rented rooms for the high holiday services

Current Status:

Active

Date Formed:

The earlier congregation was founded by about 1885.(iii) However by 1894, it was defunct and Board of Deputies cancelled the congregation's right to maintain a Marriage Register "owing to the decay of the congregation"(iv).

The present congregation dates from 1904.

Ritual:

The congregation was Askanazi Orthodox until about 1987/88, when it became Reform

Affiliation:

Currently an Associated Community with of the Movement for Reform Judaism (formerly the Reform Synagogues of Great Britain), having joined to movement following the adoption of Reform form of services in 1987/88

Ministers:(v)

Rev. Moses Reichman - Chazan 1888(vi)

Rev. Samuel Gordon - Minister 1891, 1892(vii)

Rev. Barnet Moss - Chazan and Shochet from 1907(viii)

Rev. M. Franks - Minister in 1914(ix)

Rev. Bernard Hyams - Minister from about 1915 to 1932(x)

Rev. M. Isaacs - Minister from 1932(?) to 1933(xi)

Rev. D. Garb - Minister from 1934 to 1939(xii)

Rev. Shalom Barron - Chazan, Shochet from 1939 until 1944(xiii)

Rev. Marcus Schwarz - Minister from 1945 to about 1946(xiv)

Rev. Israel Cohen - Chazan from 1947 to 1950(xv)

Rev. M. I. Fabritz - Minister from 1951 to 1958(xvi)

Rev. A. Freedman - Minister from 1958 until about 1969(xvii)

Rev. Wilfred Wolfson - Minister from 1973 to 1969(xviii)

Rabbi Alby Copeland - Minister 1976 to 1980(xix)

(from 1987/8 until about 2012, there was a rabbi sharing arrangement with Newcastle Reform Synagogue(xx))

Rabbi Barbara Borts - Part-Time Minister from 2012 to present (June 2017)(xxi)

Website:

http://www.darlingtonhebrewcongregation.org.uk (which includes certain historical and genealogical information on the congregation.)

Membership Data:

1892 - 10 seatholders (Board of Deputies return)

Registration District (BDM):

Darlington (since founding of congregation) - Register Office Website.

Marriage Group: WLS (West London Synagogue).

Notes & Sources (↵ returns to text above)
Darlington Jewish Cemetery Information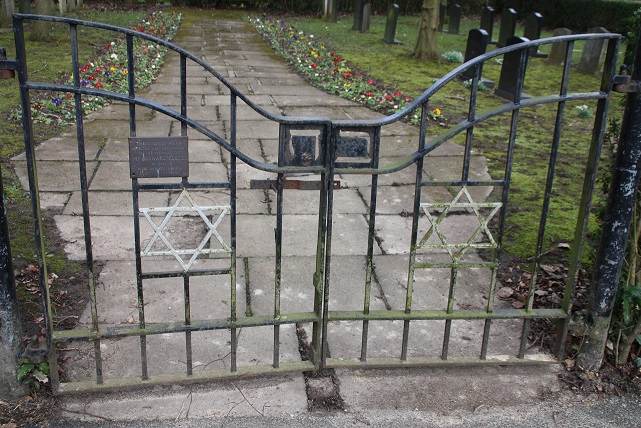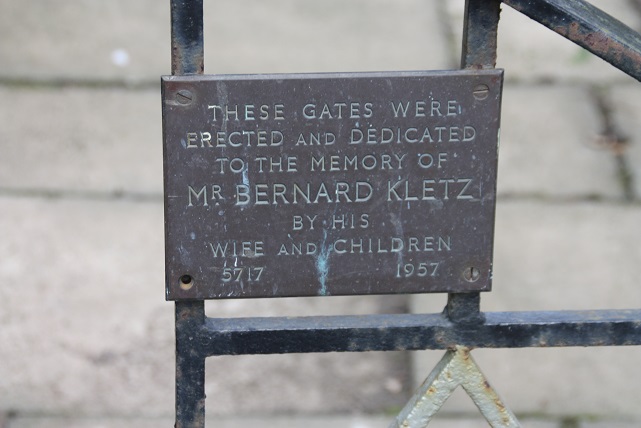 The Gates of the Darlington Jewish Cemetery, with a close-up of the plaque
Courtesy Peter Gatoff (© 2016)
Darlington Jewish Cemetery. The Darlington Hebrew Congregation has its own consecrated areas in the local municipal cemetery - West Cemetery, Carmel Road North, Darlington DR3 8RY. There are two sections, an "Old Section" dating from 1922 (earlist burial 1926) and a "New Section" dating from 1957.
(For possible additional information, see also IAJGS Cemetery Project - Darlington)


Darlington Jewish Population Data

1881

29

(Olsover's "The Jewish Communities of North-East England")

1906

30 families

(The Jewish Chronicle, 16 November 1906)

1909

86

(The Jewish Year Book 1910)

1919

89

(The Jewish Year Book 1920)

1934

82

(The Jewish Year Book 1935)

1946

98

(The Jewish Year Book 1947)

1955

195

(The Jewish Year Book 1956)

1990

80

(The Jewish Year Book 1991)

2004

40

(The Jewish Year Book 2005)
Darlington's Earliest-Known Jewish Inhabitants

1841 Census
HO107/303/25/8 Page 11 Archer Street, Darlington, Durham

DAVIS
SIMMONS
ASHER
MASPERO [or MASPERS?]

Lewis
Henry
Gerson
Peter

25
20
20
25

Trav. Jeweller
Trav. Jeweller
Trav. Jeweller
Trav. Jeweller

Foreign
Foreign
Foreign
Foreign
Reputed first Jewish child born in Darlington
Samuel Briski, June quarter Darlington 10a 17. Brit Milah 23 March 1872. Father Jacob. Source: Arnold Levy, History of the Sunderland Jewish Community, 1755-1955, 1955, p. 293.

List of Reform Judaism Congregations
Jewish Congregations in County Durham