Congregation Data

Official Name:

Blackpool United Hebrew Congregation

Last Address:

Leamington Road, Blackpool (built and consecrated 1916, with subsequent alterations in 1926, 1955 and 1976, and de-consecrated and sold in 2012).

The building is a Grade II listed building

Previous Address:

Metropole Arcade Building, Springfield Road, North Shore, Blackpool.

Formation:

Formed in about 1907 by the merger of the following congregations:

Blackpool Hebrew Congregation
which had held services at the synagogue at Springfield Road, North Shore, since 1900, and previously in private houses.
(Congregation formed in 1898.)

Blackpool New Orthodox Hebrew Congregation
(Congregation formed in 1905, as a rival congregation.)

Current Status:

Synagogue closed 2012. Last service held was on 13 May 2012 (see below for videos of the last service). Congregation incorporated into St. Anne's Hebrew Congregation.

Ritual:

Ashkenazi Orthodox

Affiliation:

A provincial synagogue under the aegis of the Chief Rabbi.

Ministers:

Rabbi David Braunold - 1985 to 2010 (Congregation's last Minister)

Congregation Numbers:

1900 - 14 members (Jewish Chronicle, 18 May 1900)
1939 - 104 seatholders (Jewish Year Book 1940)

Cemetery Information:

There are Jewish sections at two local municipal cemeteries. (For further details see Cemetery Information on the Blackpool Jewish community home page)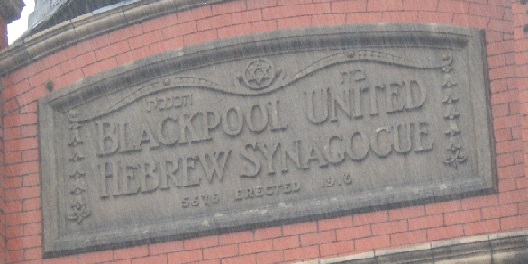 Blaclpool Synagogue, showing inscription below dome
ęDavid Newman 2017
On-line Articles and Other Material relating to this Congregation

on Third Party websites
Congregational Records

Registration District (BDM):

Blackpool (since 1 September 1998) - Register Office website

Previous Registration Districts:
Blackpool & Fylde - from 1 April 1974 until 1 September 1998.
Blackpool - from 1 October 1936 until 1 April 1974.
Fylde - from founding of congregations to 1 October 1936
(All registers would now be held by current office.)

Worship Number: 47183

Congregation Records:

For other articles and any congregational history,
see Blackpool Jewish Community home page
Jewish Congregations in Lancashire
Explanation of Terms | About JCR-UK | JCR-UK home page
Contact JCR-UK Webmaster:
jcr-ukwebmaster@jgsgb.org.uk


Terms and Conditions, Licenses and Restrictions for the use of this website:
This website is owned by JewishGen and the Jewish Genealogical Society of Great Britain. All material found herein is owned by or licensed to us. You may view, download, and print material from this site only for your own personal use. You may not post material from this site on another website without our consent. You may not transmit or distribute material from this website to others. You may not use this website or information found at this site for any commercial purpose.


Copyright © 2002 - 2019 JCR-UK. All Rights Reserved