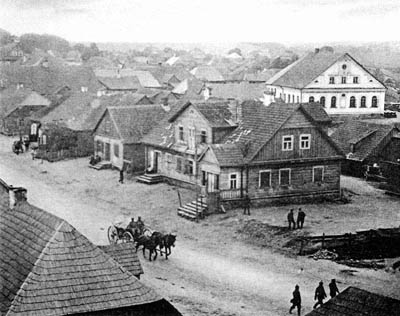 History
Courtesy of
Hank Propp
Shkudvil, Lithuania
1997 marked the addition of the following searchable databases, now grouped under the RESEARCH category on the newly designed home page:

--· "LDS Microfilm Master" for Poland designed by Michael Tobias and a Joint effort between Avotaynu, Inc. & JewishGen, Inc.

--· "HaMelitz Lithuanian and Latvian Donors" names of almost 20,000 Lithuanian and Latvian charity donors, listed in this Hebrew periodical, 1893-1903 contributed by Jeff Maynard

--· "Jewish Religious Personnel in Russia 1853-54" a Bert Lazerow effort --· "Chicago Tribune Obituary database", an index to over 6500 notices 1994-1997 prepared by Richard Hoffman --· "Cleveland Jewish News Obituary database" an index to 5000 obits 1988-1997 prepared by Helen Wolf --· "Jewish American Civil War Veterans" 7000 names, both Union and Confederate prepared by Lynn Berkowitz --· "American Jewish Yearbook Obituary Index", index of over 3000 names of prominent Jews 1948-1994 prepared by American Jewish Committee and Jewish Publication Society --· "Jews of London (pre-1950)" names and addresses of Jews in London compiled by Jeff Maynard from London Trade Directories --· "Welsh Census Returns, 1851, 1891" entries for South Wales compiled by Wendy Bellany & Julian Kemper --· "Jewish Families of Northern Germany" 3000 families from lower Saxony, North Rhine, Westphalia, Hamburg, Bremen & Hessen compiled by Egmar Ruppert 1997 also saw the introduction of the first of four interactive databases, the "Publications Database" managed by Aaron Rosenberg and allowed JewishGenners to enter titles of books they have found to be valuable to genealogical research. "Publications" was quickly followed by "Meetings" which was initially manually managed by Len Kamlet and is a site where meetings of interest are described. "Family Links" maintained manually at the onset by by Alan Knecht, allowed participants to enter family data that might be of interest to others. Finally, "Interactive Links" which was a manual compilation of links managed by Howard Gershen and Ted Gostin to provide a connection to a multitude of other sites of interest to genealogical researchers. We invite all to explore these sites if you have not already done so. They are listed in the SHARE/CONTRIBUTE category on the homepage. On the technological level The JewishGen Family Finder (JGFF) went to a 32 bit mode and boasted a total of 7387 researchers with 61,424 data records covering 23,545 unique surnames and 7855 towns. As an update to this information it should be noted that at the close of 1997, the JGFF hit the 10,000 researcher mark. Through the continued generosity of the Zantker Charitable Foundation we were able to make significant capital purchases to keep up with the increasing demands. The new server, a dual processing 300 mhz Pentium II was accompanied by a bit of anxiety as we migrated all of our services over to an NT platform, implemented our own web and mail server software and went through the pains and strains of things which had worked well in the past, were no longer were willing to do so. We dealt with the crashes, the "won't work on this server" and not only survived, but emerged wiser and much better for it. Our systems are faster, we've got more space, but most importantly we've got places for all the new ideas for projects and programs that keep pouring into our offices, from the wonderfully loyal supporters and residents of what has been coined in 1997 as JewishGenland. With the joy of anticipated accomplishment coupled with the sadness of why we were creating this new program on Nov 10, 1997 the 58th anniversary of Kristal Nacht, JewishGen launched the JewishGen Holocaust Global Registry, an idea conceived and managed by Kathy Altman. In less than one weeks time, the JHGR contained nearly 200 records of survivors seeking families and friends, adults who as children had lost their Jewish identity while having their lives saved by Christian families who took them in as adoptees. As of this writing there are nearly 1100 entries in the database representing 43 states and 25 countries. No human being on this earth can look at these entries without a sense of loss, a sense of anger and a sense of unbelievable sadness. Yet, success stories are indeed the base on which JewishGen stands proud and there is one family wishing to retain their privacy who has been reunited after more than a 50 year separation. While we regret not being able to include this accomplishment in press releases, we share a sense of inner peace and joy at having made this possible. 1997 saw the initial development of cooperative relationships with institutions of higher learning, the evidence of which took place in 1998. With Arizona State University, The Phoenix Project went online and for the first time allowed viewing of original documents and signatures of those in the Brest Ghetto applying for "passports". Most recently the Yizkor Book Project received permission from the Indiana University Press to present three chapters of the classic book "From a Ruined Garden" prior to their June publication date. Not to be minimized is the energy and creative contribution of our operations management team, Carol Skydell, Warren Blatt, Iris Folkson, Michael Tobias, and Thierry Tastiel who handled programming during 1997 and for the first few months of 1998. Further, we are fortunate to have a Board of Directors holding tight to the vision which has become the hallmark of JewishGen. JewishGen is looking forward to continuing and expanding on our vision as we prepare to launch in 1998 a grassroots effort for "preserving our history for future generations".
Copyright © 1998 JewishGen, Inc. All rights reserved
JewishGen® is a trademark of JewishGen, Inc.