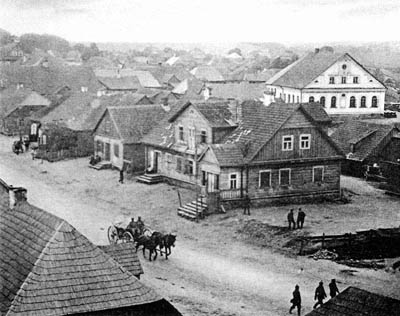 History
Courtesy of
Hank Propp
Shkudvil, Lithuania
A

bit of history. Many moons ago, starting with a bulletin board for those interested in their Jewish genealogy, there were about 150 active participants. JewishGen was also one of the early "expansionists" to the internet when it was still in its infancy. Over the years from our humble beginnings we shared in the growth the internet provided finally evolving into JewishGen, Inc. a 501 (c) (3) non profit Texas corporation that we know today.

Our focus has always been directed towards education and the vision which guided us then, and guides us now can be simply put.. to ensure Jewish continuity for present generations and the generations yet to come. Focusing on how to accomplish this, JewishGen has become the leading internet site for those interested in researching their Jewish ancestry, be they Jews or gentiles. Once upon a time, our user base was primarily just from the United States and Canada, yet today, JewishGen's broad base covers all continents from all four corners of the globe. Each program, each shtetl, each yizkor book, each search engine added to the list of offerings, brings us closer and closer to the envisioned goal, that of uniting families separated by the horrors of just past recent generations. From where we started, a mailing list with 150 readers, 1997 saw the milestone of 2000 subscribers when Barbara Franchi <bf@NOSTALGIA.COM> joined the list on March 5, 1997. As this is being written in 1998, we are very close to hitting the 3000 mark and Barbara, by the way, is still on the list. Number estimates on those reading JewishGen through the usenet newsgroup soc.genealogy.jewish is incalculable but the sheer numbers participating on the JewishGen website and the JGFF indicates significant growth.
Copyright © 1998 JewishGen, Inc. All rights reserved
JewishGen® is a trademark of JewishGen, Inc.