Page created: 22 August 2005
Latest revision or update: 5 April 2016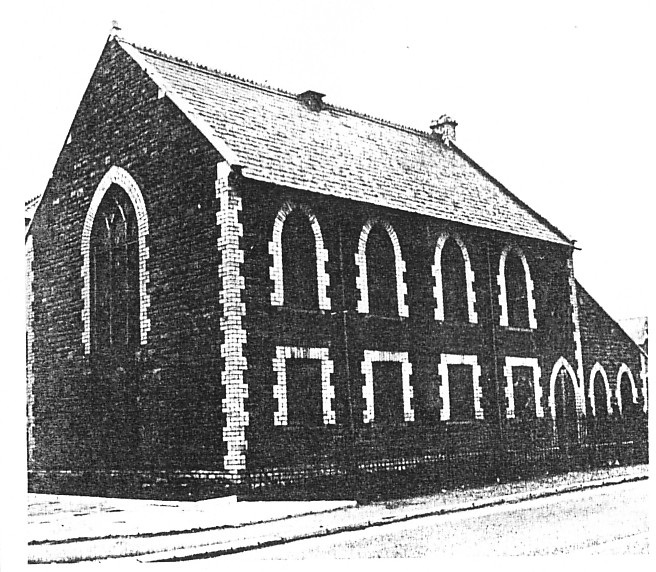 Llanelli Synagogue, built in typical Welsh chapel style.
(courtesy "How the Greeners Came to the Valley"
by Michael Wallach. ©Jewish Chronicle)
Town of Llanelli
Llanelli is a town in South Wales with a population of about 50,000, situated on the on the northern coast of the Burry Inlet, near the entrance to the Bristol Channel, about 13 miles east of Swansea.
Until 1974, Llanelli formed the municipal borough of Llanelli in the county of Carmarthenshire. From 1974 until 1996, it was part of the district of Llanelli in the newly-formed county of Dyfed. In 1996, Llanelli was merged with neighbouring authorities to form the reconstituted county of Carmarthenshire, a unitary authority (within the ceremonial, or preserved, county of Dyfed).
The spelling of this town's name, for much of its history, was officially Llanelly. It is now Llanelli, having been changed in the mid-1960s.
Llanelli Jewish Community
The origins of the Llanelli Jewish community appears to date back to the 1880s when Jews first began to settle in the town (see Into the Vortex by G. Alderman), although it was not until about 1902 that services were held, for the high holy day. The synagogue (as detailed below) was built in 1909 and, for a time, there was a rival congregation, formed in 1915.
Llanelli was the town in which Michael Howard (now Baron Howard of Lympne), leader of Conservative Party from November 2003 to December 2005, grew up and went to school, his family having moved there from his birth town of Gorseinon (now part of Swansea). Born Michael Hecht on 7 July 1941, the son of Rumanian Jewish immigrants, Michael Howard was the first Jew to lead one of the principal British political parties. (Benjamin Disraeli, leader of the Conservative (Tory) Party in the nineteenth century, had been baptized at birth, and when Herbert (later Lord) Samuel was leader of the Liberal Party from 1931 to 1935, it had already ceased to be one of the two major parties.)
Congregation Data

Name:

Llanelli Synagogue

Address:

Queen Victoria Street, Llanelli, SA15.

(The building, on the corner with Era Road, was derelict but is now used by the Llanelli Free Evangelical Church, following restoration.)

Date Formed:

Community founded in 1902, synagogue built in 1909. Prior to then, services were held at the home of Harris Rubenstein (Into the Vortex by G. Alderman)

Current Status:

Closed and synagogue sold 1984 (congregation became part of the Swansea Hebrew Congregation). The sifrei torah were given to Cambridge Traditional Jewish Congregation.

Ritual:

Ashkenazi Orthodox

Membership Data:

1937 - 31 members (The Jewish Year Book 1938)

Cemetery
Information:

Llanelli did not have a Jewish cemetery. Burials generally took place in Swansea, the nearest Jewish cemetery.
On-line Articles and Other Material
relating to the Llanelli Jewish Community
on JCR-UK
Llanelli Jewish Population Data

1915

70

(The Jewish Year Book 1915 and Jewish Chronicle 3 December 1915)

1934

300

(The Jewish Year Book 1935)

1990

120

(The Jewish Year Book 1991)
Former Jewish Communities in the county of Carmenthenshire
Jewish Congregations in Wales, listed according to former counties
Jewish Congregations in Wales, listed according to current unitary authorities