Page created: 21 August 2005
Latest update or revision: 25 November 2013
Hull Jewish Community
Hull, also known as Kingston upon Hull, is a city of about 250,000 inhabitants located on the northern bank of the Humber estuary in northern England. It has been unitary authority since 1996. Prior to then, Hull was a district of the now defunct administrative county of Humberside, which had been formed in 1974. After the abolition of Humberside in 1996, Hull was placed for ceremonial purposes in the county of the East Riding of Yorkshire, having been a county borough in the East Riding until 1974.
The Hull Jewish Community
The Hull Jewish community dates back to the late eighteenth century.
The following Congregations are or were considered to be part of the Hull Community:
The following are former or alternative names of the above congregations: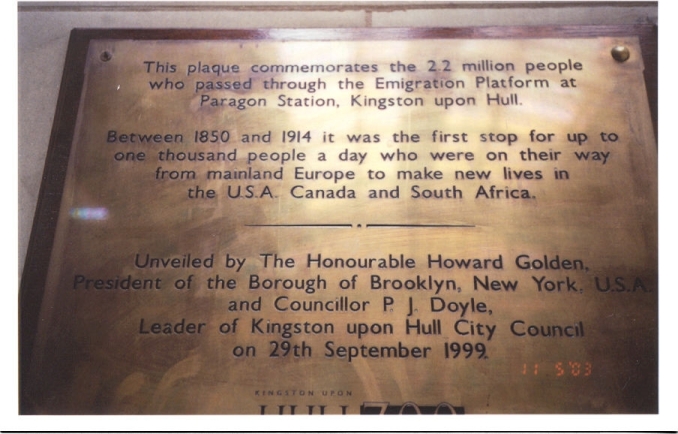 Articles and Other Material on the Hull Jewish Community
Historical Jewish Walking Tour of Hull kindly provided by Hull Jewish Archive, June 2008
The Rise of Provincial Jewry - Hull by Cecil Roth, 1950. Available on JCR-UK as part of the Susser Archive
Jewish Encyclopaedia on Hull by Joseph Jacobs, c-1906
Hull Hebrew Board of Guardians Annual Report and Balance Sheet - 1897 1898 1899
Records of the Hull Jewish Community, held by the Hull History Centre
Jewish Property and Heritage & Places of Local Interest
Bibliography and other sources
Hull's Six Jewish Cemeteries by David Lewis.
Other Hull Cemetery Information (IAJGS Cemetery Project)

Jewish Population Data

| | | |
| --- | --- | --- |
| 1851 | 200 | (Chief Rabbis Census estimate |
| 1895 | 1,350 | (The Jewish Year Book 1896) |
| 1898 | 1,500 | (The Jewish Year Book 1898-99) |
| 1900 | 2,000 | (The Jewish Year Book 1900-01) |
| 1910 | 2,500 | (The Jewish Year Book 1910) |
| 1935 | 2,500 | (The Jewish Year Book 1935) |
| 1946 | 2,000 | (The Jewish Year Book 1947 |
| 1955 | 2,000 | (The Jewish Year Book 1956) |
| 1965 | 2,500 | (The Jewish Year Book 1966) |
| 1990 | 1,120 | (The Jewish Year Book 1991) |
| 2004 | 670 | (The Jewish Year Book 2005) |
Jewish Congregations in the East Rising of Yorkshire
Jewish Communities of England home page