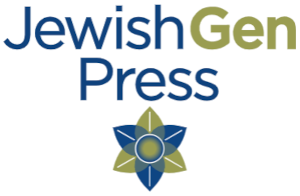 Flight to Survival
by Peninah Cypkewicz-Rosin
Published by the JewishGen Press
part of Yizkor Books Project of JewishGen, Inc.

200 pages with numerous illustrations in hard cover
Available from JewishGen for $30.00
Details:

This is the story of Peninah Cypkewicz, a Jewish girl who was only seventeen years old when the German army entered Wloclawek, Poland, her hometown on September 14, 1939. For five and a half years, Peninah survived with a combination of initiative and much luck. She was in Częstochowa from the end of 1941 to January 1945, in the ghetto and then the Hasag Labor Camp. After liberation from Nazi rule in January, 1945, Peninah began a seven month journey to Eretz-Yisrael.

Peninah's story is one of tremendous personal courage in the face of despair, persistence in her struggle to survive, and the ultimate reward - a happy family life with her husband, children and grandchildren in Israel.

This book is an excellent companion to Destruction of Częstochowa (Częstochowa, Poland).

This publication by the "JewishGen Press" of JewishGen, Inc., serves to provide the English speaking community with these first-hand accounts of the events of affecting Jews in Europe which were originally not published in English.
---
This material is made available by JewishGen, Inc. and the Yizkor Book Project for the purpose of
fulfilling our mission of disseminating information about the Holocaust and destroyed Jewish communities.
This material may not be copied, sold or bartered without JewishGen, Inc.'s permission. Rights may be reserved by the copyright holder.
---
JewishGen, Inc. makes no representations regarding the accuracy of the translation. The reader may wish to refer to the original material for verification.
JewishGen is not responsible for inaccuracies or omissions in the original work and cannot rewrite or edit the text to correct inaccuracies and/or omissions.
Our mission is to produce a translation of the original work and we cannot verify the accuracy of statements or alter facts cited.

JewishGen Press

Yizkor Book Project

JewishGen Home Page
---
Yizkor Book Director, Lance Ackerfeld
This web page created by Lance Ackerfeld
Copyright © 1999-2023 by JewishGen, Inc.
Updated 17 Oct 2022 by LA