[Page 405]
Preparation (Hakhshara) of Pioneers (Haluts) in Youzefpol
By Leah Nakhshon-Shif (Tel Aviv)
Translated by Moshe Porat
Edited by Judy Feinsilver Montel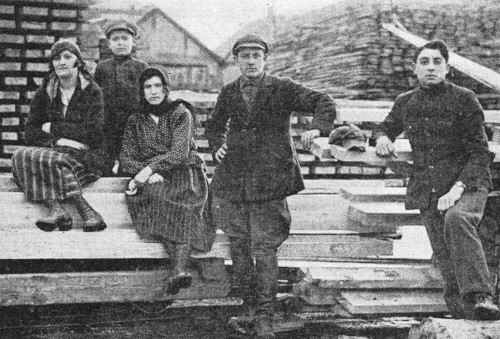 A group of Volozhin born pioneers at Polak's saw-mill
From right to left: Shneur Kivilevitsh, Eliezer Lavit,
Etl Shuker, Moole Polak, Moosia Rogovin.
Youzefpol became a site for the preparation of Zionist pioneers. A group of thirty young people arrived there to learn how to live and work in common and to prepare themselves for "aliya" to Palestine. The Jewish boys and girls replaced a few local workers. It was not an easy task. But Mr. Kutshevitski and Mr. Shif, the mill proprietors, did all they could to help the Zionist youngsters accomplish their aim on the way to a Jewish state in the land of Israel.

The Hakhshara youngsters filled the empty rooms of Count Tyshkevitch's large house. The quiet place turned into a Zionist center. It was full of life, of Yiddish speaking and Hebrew songs.
---
The Hakhshara group of the "Hakhaluts Hamizrakhi"
By Arye Kharuts
Translated by M. Porat z"l
Edited by Judy Feinsilver Montel
After three years in the Yeshiva an idea entered into my brain to make Aliya. I could not join the "Hakhaluts", because its members did not observe our tradition enough. I planned to go to Vilna to join a religious Zionist group.

But suddenly an event happened that made much noise in Volozhin. A young man named Moshe Yakov Kvyat (Flower in Polish), now Perakh (Flower in Hebrew) studied at the Yeshivah. He was 20 years old, intelligent, energetic and diligent. Many important Volozhin Balebatim wanted to take him home as a son in law. But he did not look for a bride whose heart was not in the Holy Land. He looked for a spouse to be his partner in Aliya.

He searched and he found Malka Shishko the daughter of a decent family. Two days after his marriage Yakov Moshe went to Vilna to see about arranging the desired journey. But he was not eligible because he did not have the required sum of money.

I met him inside the Yeshiva after his return from Vilna. He took out a sheet of paper; he gave it to me and said that only this condolence remained. It was written on the paper that the Vilna "Mizrahi" association authorized Mr. Moyshe-Yankev Kviat to organize a branch of "Hakhaluts Hamizrakhi" in Volozhin. He doubted if there would be a single Yeshiva-man willing to close the Guemora book and register with an agricultural preparation (Hakhshara). I registered at once. We found three others: Moyshe-Dovid Namiot, Yoysef Goldshteyn and Moyshe Golub.

The subject was conducted in secret. In the Yeshiva there was no sign. All the meetings were held in a private house, behind closed doors and covered windows, or in the open air on "Mount "Bialik"". It was decided that all would be done to attain our purpose even with hard labor, hunger and suffering. To finance the activities every one committed himself to bring in the money he received from the Yeshiva, after he paid his dwelling charge.

Obviously our money could not be sufficient for such a project. We received some help from the Volozhin "Mizrahkhi" movement balebatim. They gathered $100 to create a foundation for our activity.

Moyshe Yakov searched and found a place where we could learn the agriculture labor. Rabbi Ber's property "Male Berki" in Brilki (a hamlet near Volozhin) suited our purpose. R' Ber's courtyard, the so called "Male Berki" was situated on a hill top surrounded by fields. R' Ber's old wooden house contained 2 rooms. In one of them, in the bigger one, lived the landlord with his spouse and three children. This room served the family as dining room, bedroom and kitchen. The second room, the smaller, served us as our common apartment.

Our group numbered six people: Moyshe-Yankev Kviat (Perakh), his spouse Malka Shishko, Shmuel Dovid Namiot, Ariye Kharuts, Moyshe Goloob and Yoysef Goldshteyn. The group was founded at Passover 1925. We committed ourselves to the realization of the pioneers' duty. We decided to go the day after the Holiday to "Male Berki".

At dawn our small group was assembled near Moyshe Yankev's house. Every one brought his package with him and put it into the cart. After a little while the cart, loaded with personnel luggage, with agriculture tools and kitchenware, left the Shtetl. The cart climbed the Kapustin hill. From its top we could see the Yeshiva building.

Arriving in Male Berki , the first thing we did was to clean and arrange the tiny room for our living. Here we took our meals, we studied Guemora and our Holy books, and we read journals and books oriented on Zionism. And as to sleep, we slept in the barn.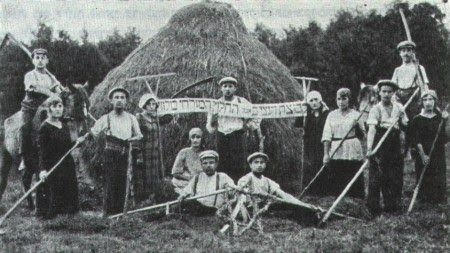 The "Hanaziv Group" of "Hakhaluts Hamizrakhi" in Male Berki
Upon the left horse: Yosef Goldsteyn. Upon the right horse: Arye Kharuts (the author)
Standing from left to right: Sheyndl (R'Shimon di Bord's daughter), Shmuel Dovid Ohali (Namiyot), Freydl Berman, Moyshe Yakov Perah (Kviat), Etl Shishko, Tsirl (The Aroptsu Baker's daughter), Leybl Liberman, Rivka Namiyot.
Seated: Malka Shishko, Leybl Shepetnitski, Moyshe Goloob.
With the field we rented there was also a vegetable garden. Here we had our first lessons in the agriculture art. The first teacher was the old Makar one of the estate servants. The hardest work was plowing the land. Our garden was placed on a slope and the horse did not want to pull the plow uphill. We did not succeed in making a single straight mound. We looked enviously at R' Ber who made a perfectly straight line holding the plough with one hand.
After some days we learned in quite a satisfactory way the labor of the soil.
From now on we did not wonder to see straight line plowing. R' Ber who complained that we spoiled his land asked us to cultivate his part during the time we were free from our obligations. Our success reached the Shtetl. Youngsters began to believe that our way is good and interesting. The subscriptions into our branch increased. Even girls joined the "Hakhaluts Hamizrakhi" and one of them, Freydl, R' Leyb's daughter was sent in Male Berki to facilitate our domestic work.
We cultivated our land with joy and excitement. We arranged 120 vegetable garden beds. All of them were straight forty feet long. The rest of our land was sown with potatoes, corn and flax. Returning home from a long day of hard labor in the fields, we did not forget to learn a Guemorah page after praying "Maariv", the evening prayer.
Rumor of our achievements reached Vilna. Mr Reuven Finger arrived in Volozhin to examine our knowledge in working the land. He went to Male Berki, he saw our work and was satisfied with what his eyes had seen. We returned to Volozhin after we received Aliya certificates. On our way to Erets Israel the entire town population accompanied us, all of them happy with our joy.
Translator's note:
Moshe Yaakov Perakh (Kviat) with his spouse Malka (Shishko) settled in the agricultural Moshava Karkur after they made Aliya from "Male Berki".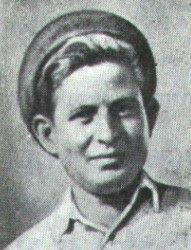 Benyamin Perakh

Benyamin Perakh, son of Moyshe Yakov and Malka Perakh (Kviat) became an active member in the "Hagana". He participated in many battles during the War of Independence. He fell in the Negev battle on December 28, 1948. He was 22 years old.
---
This material is made available by JewishGen, Inc. and the Yizkor Book Project for the purpose of
fulfilling our mission of disseminating information about the Holocaust and destroyed Jewish communities.
This material may not be copied, sold or bartered without JewishGen, Inc.'s permission. Rights may be reserved by the copyright holder.
---
JewishGen, Inc. makes no representations regarding the accuracy of the translation. The reader may wish to refer to the original material for verification.
JewishGen is not responsible for inaccuracies or omissions in the original work and cannot rewrite or edit the text to correct inaccuracies and/or omissions.
Our mission is to produce a translation of the original work and we cannot verify the accuracy of statements or alter facts cited.

Valozhyn, Belarus

Yizkor Book Project

JewishGen Home Page
---
Yizkor Book Director, Lance Ackerfeld
This web page created by Lance Ackerfeld
Copyright © 1999-2022 by JewishGen, Inc.
Updated 23 Sep 2006 by LA