[Page 393]
The Zionist movement
Tseyirey Zion (Zion's Youngsters) in Volozhin
Written by Shlomo Bunimovitsh
Translated by M. Porat z"l
Edited by Judy Feinsilver Montel
The branch of "Tseyirey Zion" in Volozhin was founded in 1918 and was one of the earliest in Russia. Volozhin was near the front and Jewish soldiers were stationed in town, among them were educated young men who were members of Zionist organizations. They persuaded the shtetl's inhabitants that their ways were the right ones, our people cannot exist in Diaspora and for this reason we must go to the Holy Land.

The founder of the Volozhin branch was Osher Malkin. He participated in the session of the Russian "Tseyirey Zion" organization. He assembled a group of activists, among them were: Shlomo Bunimovitsh, Tsipa Gelman, Hayim Deretshinski, Noah Horovitz, Yosef Tabakhovitsh, Ola Svirski, Israel Rogovin and Tsvi Rogovin.

The branch issued a Journal "Der Bezem" (The Broom), edited by Shlomo Bunimovitsh, in which the shtetl's life was criticized. The writers called upon young people to make Aliya.

In its first days the group numbered 80 persons. We rented a club in the Lower Town (Aroptsu) in Gala Perski's house. We organized an amateur's band. Our group acted successfully in several shows, among them "Di Pintele Yid" (The Jewish Point), "The Makhasheyfe (Witch) and "Mirele Efross".

We also held literary debates. The most memorable was the debate on Sholom Aleykhem's "Menkhem Mendl", whose purpose was to prove the miserable situation of our people who lived on businesses without foundations.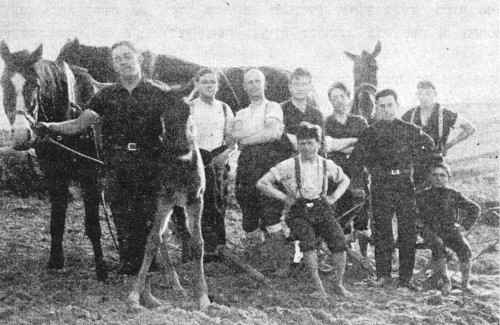 The Hakhshara Group of Volozhin Tseyirey Zion in Rudnik
From left: Yekhezkel Glik, Meyir Melzer, Tsvi Rogovin, Zeev Shaker,
Dovid-Itshe Kantorovitsh, Shlomo Bunimovitsh, Mordkay Mlot
The Shtetl's library was managed by philo-Russians. The visitors were obliged to speak Russian only. We attacked this situation subscribing all our members as library readers. We became the majority and changed the practice. The library became bilingual, Hebrew and Yiddish.
Our society, despite being socialist, organized a praying Minyan for its members. At the Simhas-Toyre Shakhariss (Morning prayer) Yossef Tabakhovitsh served as Cantor, at Mussaf (noon) – Avrom Berkovitsh.
Our party believed that a true Zionist is only one who's living in Erets Isroel. We founded a group for learning agricultural work in Rudnik a hamlet near Volozhin. We worked there at Mikhla's (a Zionist woman) farm.
Mr Ahrnshtadt visited Volozhin on 1924. He organized a seminar there for party members and sympathizers. His educational influence was remarkable. The branch enlarged and grew stronger.
The Committee for Aliya certification in Lida bestowed certificates upon many Tseyirey Zion members on 1925.
Meir Baksht, Shlomo Bunimotsh, Tsvi Rogovin and others made Aliya in 1926.
---
The "Hakhaluts" (Pioneer) in Volozhin
Written by a group of pioneers
Translated by M. Porat z"l
Edited by Judy Feinsilver Montel
The beginning of Hakhaluts in Volozhin was based on "Liberty and Revival", an association of Zionist Youngsters at the age of 15-16. It was founded in 1921. Its activity was expressed in selling Keren Kayemet stamps and in collecting donations for it.

Moshe Zalman Ben Sasson (Luntz), a scion of the Volozhin Rabbinic dynasty had formed the organization according to Zionist ideas. Appropriately, what Moshe Zalman demanded he also fulfilled. He made Aliya in 1923. But the movement continued to grow.

The Shtetl's poverty pushed Young Volozhiners to the ranks of "Hakhaluts". They understood that their place could not be here but in the Holy Land.

The first Haluzim-Pioneers were: Yakov Girson, Nahum Gelman, Mendl Volkovtsh, Hayim Binie Kaganovitsh, Eliezer Lavit, Leybl Luboshits, Zelg Meltser, Rachel Meltser, Hayim Potashnik, Kive Potashnik, Etl Paretski, Eli Hershl Perski, Sonia Kozlovski, Fania Kivilevitsh, Dovid Itskhok Kantorovitsh, Eliezer Kaplan, Ben Zion Kaplan, Moossia Rogovin, Esther Shaker, Mordkhe Yoodl Shvartsberg, Benyamin Shishko.

We organized many cultural and political events at our Hakhaluts club in the Smorgoner Street. The teachers Noah Perski and Tsvi Zeltser taught us Hebrew. We received journals and magazines like "Hapoel Hatsayir" (The Young Workman) from from Erets Isroel and "Haatid" (The Future) from the Hakhaluts center in Poland.

Our activities were also practical. We organized a group which worked at the wood saw mills in Volozhin. It was composed of young people from Smorgon, Rakov, Vileyka, Oshmene. They lived at the house of Bernshteyn the Blacksmith. The first to obtain certificates and to make Aliya were Hayim Potashnik, Nahum Gelman and Hayim Binie Kahanovitsh (1924). Yakov Guirson and Fania Kivilevitsh followed them in 1925.

After the 1924/1925 Aliya the Volozhin branch became stronger and larger. New members joined the party activity.

More people were certified to make Aliya. Itskhok Perski (the branch leader), Shlomo Berger, Etl Paretski and Mina Perski went to Palestine in 1932.

The activity continued. District conventions of Hakhaluts were held in Horodok and in Smorgon. Hundreds of members assembled in the forest near Smorgon. As a result of the activity many Volozhin Haluzim joined Hakhshara centers, obtained certificates and made Aliya, among them were Batia Botvinik, Ester Grinberg, Hayim Tsvi Potashnik, Fruma Rogovin, Sara Rudnitski and Sara Rapoport (1933).

The Volozhin Hakhaluts Branch began to die down one year before the war, in 1938. The shortage of Aliya certificates was the main cause. Members who had been on the waiting list for years were deeply disappointed. They became absorbed in Volozhin without any possibility of fulfilling their dream of Erets Isroel. They remained there with some hope of realizing the dream until the Soviets occupied our town. purpose was to prove the miserable situation of our people who lived on businesses without foundations.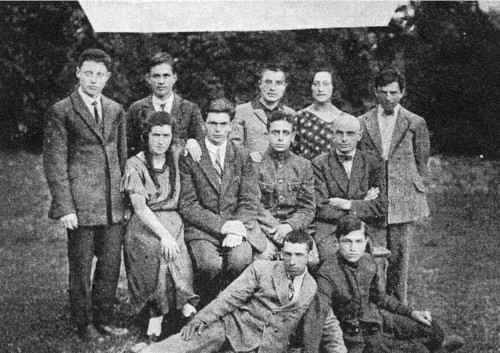 Volozhin Hakhluts members' first Aliya to Erets Israel
From Left to right:
First row seated: Dovid Itskhok Kantorovitsh, not from Volozhin
Second row seated: Etl Shuker, Hayim Potashnik, Hayim Binie Kahanovitsh
Standing: Yakov Guirzon, Eliezer Lavit, Fania Kivilevitsh, Zelig Meltser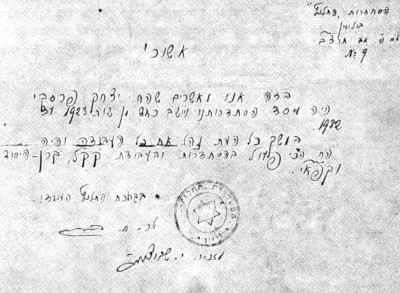 Volozhin hakaluts branch confirmation
"We confirm that Itskhok Perski was the Volozhin branch head during 1923-1932"
---
This material is made available by JewishGen, Inc. and the Yizkor Book Project for the purpose of
fulfilling our mission of disseminating information about the Holocaust and destroyed Jewish communities.
This material may not be copied, sold or bartered without JewishGen, Inc.'s permission. Rights may be reserved by the copyright holder.
---
JewishGen, Inc. makes no representations regarding the accuracy of the translation. The reader may wish to refer to the original material for verification.
JewishGen is not responsible for inaccuracies or omissions in the original work and cannot rewrite or edit the text to correct inaccuracies and/or omissions.
Our mission is to produce a translation of the original work and we cannot verify the accuracy of statements or alter facts cited.

Valozhyn, Belarus

Yizkor Book Project

JewishGen Home Page
---
Yizkor Book Director, Lance Ackerfeld
This web page created by Lance Ackerfeld
Copyright © 1999-2022 by JewishGen, Inc.
Updated 23 Sep 2006 by LA