[Page 105]
In Memory of Our Father
Itzhak and Zacharia Dafna
Translated by Shuki Ecker As we recall from our childhood in Galicia, our father Zelig Kranz was the district chairman of the Zionist organizations "Kadima" and "Achva" which were designed to provide training for new immigrants going to Palestine. He was fully invested in the activities of these organizations and these activities were spread throughout the district. He organized and supervised meetings and assemblies of the organizations, and he dedicated much work and effort to the national funds, the "Keren Kayemet" and "Keren Hayesod."
He was the central figure and driving force of the central Zionist organizations, and thanks to him, there was fraternal collaboration between the General Zionists, Gordonia and the Revisionists, and for this his name was entered into the Golden Book of the Keren Kayemet in 1932. The non-Jewish institutions opposed his activities with the Jewish youth. He decided to make aliya in 1934, after the British authorities imposed limitations on new immigrants. In Israel, father continued his diversified activities in the Zionist organizations in the ranks of the Liberal Party. He was one of the founders of the Israel Zionist Worker Movement and was a member at its head office.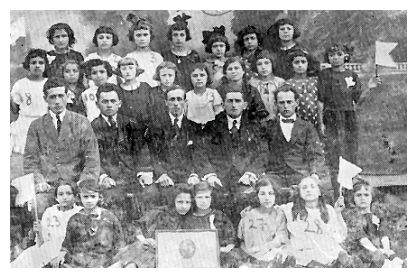 Upper and second rows from left to right: The third Niunia Ecker, Shoshona Goldstein, Feige Barach, Ehrenwerth, Breindel Szargel, Sara Letzter, the Pelz sisters, Golda Rosen, Meir Sachs, Ehrenwerth Mina, Gertwagen, Shimon Barij.
Third row: Moshe Weissman, Zelig Kranz, Merwitzer Yaakov, and Natan Barach.
---
This material is made available by JewishGen, Inc. and the Yizkor Book Project for the purpose of
fulfilling our mission of disseminating information about the Holocaust and destroyed Jewish communities.
This material may not be copied, sold or bartered without JewishGen, Inc.'s permission. Rights may be reserved by the copyright holder.
---
JewishGen, Inc. makes no representations regarding the accuracy of the translation. The reader may wish to refer to the original material for verification.
JewishGen is not responsible for inaccuracies or omissions in the original work and cannot rewrite or edit the text to correct inaccuracies and/or omissions.
Our mission is to produce a translation of the original work and we cannot verify the accuracy of statements or alter facts cited.

Radekhov, Ukraine

Yizkor Book Project

JewishGen Home Page
---
Yizkor Book Project Manager, Lance Ackerfeld
This web page created by Lance Ackerfeld
Copyright © 1999-2017 by JewishGen, Inc.
Updated 4 Sep 2006 by MGH