Previous Page | Next Page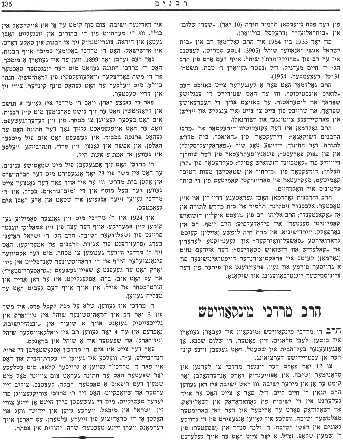 [Page 135]
Talmud Torah for ten years); Sha'arei Shalom and Beis Eliezer (Drexel Boulevard).

From 1933 to 1954 Rabbi Goldman served as rabbi at the Bais Yisrael-Anshei Yanovo synagogue (3905 14th St.), and finally at the Machzikei Hadat synagogue in place of Rabbi Chaim Mednik, who died on December 31, 1954.

Rabbi Goldman often visited the Louis Institute where he studied English language and literature. He knew Hebrew and occasionally wrote in English and Yiddish in various newspapers and magazines. Rabbi Goldman was the executive director of the Chicago Rabbinical Center; a director of HIAS, the Beit Midrash la-Torah, the Educational Committee, Jewish Parochial School and Oak Forest. He was the finance secretary of the synagogue division of the Combined Jewish Appeal; secretary of Keren Hatzolah [Relief Fund]; director of Mizrachi and a local Passover food fund; secretary of the united committee of the Beit Elmen's in Waldheim.

Rabbi and Mrs. Goldman had three sons and one daughter: Alexander Ziskind, a student in the Beit Midrash la-Torah an accountant; Rabbi Eliyahu, the rabbi of the West Oakline Jewish Community Center in Philadelphia; Rabbi Yosef, a rabbi in Norfolk, Va.; Mrs. Chaya Lifsha (Eileen) Keiths, a social worker and a teacher at the College of Jewish Studies; his son-in-law Nachum (Norman) Keiths is a senior engineer in a large firm, and is a former president and leader of the Zionist Youth Movement in Chicago.

RABBI MORDECHAI MINKOVITCH

Rabbi Mordechai Minkovitch (Minkov) was born in Boten, near Slonim. His father, R. Shalom Shachna, was a distinguished businessman in town who gave his children a genuine Jewish education.

Until the age of 12, young Mordechai studied in the Slonim yeshiva, where he entered the Mir yeshiva under the great scholar, Rabbi Chaim Leib a half year later. He also spent some time in the yeshivas of Navardok and Zhaludok. From Zhaludok he went to the eminent Moltsh yeshiva, which was headed by the great Rabbis Zalman Sender and later, Shimon Shkop. Rabbi Minkovitch also studied at the Radin yeshiva and finally, in a yeshiva for married men in Eishishok, where most of the boys and men were involved in teaching as preparation for the rabbinate. It was in Eishishok that Rabbi Minkovitch received his ordination.

After that same year, 1899, when he was ordained, Rabbi Minkovitch married Chana Beila, the young daughter of R. Moshe Poritzker (Valevelsky) of Drohitchin. They had five children – two sons and three daughters. During the time he was living in Drohitchin, he didn't serve as a rabbi, and was more interested in his leather business, which he opened and did well in following his wedding. His wife, Chana-Beila, who was a very virtuous woman, was deeply involved in helping him in business.
Rabbi Minkovitch was heavily involved in community affairs, and taught a Talmud class in the Old House of Study for 23 years. He also led the Mussaf prayer services there during the High Holydays. He was involved in many activities, and was highly respected.

In 1924, Rabbi Minkovitch and his family arrived in the United States following the suggestion of his friend from the Zhaludok yeshiva, Rabbi Yisrael Rosenberg (president of the Rabbinical Association of the United States). In the United States, R. Mordechai again went into business, and with the assistance of Drohitchin émigrés in New York, he opened a grocery store, which was very successful, as was his wholesale oil business.

R. Mordechai was an unpaid rabbi at the Drohitchin synagogue in New York for three years, and also taught a class at the Yavneh yeshiva. He then served four years as the rabbi in the Volkovisk synagogue (New York), and later in a Bronx synagogue.

His wife, Chana-Beila, suddenly passed away; she was his housewife, and her death was a great blow to R. Mordechai. Some years later he married Rivka, a daughter of Shimon the doctor. When he reached old age, R. Mordechai stopped his community activities, and now his two sons, Yisrael and Michael run his businesses. They follow the path of Judaism and the traditions of their parents. R. Mordechai also had three daughters: Sarah, Yehudit and Esther.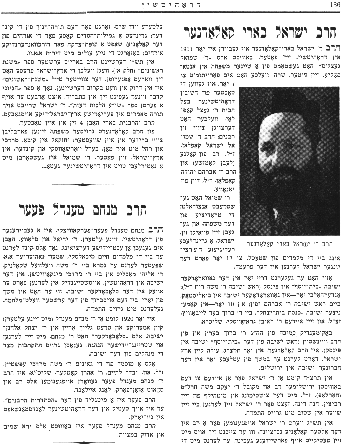 RABBI YISRAEL BE'ERI KOLODNER

[photo:] Rabbi Yisrael Be'eri Kolodner

Rabbi Yisrael Be'eri Kolodner was born in 1911 in Drohitchin. His father, known as "R. Shmuel Getzel's," was from a wonderful family in Antopolia. His mother, Sarah, who died when he was only seven years old, was the daughter of an important Drohitchin businessman, R. Getzel Kaplan, who was the father of two rabbis: Rabbi Shmuel Yisrael Kaplan, the rabbi of Kolna (near Lomza),and Rabbi Avraham Yehuda Kaplan, the rabbinical judge of Yanovo.

R. Shmuel strove to maintain the tradition of the family, and provided his son Yisrael with a sound religious education under the teachers in town. At 17, young Israel was sent to study elsewhere. He spent three years in the Novardok yeshiva, Beit Yosef, in Pinsk (headed by R. Moshe Reiz); six months in the Novardok yeshiva in Byalistock under R. Avraham Yaffen; ten years in the Kamenitz yeshiva, Knesset Beit-Yitzchak, under Rabbi Baruch Ber Leibovitz and his son-in-law, R. Reuven Grozovsky.

After receiving ordination from Rabbi Baruch Ber and Rabbi Weinstein (who headed Yeshiva Beit Yosef in Pinsk), Rabbi Kolodner moved to Palestine in 1933, where he spent several years studying in the Hevron Yeshiva in Jerusalem. In 1938, R. Yisrael became the son-in-law of the famous Jerusalem rabbi and kabbalist, R. Yaakov Moshe Charlap, and with the help of his wife, Chana Dina, R. Yisrael was able to devote himself to his studies under his father-in-law.

In 1943, R. Yisrael was appointed a rabbi in the old colony of Nes Ziona, where he excelled in various areas. He taught Talmud to elderly men and was concerned with the education of children; he founded a charity fund for residents of the colony, and created a charity fund for visitors. He also assisted new immigrants to find places to live.

In 1940 he published his first book, Mishnat Rishonim (Part 1), which was well-received by the press in Palestine. The second part of his book is to be published shortly. Another book, Higyonei Kedem is still in manuscript form, and he is working on a fourth book on part of the Shulchan Aruch. R. Yisrael also writes Torah articles in various publications in Israel.

Rabbi Kolodner had 4 sons and one daughter. Of his large family, only two brothers and one sister survive: Yechezkel in Cuba; Mordechai and Rachel and her husband, Berl Warshavsky and children in Israel. His father, R. Shmuel died of natural causes in the Drohitchin ghetto.

RABBI MENACHEM MENDEL FEER

Rabbi Menachem Mendel Feer-Ferkovsky was born in Drohitchin. His parents, R. Yechiel and Slava, gave him a good Jewish upbringing. While still a child, he studied under the teachers, Chaim Michaelsky, Shimon Nohurier, etc. Later he studied Talmud under R. Moshe Velvel Shkolnick, R. Eliyahu Machlis and R. Mordechai Minkovitch at the Drohitchin yeshiva. An outstanding student, he went to study in the Slobodka yeshiva, where he studied intensely until the outbreak of World War I.

In 1920, R. Menachem Mendel (with his parents) came to the United States, where he enrolled in Rabbi Yitzchak Elchanan Yeshiva. As a pious and studious "Slobodka student," R. Menachem Mendel developed a close relationship with the rabbis of the yeshiva.

Having received ordination from Rabbis Moshe Mordechai Epstein and Aharon Kotler, R. Menachem Mendel Feer was appointed rabbi in South Ozone Park, Long Island. He is a member of the Rabbinical Association, and is also active in the Drohitchin émigré community in New York. He is known for his fear of G-d and care in observing the Torah commandments.

Previous Page | Next Page
---
This material is made available by JewishGen, Inc. and the Yizkor Book Project for the purpose of
fulfilling our mission of disseminating information about the Holocaust and destroyed Jewish communities.
This material may not be copied, sold or bartered without JewishGen, Inc.'s permission. Rights may be reserved by the copyright holder.
---
JewishGen, Inc. makes no representations regarding the accuracy of the translation. The reader may wish to refer to the original material for verification.
JewishGen is not responsible for inaccuracies or omissions in the original work and cannot rewrite or edit the text to correct inaccuracies and/or omissions.
Our mission is to produce a translation of the original work and we cannot verify the accuracy of statements or alter facts cited.

Drogichin, Belarus

Yizkor Book Project

JewishGen Home Page
---
Yizkor Book Director, Lance Ackerfeld
This web page created by Lance Ackerfeld
Copyright © 1999-2023 by JewishGen, Inc.
Updated 13 Dec 2001 by LA