Map of Dokshitz from the Yizkor Book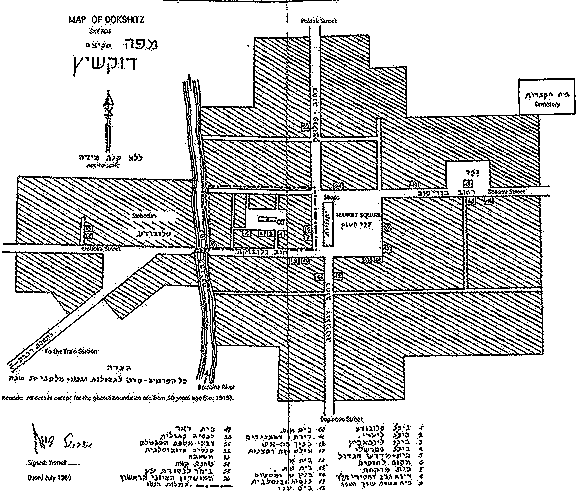 KEY to numbered locations:
Translations provided by Aviva Neeman
1. Sloboda Synagogue

2. Liadi Synagogue

3. Lubavitz Synagogue

4. Strasheli Synagogue

5. Large Beit Midrash

6. Place for Chuppas

7. Pharmacy

8. Rabbi's residence of Chabad Chassidim

9. Residence of the map illustrator

10. Pharmacy

11. Residence of the Rabbi of the Mitnagdim

12. Fire Station

13. Auditorium

14. Hotel

15. Pharmacy

16. Municipality and Police Building

17. Pravoslav Church

18. Municipal school

19. Post office

20. Catholic church

21. Government Appointed Rabbi

22. Pravoslav Church

23. Water Pumping Station

24. Flour Mill

25. Saw Mill

26. First Zionist Cub

- - - Ghetto Boundaries ( only detail not from 1919)
---
This material is made available by JewishGen, Inc. and the Yizkor Book Project for the purpose of
fulfilling our mission of disseminating information about the Holocaust and destroyed Jewish communities.
This material may not be copied, sold or bartered without JewishGen, Inc.'s permission. Rights may be reserved by the copyright holder.
---
JewishGen, Inc. makes no representations regarding the accuracy of the translation. The reader may wish to refer to the original material for verification.
JewishGen is not responsible for inaccuracies or omissions in the original work and cannot rewrite or edit the text to correct inaccuracies and/or omissions.
Our mission is to produce a translation of the original work and we cannot verify the accuracy of statements or alter facts cited.

Dokshitz, Belarus

Yizkor Book Project

JewishGen Home Page
---
Yizkor Book Director, Lance Ackerfeld
This web page created by Joel Alpert
Copyright © 1999-2023 by JewishGen, Inc.
Updated 24 Feb 2003 by LA