[Page 452]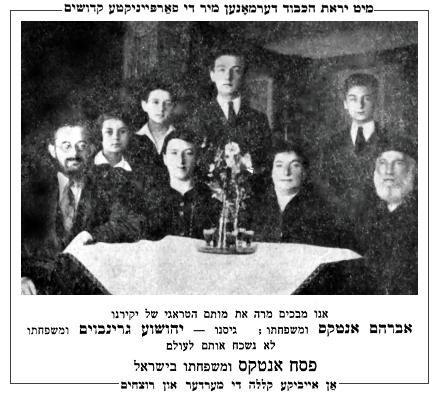 We mourn the tragic death of our dear ones AVRAHAM ANTEKS AND HIS FAMILY: our sister-in-law; YEHOSHUA GREENBAUM FAMILY.

Signed: PESAKH ANTEKS AND FAMILY in Israel
squares below r to l:
To the eternal memory of our dearest who perished at the hands of the German murderers: my sister KHAVEH GEZUNTHEIT and her husband AVRAHAM SHRENSTKER AND CHILD; my sister, ROKHL GEZUNTHEIT.

Signed: THE GEZUNTHEIT BROTHERS, Mexico
With sorrow we recall our dear ones

Mother, the rabbanit, FAIGE-MATIL BRONROT and her daughter, SHAYNA-DVORA BRONROT

signed: the survivors of the BRONROT FAMILY in Israel
To the eternal memory of the families NOTEH ATINGER and his wife MANYA (ZILBERSHTROM); LEAH GARFINKEL (ZILBERSHTROM) AND THEIR CHILDREN

No sign has been left of these dear ones

signed: sisters ZILBERSHTROM AND THEIR FAMILIES in Israel
To the eternal memory of our dearest ones who perished at the hands of the German murderers: My dear mother, SOREH MANDZSHOK; brother, AVRAHAM MANDZSHOK

signed: KHAYA KOZSCHNITSKY (MANDZSHOK) and ROKHL GEZUNTHEIT
[Page 453]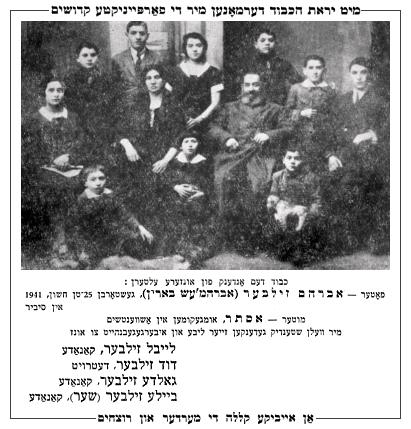 Honor to their memory. Father, AVRAHAM ZILBER (AVREMISH-BARON), died Heshvan 25, 1945 in Siberia

Mother, ESTHER, perished in Auschwitz

We shall always remember their love and devotion

signed: LAIBL ZILBER, Canada; DOVID ZILBER, Detroit, GOLDA ZILBER, Canada, BAYLA ZILBER (SHER), Canada

Squares below r to l:

For an eternal memory to the souls of my brother and sisters who died a martyr's death: SHLOMO, SARA and DVORA (SOKOLOVER) AND THEIR FAMILIES, who were murdered during the Shoah

signed: their sister ESTHER LANDAU (SOKOLOVER), Israel

With a broken heart I recall my family who perished:

Father, the great communal worker, REB YEKHIEL MAIER SOKOLOFF; my mother, TOVA SOKOLOFF; my sisters, KHAYA AND MALKA.

I'll never forget you.

Signed: MOISHE SOKOLOFF AND FAMILY in Israel
---
This material is made available by JewishGen, Inc. and the Yizkor Book Project for the purpose of
fulfilling our mission of disseminating information about the Holocaust and destroyed Jewish communities.
This material may not be copied, sold or bartered without JewishGen, Inc.'s permission. Rights may be reserved by the copyright holder.
---
JewishGen, Inc. makes no representations regarding the accuracy of the translation. The reader may wish to refer to the original material for verification.
JewishGen is not responsible for inaccuracies or omissions in the original work and cannot rewrite or edit the text to correct inaccuracies and/or omissions.
Our mission is to produce a translation of the original work and we cannot verify the accuracy of statements or alter facts cited.

Ciechanow, Poland

Yizkor Book Project

JewishGen Home Page
---
Yizkor Book Project Manager, Lance Ackerfeld
This web page created by Lance Ackerfeld
Copyright © 1999-2017 by JewishGen, Inc.
Updated 2 July 2003 by LA