We're continually amazed at the many success stories our members tell us about almost daily, always giving thanks to the generous help of other members. This story has a different angle, because the success came about with the help of several members of the JewishGen staff and a long-time JewishGen volunteer.
Cousins Moniek Garber of Glasgow, Scotland, and Moshe Porat-Perelman of Kfar Saba, Israel, last saw one another in the early spring of 1940. They were joyously reunited, thanks to JewishGen, sixty-seven years later, in 2007.
The connection between the two cousins was made by JewishGen vice president Michael Tobias of Glasgow, Scotland, helped by JewishGen vice president Joyce Field of West Lafayette, Indiana, USA, and Eilat Gordin Levitan, an active JewishGen volunteer of Los Angeles, California, USA. This is Michael Tobias's story of how the connection was made, and a brief history of the two cousins taken from Michael's interviews.
Moniek and Moshe: the War Years
Moniek Garber and Moshe Porat-Perelman both descended from a famous rabbinical family in Volozhyn, Belarus (that of Rabbi Chaim, the Volozyner Rebbe). The first cousins, growing up in Volozhyn, were best friends. The events of World War II separated the two teenagers and, by the end of the war, each had reason to suspect that the other had not survived the Holocaust.
Seventeen-year-old Moniek had been arrested early in the war for tearing Stalin's mustache from a poster at the Volozhyn high school and was eventually sent to the Soviet Gulag camps. Released from the Gulag in early 1942, he joined the newly formed Polish army, traveling from the Urals, over the Caspian Sea to Persia (Iran), through the desert near Baghdad, to the Polish Army enlistment center near Tel Aviv. Once in the Polish Army, his unit transported prisoners of war by train and boat, escorting Italian POWs from Suez to South Africa, and then German prisoners from South Africa to Halifax, Canada; on their return trip they escorted American soldiers to Scotland. Joining a Polish unit near Glasgow, Scotland, Moniek trained for war.
In 1944, participating as a tank gunner in the immediate aftermath of the Normandy invasion, Moniek and his unit eventually ended up near Bremen, in northwestern Germany. Unknown to either at the time, while Moniek Garber was in northwestern Germany with the Polish Army, his cousin Moshe Perelman was in northeastern Germany with the Red Army.
In mid-April 1940, the Jews of Volozhyn were deported, including fifteen-year-old Moshe, his ten-year-old sister Sonia, and their mother Etl. Moshe's father was in the Volozhyn NKVD (People's Commissariat for Internal Affairs) prison, sharing a cell with Moniek Garber; Moshe never saw his father again. Transported in freight cars for two weeks, Moshe and his sister and mother ended up in forced labor as farmers in the countryside of northeastern Kazakhstan.
When Moshe turned eighteen, he was mobilized into the "work army" to build bridges in the Ural Mountains; in 1944, he was taken from forced labor to join the Red Army. His training and subsequent army service took him thousands of miles across the Russian interior, through the Urals, Ukraine, Romania, Slovakia, and eventually to Moscow – where he managed to see his grandmother Malka and aunt Fania. Back to Alma Ata (Almaty), Kazakhstan, for training, his unit was then sent by train to the Baltic Sea near Rostock. At one point on the journey the train passed through Volozhyn and, at the next stop, in Vishnievo, he asked about the fate of the Jews of Volozhyn and was told that they had all been killed. His unit arrived at the Second Belarussian Front as part of the Forty-fourth Infantry Division; promoted to sergeant, Moshe served until he was liberated in May of 1946. Returning to Poland, he rejoined his mother and sister; then, in 1947, first Moshe, and then Sonia and his mother, moved to France. Cousins who had survived and were living in Palestine urged them to join them. Moshe left Sonia and Etl in France in 1948 to make aliyah (immigrate) to Israel.
Moshe and Moniek meet in 2007
in Israel
Moshe was told that all the civilians in Volozhyn had been killed and had heard that Moniek died in battle fighting the Germans at Monte Cassino, Italy, in 1944. After the war, Moniek went to Israel three times searching for relatives, but never found his cousin Moshe, having no idea that Moshe Perelman was now Moshe Porat.
Moniek and Moshe:
the Remarkable Reunion
A series of remarkable coincidences—the kind that we see happening so often on JewishGen!—led to the two cousins finding each other. Less than twelve hours after Michael Tobias spoke with Moniek and started researching, the two cousins were talking to each other for the first time in sixty-seven years. Several months later, they had a joyous reunion in Israel.
Moshe was active in the Volozhyn Committee in Israel. He was involved in the efforts to preserve the Jewish sites in Volozhin, Belarus, and translated the yizkor book (memorial book of destroyed communities) for Volozhyn from Hebrew, Yiddish, and Russian into English. Eilat Gordin Levitan, an Israeli who now lives in Los Angeles and is an active JewishGen volunteer, had created a Volozhin page on JewishGen; Moshe connected with her and she helped him submit his translation to JewishGen's Yizkor Book Project, managed by JewishGen Vice President Joyce Field.
Moniek was a member of the Association of Jewish Refugees, the Northern Group in Glasgow, Scotland. In March 2007, JewishGen Vice President Michael Tobias, who also lives in Glasgow, had given a talk to the group; he and Moniek had spoken briefly at that meeting. Michael was scheduled for another meeting in September, to demonstrate the JewishGen web site. He asked those planning to attend to contact him in advance if they had any particular research interests or families they wanted to try to trace. Moniek called Michael on the evening of Tuesday, August 28, to give him some background on the Garber / Perelman families of Volozhyn, descended from the famous Volozyner Rabbis and associated with the Gaon of Vilna. Since Moniek believed that all of his family had perished in the War, he was not looking to make family connections; he just thought Michael would be interested in his family lineage.
That evening, Michael searched the JewishGen web site for information about the families. When he checked the JewishGen Family Finder (JGFF) and the Family Tree of the Jewish People (FTJP), he found no other researchers working on the families; the JewishGen Belarus database and the All Poland database also yielded no useful information. He then turned his attention to the town of Valozhyn in the Communities Database and the ShtetLinks site for Volozhin that Eilat Gordin Levitan maintains. He found the Wolozyn Yizkor Book, translated by Moshe Porat. On the Volozhin site, Moshe Porat had also posted the genealogy of the Garber and Perelman families and articles, with photographs, about Moniek Garber's family. It didn't take long for Michael to realize that Moshe Porat was the same man as Moshe Perelman, Moniek Garber's cousin.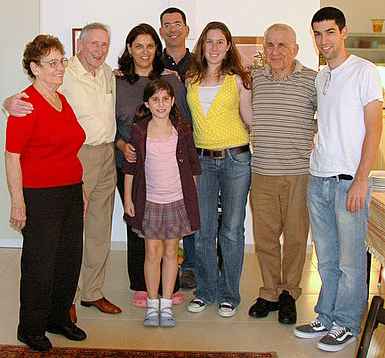 Moniek (l) with Moshe (r) and Moshe's family
in Israel, November 2007
Very excited, Michael immediately broke the news to Moniek and said he was going to try to trace his cousin. Late night into early morning, emails and phone calls between Michael, Joyce Field, Eilat Levitan, and Moshe's fourteen-year-old granddaughter in California finally yielded Moshe's new phone number in Kfar Saba, Israel. Early on the morning of August 29, Michael called Moshe Porat-Perelman, told him the news, and gave him Moniek Garber's postal address and telephone number. He then called Moniek Garber and gave him Moshe Porat-Perelman's details. Later that morning the two cousins spoke to each other after sixty-seven years of separation.
In November 2007 Moniek and Moshe finally met in Israel and, the following spring, Moniek also met his other cousin, Sonia, Moshe's sister, who lives in Paris.
July 2010
Glasgow, Scotland
Postscript: This past June 2010, we received a brief email from
Michael Tobias with this sad news:
Sadly Moshe Porat passed away a few weeks ago - he had not been well for a while.... I am just glad that we managed to connect the 2 men before it was too late.